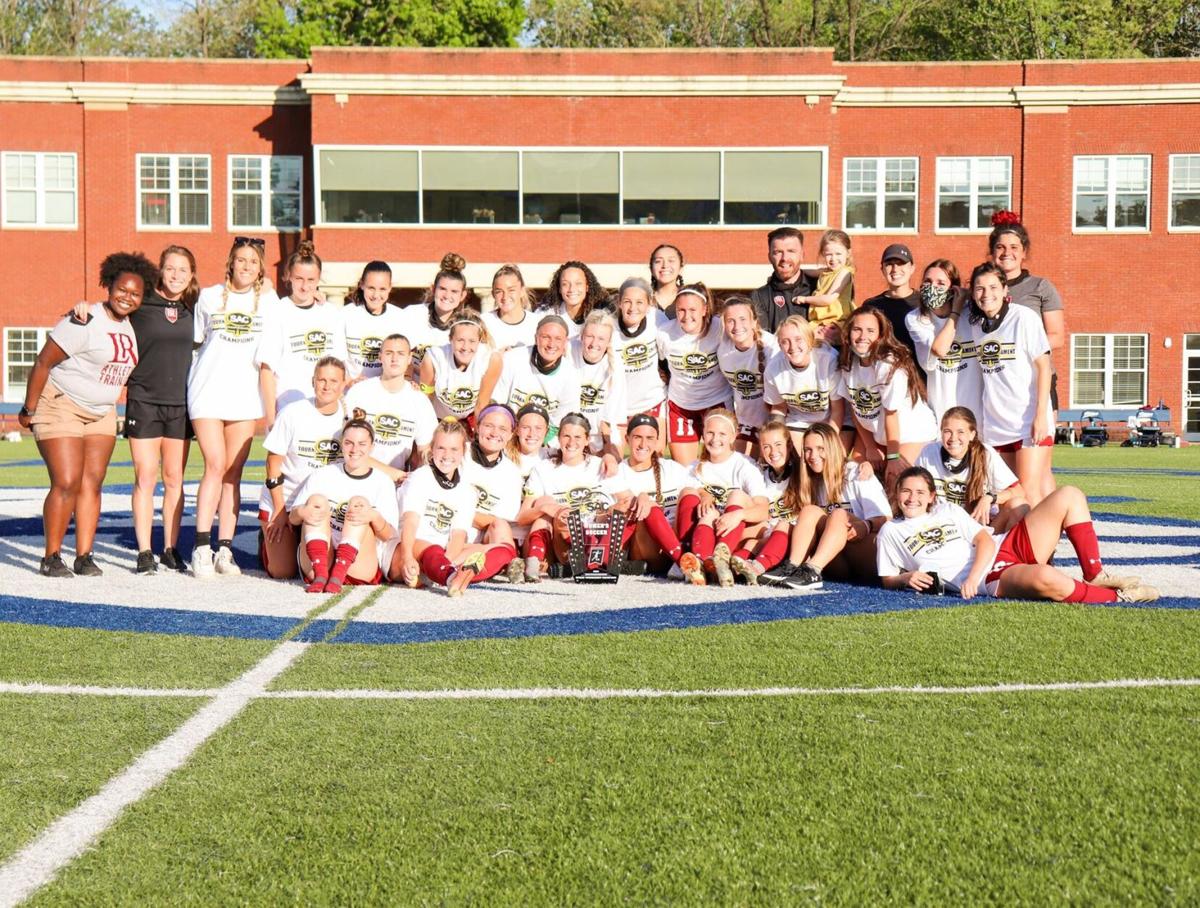 CHARLOTTE — For the second time in four days, it took overtime for the Lenoir-Rhyne women's soccer team to win a South Atlantic Conference tournament match. Neve Duston registered the match-winner for the Bears in the extra session, lifting them to a 2-1 road victory over Queens in the conference championship contest on Sunday at Queens Sports Complex.
Following a scoreless opening half, Alyssa Edwards put the Royals (7-2-1) on the board first in the 54th minute. However, L-R's Ria Acton equalized the match thanks to a successful penalty kick in the 76th minute.
From there, Duston's goal in the 96th minute proved to be the difference. The sophomore scored through three defenders, placing a volley over the Queens goalkeeper for the go-ahead tally.
The win gives the Bears (9-1-1) their first SAC tournament championship since 2012 and represents the third SAC tournament title in program history. Head coach Gary Higgins is now L-R's all-time winningest women's soccer coach with 71 victories in six seasons at the helm.
Duston was named the tournament's Most Valuable Player and was one of 11 players on the all-tournament team. Joining her were L-R teammates Grayson Cameron, Madi Kyle and Amanda MacFarlane, Queens' Mia Manuel, Nia Gaither and Karen Juarez, Limestone's Katharina Haerla and Andrea Zwinkels and Catawba's Sydney Jimmo and Lejla Mehmedovic.
Here's a look at how each round of the SAC tournament played out: Quarterfinals
No. 1 Catawba 2, No. 8 Catawba 1 (Double Overtime)
No. 4 Lenoir-Rhyne 1, No. 5 Carson-Newman 0
No. 2 Queens 3, No. 7 Tusculum 1
No. 6 Limestone 2, No. 3 Lincoln Memorial 1 (Overtime)
No. 4 Lenoir-Rhyne 1, No. 1 Catawba 0 (Overtime)
No. 2 Queens 1, No. 6 Limestone 0
No. 4 Lenoir-Rhyne 2, No. 2 Queens 1 (Overtime)