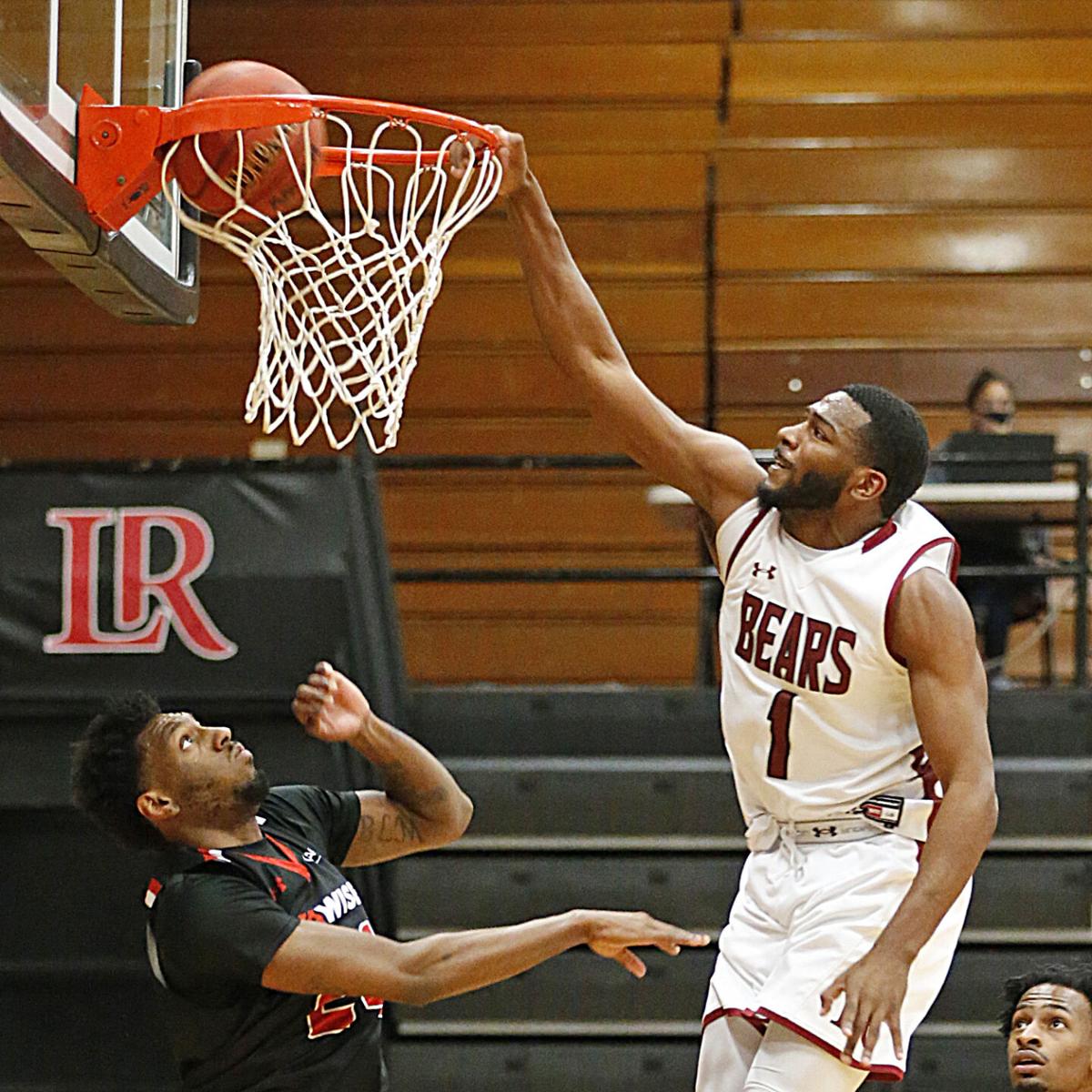 Prior to a recent three-week layoff between games due to COVID-19 regulations, the Lenoir-Rhyne men's basketball team had won seven of its first nine contests, including victories over nationally ranked South Atlantic Conference foes Lincoln Memorial and Queens. Since returning to action, the Bears have played three close games, losing two of them by a single point.
L-R's latest defeat came on Wednesday night at Shuford Gym. Visiting UVa Wise hung around throughout the opening half before shooting 60.7% in the second half of a 71-70 win over the Bears, handing L-R its second consecutive one-point home loss.
"It's not about making excuses for anybody, my guys played extremely hard, but we just do not have the fitness and the conditioning," L-R coach Everick Sullivan said. "And coming off of this quarantine from COVID, having to shut down for 14 days, we are right now not playing at the same level, not shooting it. The first half we were playing hard, playing pretty well, and then the second half is a drastic difference in the way we're performing."
The Bears (8-4, 8-4 SAC) were hot to begin the game, jumping out to a 9-2 lead thanks to a pair of R.J. Gunn 3-pointers and one from Darius Simmons. The Cavaliers responded with a layup from Briggs Parris, but L-R's Davion Bradford threw down a thunderous one-handed dunk to immediately get those points back before Tim Steele added a layup to give the hosts a 13-4 advantage.
It didn't take long for UVa Wise (4-13, 4-13) to turn things around, as the Cavs countered with a 10-0 run to take a one-point lead. Kaeleb Carter buried back-to-back 3s before Cameron Whiteside recorded a layup and Ben Bryson put UVa Wise on top with a pullup jumper from the free-throw line.
Five of the game's eight lead changes took place in the first half, with the final opening-half lead change coming in the closing seconds. Following a triple from UVa Wise's Bradley Dean moments earlier, Gunn knocked down a trey from the right corner off a drive and kickout from Simmons to give L-R a 30-28 halftime advantage.
The Cavs found their shooting stroke in the second half, particularly Whiteside and Carter. After being held to four points over the initial 20 minutes, Whiteside had 21 in the second half to finish with a game-high 25 points, while Carter added 11 to his total to finish with 17.
Nevertheless, despite falling behind by eight points on multiple occasions in the second half, the Bears had a chance to win the game late. They used a full-court press on defense to rattle the Cavs, and ultimately set themselves up with a last-second opportunity.
Down by one following a basket from Whiteside with 2.7 seconds remaining, L-R's Cooper Fowler found Simmons for a desperation heave. The senior guard got off a decent look from deep 3-point range on the left wing, but his shot rimmed out as UVa Wise escaped with a late-season road win.
"I love my guys, they're gonna fight, they're gonna always fight," said Sullivan. "They gave me everything they had, and you can't necessarily blame them because the circumstances that you can control they couldn't. They had no other choice but to be shut down and not be able to do anything for 14 days and then come right out with a short four-day turnaround, five days of practice and then have to play three games in five days, so it's just very tough for everybody."
Gunn finished with 24 points for L-R in his final regular-season home game, knocking down all four of his first-half 3-point attempts before missing all five attempts in the second half. Simmons was just 6-for-18 from the field with 14 points, while Zim Fields had 11.
"When you're not playing well you start to have a little bit of second guessing and execution kind of falters, so there's a lot of things we've got to go look at," said Sullivan. "But we've just got to get some time to regroup and I'm not sure if we can get ourselves back in shape, but we've got to figure out how to play a little bit better. ... We got some great shots throughout the game, just could not make them, and I think a lot has to do with our legs, our legs are not under us."
L-R will try to rebound on the road Monday at Catawba. Tipoff for that contest is set for 7 p.m., while the Cavs host Wingate on Saturday at 4:30 p.m. before visiting Mars Hill on Monday at 8 p.m.
UVa Wise:      28 43 — 71
UVa Wise — Cameron Whiteside 25, Kaeleb Carter 17, Briggs Parris 7, Drew Greene 6, Izeah Parker 6, Isaiah McAmis 5, Bradley Dean 3, Ben Bryson 2.
Lenoir-Rhyne — R.J. Gunn 24, Darius Simmons 14, Zim Fields 11, Cooper Fowler 7, Tim Steele 4, Davion Bradford 3, Mason Hawks 3, Tyson McClain 2, Anthony Rice 2.
Josh McKinney is the sports editor for the Hickory Daily Record.