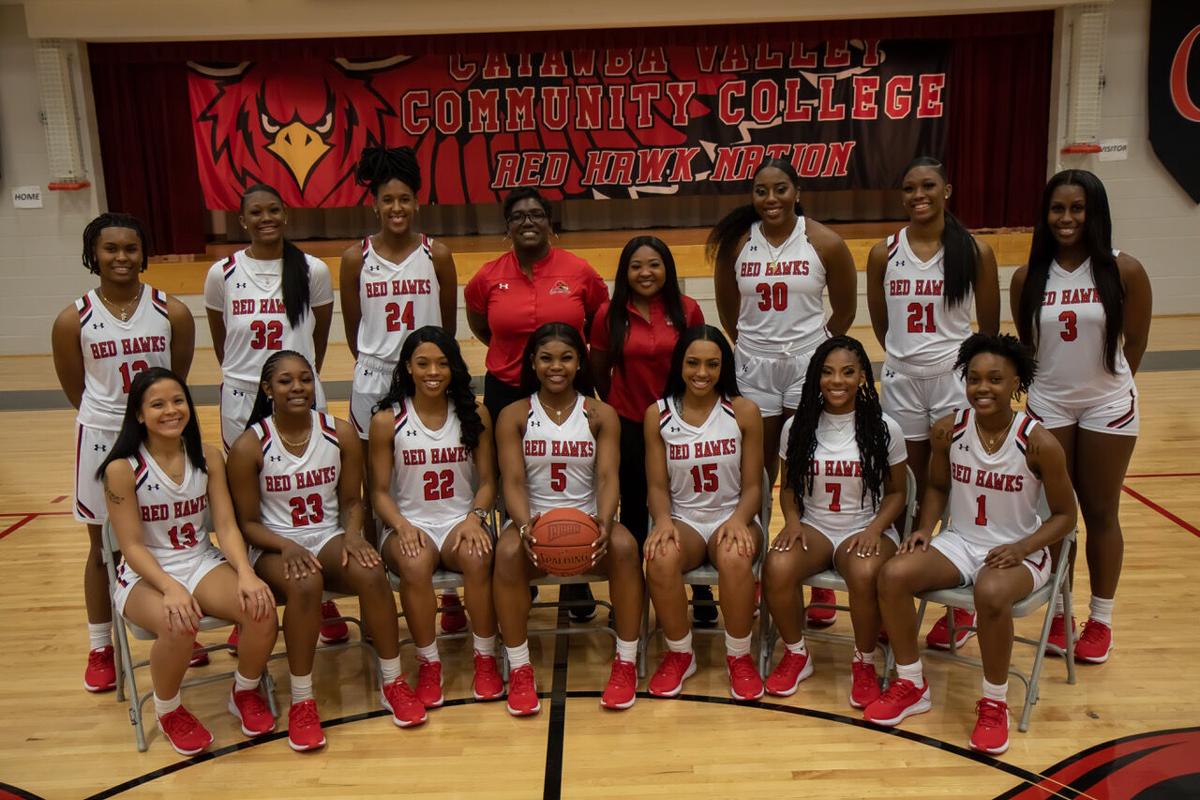 Coming off one of its best seasons in program history last winter, the Catawba Valley Community College women's basketball team will try to reach its goal of making the national tournament for the first time as it heads into the 2020-21 season.
It's been a challenge since the end last season when the Red Hawks, who had been ranked inside the top 10 nationally for most of the season, were upset in the Region 10 semifinals. The loss ended CVCC's chance at a first national tournament berth in women's basketball.
However, just two weeks later, the pandemic forced the shutdown and eventually the cancellation of the DII national basketball championships through the National Junior College Athletic Association.
Coach Tisha England says not making nationals last year ended up being a blessing in disguise because her players would have been unable to go.
"For that not to happen the way it happened that was a sign to me that the time was not yet for us to go to nationals," she said. "With everything that has transpired all year long, my prayer is that everyone stays safe and healthy — not only physically, but mentally. We're going to get over that hump and be able to get to nationals."
Since returning to campus in the fall, it's been a challenge for England and her players in adjusting to the "new normal," but they've persevered and excelled through those obstacles.
"It's definitely been different because we are hands on. We are personal," she said. "We are used to seeing each other. We are used to communicating and having tutoring and our study hall. It's been different, but we're just trying to find a way to overcome it. We did a great job first semester with our team GPA being 3.45. I am so excited for all of the hard work they've put in."
Perhaps the biggest challenge for England has been preparing her players from two different perspectives.
"Trying to get the kids caught up mentally as well as physically has been tough," she said. "We just take it one day at a time and push ourselves to be the best we can be. It's more mental than anything. It's definitely been a challenge, but life is a challenge. We just meet it head on and do the best that we can do."
The Red Hawks' sophomore leadership, including returners Makayla "Kay Kay" Weaver, Jailen Cummings and Ariana Montgomery, have been key in helping to carry over the successful culture from last season into this season.
"They've been great," England said of her sophomore returners. "It's kind of funny because every year we tell our sophomores that they'll see themselves the following year through their freshmen. They are taking it more personal. They understand that it is all or nothing. Every day they are pushing themselves and each other."
Despite their experience, new sophomore transfers, including Astou Seck (Virginia State), Camari Jeter (Johnson C. Smith), Essence Sumner (Belmont Abbey) and Adrianna "A.J." Davis (Drexel), have needed to make adjustments despite coming from four-year programs.
"With the transfers coming in, everyone is coming from a different program, and it's an eye opener for them," England said. "I run my program like a four-year program. I think everyone was startled at the beginning, but they know coach England is going to get the best out of them."
These seven sophomores, mixed with a talented group of freshmen that includes guards Tre'zha Muhammad and Kenzley Dunlap, twins Azuria and Alexandria Barrino and forward Kelis Carmon, have impressed England during the preseason.
"They are rising to the occasion," England said. "Every day is a new day. Every day we are getting better. They are seeing themselves for what they are and what they can become. I am very pleased with them."
With the NJCAA shifting its women's basketball seasons into the spring, Catawba Valley's schedule will be a short two-month sprint to the finish line.
"Every game is going to be a 'ride or die' game for us," England said. "We're going to take it, seize the moment and get better each time. It is different, though."
The Red Hawks will also not face several conference schools who opted out of the season, adding another layer to an already unique season.
"A lot of those teams are powerhouse teams," England said. "To know that a pandemic can come through and hit anybody — that changes the game. We are definitely going to keep pushing and striving to be the best that we can be. I'm not going to do anything differently. I'm going to push my girls as if we have 30 games."
The Red Hawks, who start the season ranked eighth in the nation, begin their 2020-21 season on the road today at 1 p.m. against Bryant & Stratton before returning home on Thursday for their first home game against rival Caldwell.
The regular season ends April 1 with the Region 10 tournament taking place April 6, 8 and 10.
Region 10 will also receive two bids to the NJCAA national tournament — giving the Red Hawks even more opportunity this season to finally capture their elusive trip to nationals.
"I'm looking forward to that day — whether it's this year, next year or whenever it comes," England said of reaching nationals. "I'm patiently waiting. I definitely would love to have that this year with this group and taking these girls up to Michigan to have fun, enjoy life and seize the moment with basketball."