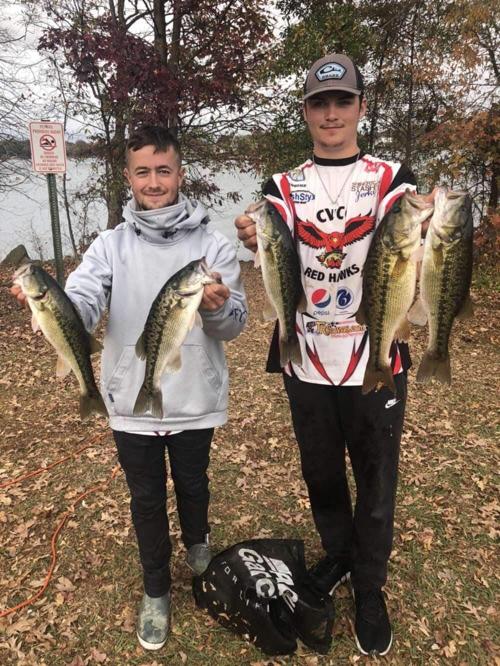 HUNTERSVILLE — The Catawba Valley Community College bass fishing team participated last weekend in several events on Lake Norman for Riley's Catch — a nonprofit challenging students to build greater character, stronger minds and bigger faith through fishing and the outdoors.
Red Hawk anglers had the opportunity to meet with nearly 100 high school anglers on Nov. 19 and talk with them about CVCC's program.
"We had the privilege of working with the folks from Riley's Catch this past weekend," said CVCC head bass fishing coach Angela Mayo. "They put together a phenomenal high school event and invited us to host the North Carolina B.A.S.S. College Championship in conjunction with their event."
After the registration dinner, CVCC's anglers had the opportunity to hear from back-to-back Bassmaster Classic champion Hank Cherry, 2018 Bassmaster Rookie of the Year Jake Whitaker and Bassmaster Live commentator Ronnie Moore. All three shared their thoughts on the four pillars of Riley's Catch — Faith, Fun, Friendships and Fishing.
Last Saturday afternoon, Red Hawk anglers helped the Riley's Catch crew with the high school tournament weigh in.
The weekend event culminated last Sunday with a 27-team college tournament featuring teams from across North Carolina competing for the opportunity to attend the 2022 B.A.S.S. College National Championship.
The collegiate tournament was won by North Carolina State's Logan Anderson and Tyler Little.
"Although he doesn't fish for CVCC, I have to congratulate Logan Anderson from North Carolina State," Mayo said. "We have hosted this qualifier for three years now, and Logan and his partner have won every year. He has represented North Carolina well in the last two national championships, and I wish him the best at the next one."
The Red Hawks had strong performances at the tournament as well, including a runner-up finish from Lane Bailey and Justin Eggers. Catawba Valley teammates Carson Eckard and Hunter Keller finished in third place.
"Coming into the tournament, me and Justin knew it would be tough, but we kept our head down and grinded it out," Bailey said.
All of the Red Hawk teams brought fish to the scales, and Mayo is proud of how her team did in not only competing, but participating in a wonderful charitable event.
"I am proud of our Red Hawks — not only for their performance on the water, but for volunteering to help with the weigh in for the high school event," Mayo said.