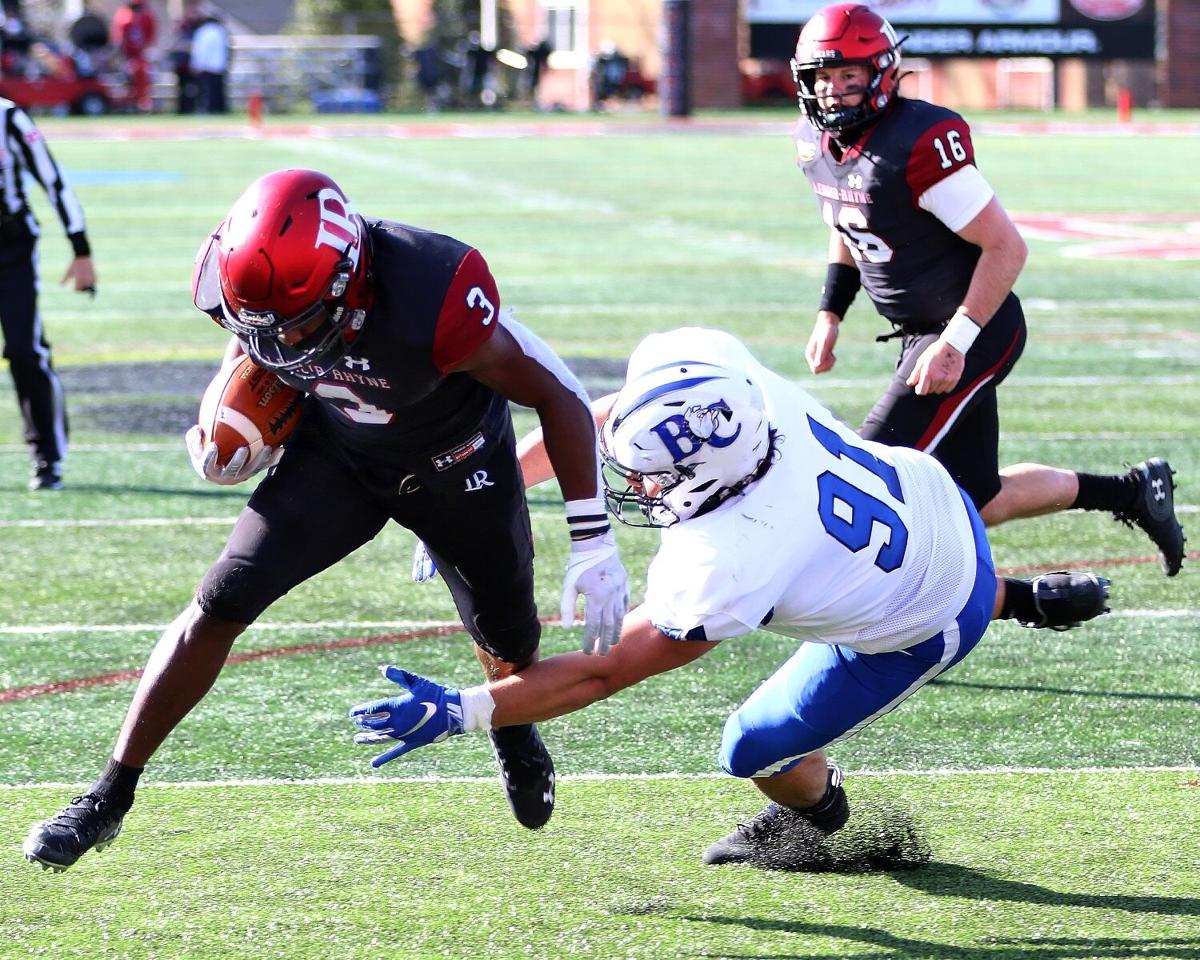 The Lenoir-Rhyne football team was originally scheduled to host Catawba today for homecoming, but after the Indians canceled the rest of their spring season due to injuries and COVID-19 quarantines, the Bears now have a new opponent with even more at stake. Tusculum also had an open date on its schedule, so the South Atlantic Conference's Mountain Division-leading Pioneers will now visit the Piedmont Division-leading Bears to determine the SAC champion for the 2020-21 campaign.
The SAC title contest was set to take place on April 17, but will now be played today at L-R's Moretz Stadium. Kickoff is slated for 2:30 p.m.
Tusculum (3-1, 2-0 SAC) lost to Newberry in its season opener before winning three straight games. The Pioneers knocked off Mars Hill 58-20 before beating Erskine 47-7 and Limestone 49-17.
L-R (3-0, 3-0) is also riding a three-game winning streak. The Bears defeated Newberry 27-20 in overtime in their season opener before earning victories of 44-13 and 44-21 over Barton and Wingate, respectively.
Now it's time for these teams to battle for the SAC's biggest prize to cap a delayed and truncated season. L-R is 13-10 all-time against Tusculum, and the Bears have won eight straight meetings entering today's contest.
All but one of the Bears' victories during the current eight-game winning streak against the Pioneers has been by double digits.
Additionally, L-R has won five consecutive home games against Tusculum since losing 48-19 on Oct. 4, 2008.
But none of that matters when it comes to today's game. L-R is looking to win its third consecutive conference title, while Tusculum has the opportunity to knock off a team that has emerged victorious in 20 straight contests against SAC opponents, including a pair of NCAA Division II playoff wins.
L-R has dominated a number of statistical categories, including points per game (38.3 to 18), first downs (69 to 44), rushing yards (544 to 289), passing yards (720 to 561), takeaways (11 to five) and sacks (nine to three). Freshmen have stepped up in a big way for the Bears, but veterans have also shined.
Freshman running back Dwayne McGee enters the SAC title game with 89 carries for 446 yards and four touchdowns, while no other L-R ball carrier has more than 16 carries and only one other player — redshirt senior quarterback Grayson Willingham — has recorded a rushing TD for the Bears. Speaking of Willingham, after missing the season opener due to COVID protocols, he has completed 38 of 57 (66.7%) passes for 597 yards and four TDs in two games under center.
Wide receivers Deondre Lester and Ryan Carter, a sophomore and junior, respectively, have served as the Bears' top two targets in the passing game. Lester has 13 receptions for 238 yards and two scores, while Carter has 12 catches for 164 yards.
On the other side, Tusculum is also winning in dominant fashion. The Pioneers are averaging 40 points per game while allowing 16.3, and they have picked up 90 first downs while surrendering 78. Furthermore, Tusculum is outrushing opponents 585 to 361 and outgaining them 1,533 to 783 through the air.
Tusculum's leading rusher is junior TJ Jones with 49 carries for 270 yards and five TDs, with fellow junior Maurice Gomillion adding 33 carries for 133 yards and three scores. Meanwhile, graduate transfer Rogan Wells — who previously played at Valdosta State — has completed 86 of 140 (61.4%) passes for 1,414 yards and 12 TDs.
Six players have surpassed the 100-yard receiving mark for the Pioneers, led by sophomore Justice Parham (14 catches for 250 yards and three TDs) and Jones (16 catches for 238 yards and three TDs). Junior Tory Parham is Tusculum's next leading receiver with 11 receptions for 218 yards and a TD.
There's a championship on the line today in Hickory, and with homecoming and the induction of former head coach Mike Houston into L-R's Hall of Fame also on tap, the Bears have an eventful day ahead. In the end, they hope a win is also in the cards.
Josh McKinney is the sports editor for the Hickory Daily Record.