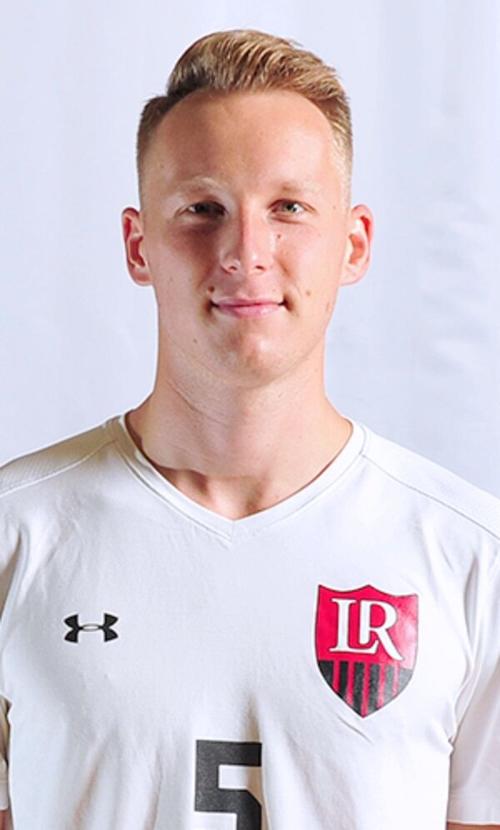 HOMETOWN: Hannover, Germany
HIGH SCHOOL: Carl-Friedrich-Gauss (Germany)
---------------------------------------------------------------------------------------
Three of the eight seniors on the Lenoir-Rhyne men's soccer team's roster for the 2020 season are from Germany, and all three are older than the typical senior. Like fellow German Benjamin Gnieser, Sirk Kisch is also 24 years old, making him one of the Bears' oldest players.
Also like Gnieser, Kisch is a midfielder who arrived at Lenoir-Rhyne a year ago. In his debut season with the Bears, Kisch appeared in 16 of 17 matches, starting on seven occasions and totaling 733 minutes.
Kisch took four shots in 2019, including two shots on goal. He played all 90 minutes in two contests, and played at least 45 minutes nine times. His first 90-minute effort came in a 4-2 road victory over South Atlantic Conference rival Carson-Newman on Oct. 2, 2019, while he also played every minute in a 7-1 road loss to Lander later that month.
Lenoir-Rhyne finished 7-9-1 overall and 4-5-1 in SAC play last season, and the Bears will play a conference-only schedule when the season kicks off in the spring of 2021. The 2020 campaign was suspended to next spring due to the COVID-19 pandemic, and the NCAA Division II playoffs were also canceled for the upcoming season.
Nevertheless, the Bears have plenty to play for when they return to the field. Prior to last season, they had finished third or better in the SAC each of the previous three years, even tying Queens for first place in the conference during the 2018 season.
Before the 2018 season, Lenoir-Rhyne had never finished at the top of the conference standings since beginning league play in 1989. Overall, the Bears have collected over 300 victories since establishing a men's soccer program in 1984, including 16 winning seasons and five seasons where they recorded a .500 record.
As a matter of fact, last year marked the Bears' first losing season since posting three consecutive losing campaigns from 2011-13. And current head coach Jack Winter, who was promoted to that position in 2016 after previously serving as an assistant, had led Lenoir-Rhyne to a combined record of 33-15-6 and a pair of NCAA playoff appearances in his first three seasons at the helm before finishing under .500 in 2019.
This year, it will be largely up to the Bears' experienced roster, which includes 12 upperclassmen, to help Lenoir-Rhyne return to its winning ways. Kisch should be a focal point of the team's offense, as should the aforementioned Gnieser and several other returning players.
In addition to Kisch and Gnieser, other seniors for Lenoir-Rhyne are David Sdzuy, Andres Ruiz, Victor Cascon, Marcus Chapman, Andrew Kalogeromitros and Daniel Dorantes. Soon, those eight players will try to help the Bears rule the SAC once again.
Josh McKinney is the sports editor for the Hickory Daily Record. 
Be the first to know
Get local news delivered to your inbox!