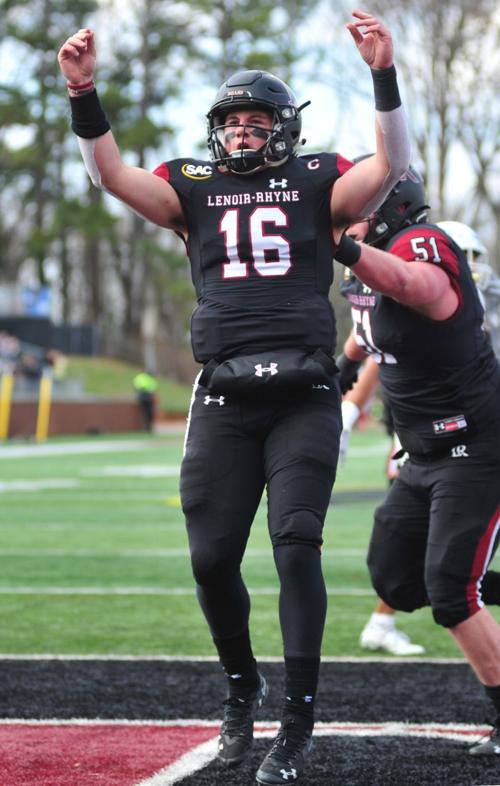 Entering the 2020 college football season, one of the key returners for the Lenoir-Rhyne football team is redshirt senior quarterback Grayson Willingham, who has already set multiple program records during his time in Hickory. As a redshirt sophomore, Willingham recorded 26 passing touchdowns to shatter the Bears' previous single-season mark of 18, and last year he threw 26 TD passes again to give him 53 for his career, the highest total in school history.
Willingham also drastically improved his completion percentage in 2019, jumping from 48.6 to 59.4. Additionally, he surpassed 2,000 passing yards for the second consecutive season while tallying the first three rushing scores of his college career.
On Nov. 9, 2019, against UNC Pembroke, Willingham finished with 303 passing yards to set a new career high. He also tossed three TD passes — including a program-record 99-yarder to running back Jaquay Mitchell — as the Bears defeated the Braves 45-31 to improve to 10-0 for the fifth time in school history and the first time since 2014.
Lenoir-Rhyne ended the year at 13-1 overall and is 15-0 in South Atlantic Conference play over the past two seasons with Willingham as the team's starting quarterback. The Bears have won 21 straight regular-season contests heading into his third season as the starter under center, appearing in back-to-back regional championship games and losing to the eventual NCAA Division II national champions each year.
After being one of 15 Bears to land on the All-South Atlantic Conference squad last year, Willingham will look to provide leadership again this season. Lenoir-Rhyne graduated 18 players from that team, which is the same number of seniors listed on the 2020 roster.
"My time here has a been a little up and down, it's been a unique path … but I've had a lot of guys around me — the players, coaches, supporting staff — helping me out," said Willingham in an interview with the Hickory Daily Record last November. "That has made my time here really special."
Mike Jacobs takes over for former head coach Drew Cronic this season after the latter left to accept the head coaching position at Mercer University in his home state of Georgia. But Willingham is no stranger to coaching changes, as Mike Kellar was the Bears' head coach when he arrived before being replaced by Cronic after the 2017 season.
Willingham flourished in Cronic's offensive system, which featured a dominant ground game and a passing attack that minimized mistakes. He had six interception-free performances in 2019 and threw more than one pick just twice.
High expectations surround Lenoir-Rhyne heading into the 2020 season after two stellar seasons under Cronic, especially with Jacobs taking over after posting a combined record of 42-8 over the past four seasons at Notre Dame College in Ohio. The Bears have been one of the top teams in the country, and given the players they have coming back, they expect to be in the upper echelon of Division II once again.
Willingham is one of Lenoir-Rhyne's premier players entering his final season on the college gridiron. However, in his own words from last November's interview with the HDR, it's not about individual accolades but team success.
"I kind of go by just the 'W' column, the wins. I just really focus on the wins," said Willingham. "Anything I can do to promote and advance the team, that's what I'm about."
Be the first to know
Get local news delivered to your inbox!