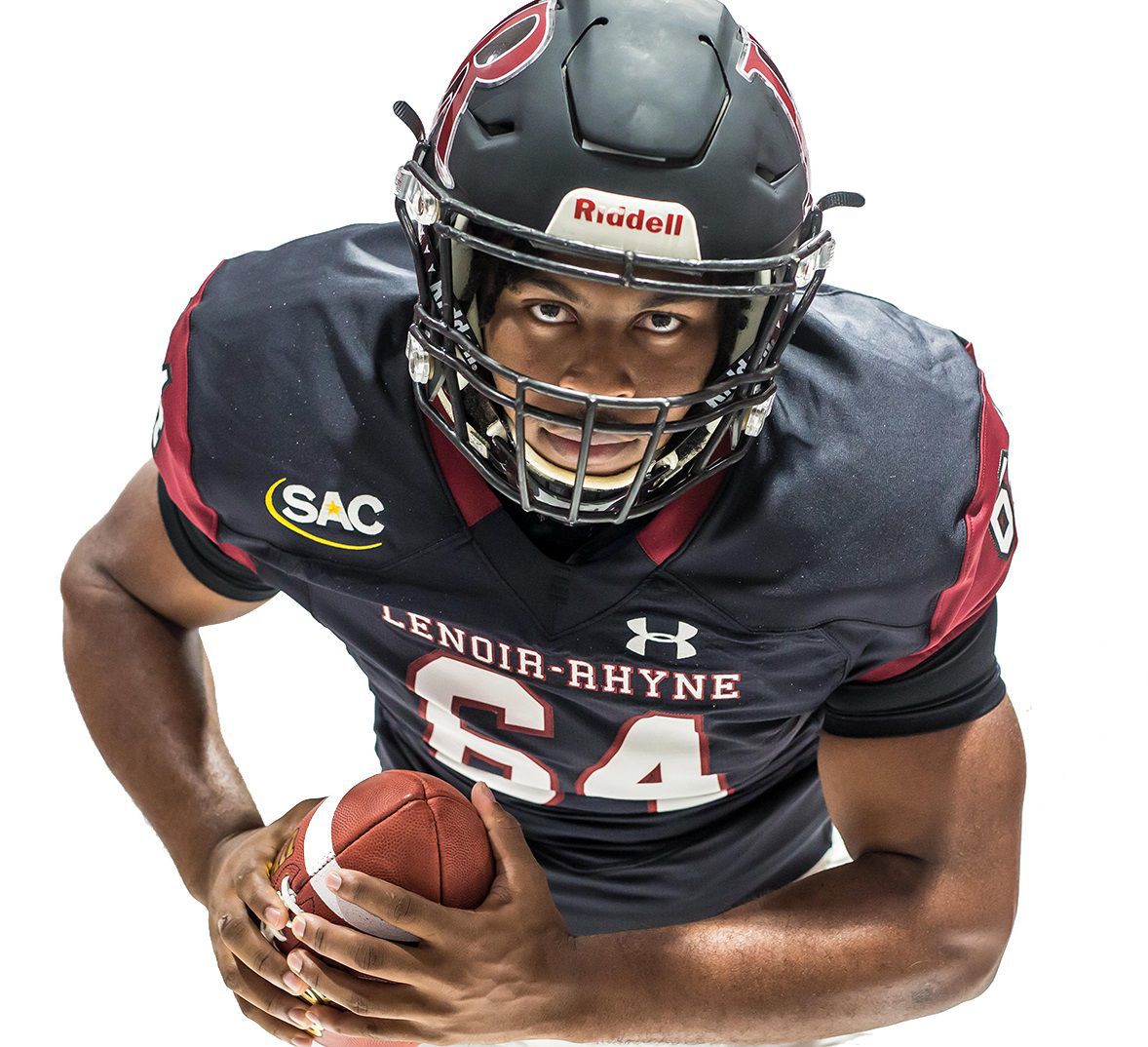 One of the biggest strengths of the Lenoir-Rhyne football team a year ago was its offensive line, and with the pieces the Bears have coming back, the same could soon be said of the 2020 season. Ian Brinson was the squad's starting right tackle last year, while Blake Jefferson held down the center position for most of the season and Kurtis Feanny and Bryce Heidinger also started double-digit games on the offensive line.
All four are among the returning offensive linemen for the Bears this fall, but also back is senior right guard Jason Poe, who has started all 28 games for Lenoir-Rhyne over the past two seasons. Despite injuries here and there, the Georgia native has continued to tough it out week in and week out.
"Jason has played through more injuries this year," former Lenoir-Rhyne head coach Drew Cronic said after Poe was awarded his second straight Jacobs Blocking Trophy from the South Atlantic Conference following the conclusion of the 2019 regular season. "He's had to tough his way through the season and for him to get the award again this year says a lot about him and the respect he's earned. He's a special type of offensive lineman that plays in a unique offense and it suits him well. His athleticism shines with the things we ask him to do."
The Jacobs Blocking Trophy is presented every year to the top offensive lineman in the SAC, but it isn't the only accolade Poe has earned each of the past two seasons. He was also named an NCAA Division II All-American in both 2018 and 2019, and was recently chosen as a 2020 Preseason All-American by multiple media sources. Additionally, he is a two-time All-Super Region 2 selection.
Largely due to Poe's presence, Lenoir-Rhyne has boasted one of the top rushing attacks in the country over the last two years. Last season, the Bears tied for fourth in rushing touchdowns (44) while ranking fifth in total rushing yards (3,766) and seventh in rushing yards per game (269) among all Division II programs.
Expectations are high again in 2020, and Poe is one of the players who figures to have a major influence on the Bears' chances of winning their third straight conference title. With Mike Jacobs at the helm after a strong four-year stint at Notre Dame College in Ohio, Lenoir-Rhyne is hoping to continue both its own success and that of its new head coach.
Poe also has a legitimate opportunity to play at the next level, with his dynamic athletic ability creating even more possibilities for NFL teams. He was recently interviewed by NFLDraftDiamonds.com, revealing that he won the starting fullback position during his freshman year at Hutchinson Community College in Kansas before transferring to Lenoir-Rhyne.
The ability to fill multiple positions could increase Poe's likelihood of eventually playing on Sundays, just as it did for recent New England Patriots draft pick Kyle Dugger, a standout safety/punt returner for Lenoir-Rhyne over the past few seasons. But first things first, Poe wants to help the Bears to another successful season on the gridiron this fall.
"For my size, I'm very fast in between the line of scrimmage," Poe told NFLDraftDiamonds.com on May 5. "They like to pull me out as a lead blocker to attack our opponents — doesn't matter if it's trapping, kicking out, counters or just outside sweeps. I'm also good at pass protection and inside blocking, but my favorite role is being a lead blocker. I think I can adapt to any scheme set, I've just about played in everything."
And he's seemingly done everything well to this point, with Lenoir-Rhyne set to depend on his versatility once again during the upcoming season.
Be the first to know
Get local news delivered to your inbox!