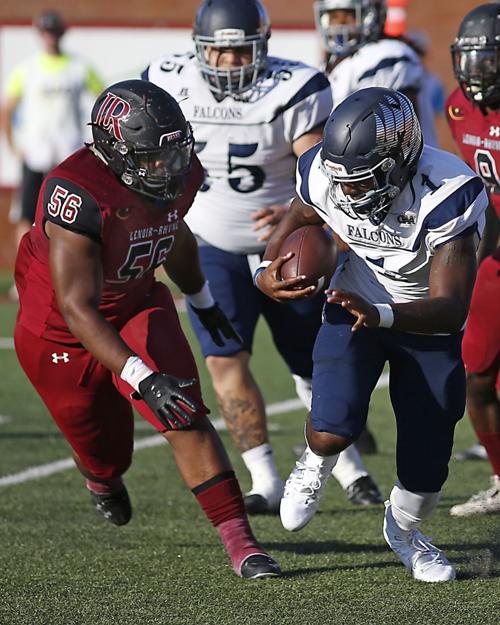 If you're going up against the defense of the Lenoir-Rhyne football team, you're going to have to deal with a monstrous duo in the middle. Last year, the Bears' starting defensive tackles Amari Houston and Dan Louba combined for 108 tackles, 27.5 tackles for loss, 19 sacks and 15 quarterback hurries.
Houston had 60 of those tackles, which ranked fifth on the team. Meanwhile, his 11.5 tackles for loss and eight sacks each ranked third. His six quarterback hurries was good for fourth on the squad. Houston appeared in all 14 games for the second straight year after playing in 10 contests during his freshman season in 2017.
Thanks to the efforts of Houston and Co., Lenoir-Rhyne finished 13-1 overall and 8-0 in the South Atlantic Conference a season ago. Houston was one of a program-record 15 Bears named to the All-SAC team, and his high level of play helped Lenoir-Rhyne capture its second straight conference title and advance to the regional championship for the second year in a row.
Lenoir_Rhyne's defensive unit overwhelmed opposing offenses, allowing the eighth-fewest rushing yards per game (81.9) and the fewest yards per carry (2.5) in all of NCAA Division II. The 50 sacks as a team was the top mark in the country, and while their offense and special teams were also noteworthy, their dominant defense was what really seemed to turn heads.
Hard work seems to be an integral part of Lenoir-Rhyne's success, and Houston exemplifies that trait. During an interview with NFLDraftDiamonds.com that was published on May 20, he credited his parents for instilling in him the importance of hard work.
"My family motivates me to work hard," said Houston. "I've seen my mom and dad work hard their whole lives to give my sister and me everything we need in life. Seeing them be proud of me for going to college motivates me to work hard to graduate so I can provide for them. I just want to give back to them for everything they did for me."
Houston strives for excellence on and off the football field. His teammates have done the same over the past few seasons. That's why the Bears have won 15 straight conference games and are 15-1 at home since the start of the 2018 season. Additionally, Lenoir-Rhyne enters the 2020 campaign on an 11-game regular-season win streak.
Mike Jacobs takes over as head coach after Drew Cronic departed to take the head coaching job at Mercer University in his home state of Georgia. Jacobs also brings with him the same type of winning tradition the Bears are trying to build. Jacobs was 42-8 in four seasons at Notre Dame College in Ohio, leading the Falcons to the Division II semifinals in 2018 and the quarterfinals in 2019.
With guys like Houston, who returns for his senior season this fall, there's a good chance both Jacobs and the Lenoir-Rhyne football program will continue to win lots and lots of ballgames. The Bears are highly ranked entering 2020, and they aim to stay that way throughout the season.
Be the first to know
Get local news delivered to your inbox!