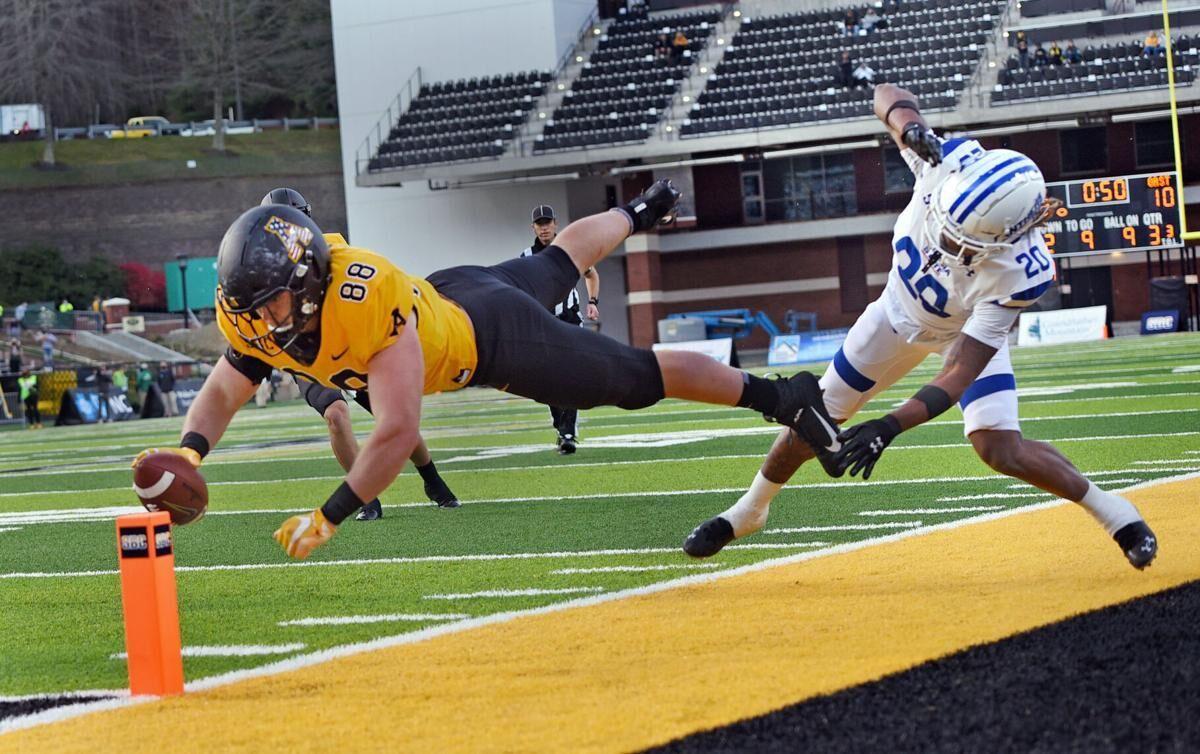 CONWAY, S.C. — The battle has arrived.
Appalachian State (4-0 Sun Belt, 6-1 overall) and No. 15 Coastal Carolina are set to square off in a huge football matchup. The winner on Saturday will take control of the East Division heading toward the Sun Belt Conference title game on Dec. 19.
And here's the thing about the Chanticleers' remaining schedule: After the App State game, their only remaining conference games will be at Texas State (1-5, 1-9) and at Troy (2-2, 4-3), a game rescheduled for Dec. 12. App State still must play Troy and No. 24 Louisiana (5-1, 7-1) in Boone and visit Georgia Southern (4-2, 6-2). So if Coastal Carolina wins Saturday, the Chanticleers would gain a significant advantage in the race for a berth in the Sun Belt championship game.
The Mountaineers are the two-time reigning Sun Belt winners, and the Chanticleers are the darling of the nation. Five things to know about Coastal Carolina:
Significant marks for Coastal
The No. 15 Chanticleers (5-0, 7-0) are the highest-ranked team in Sun Belt Conference history. The previous record was No. 19, set by the 2019 App State team that went 13-1 and matched twice by Louisiana this season.
A win for Coastal Carolina would be its first over App State. It would also make a Sun Belt school 8-0 for the first time. Coastal Carolina missed out on the chance to achieve that mark last week after its game was postponed because of COVID-19 and injury issues with Troy.
Running away with balance
Coastal Carolina is beating Sun Belt teams by an average of 22.8 points per game. That's boosted by a 51-0 win against Georgia State, a team that held App State to 17 points in a Panthers loss.
And what makes the Chanticleers so difficult to defend is their well-rounded offense. In half of their six FBS games this season, they've had more rushing yards than passing yards — at Kansas, at Louisiana and versus South Alabama.
They lead the Sun Belt with 37.9 points per game and are third in the league with 442 yards of offense per game.
The Chanticleers defense has shown little weakness.
It has not allowed a touchdown in the last two games and is giving up only 16.3 points per game. That's compared to App State's 16.9, setting up what could be a slugfest that leans heavily on run games. Coastal Carolina allows 134.7 rushing yards per game, 39th in the nation. That's just ahead of App State at No. 40 with 139.4.
Coastal's lone weakness might be inside the 20-yard line. The Chanticleers are last in the league, allowing 13 scores on 14 chances inside the 20 for opponents. Of those scores, 10 were touchdowns.
Jamey Chadwell is in his second season as head coach at Coastal Carolina. He served in the interim head coaching role in 2017 in place of Joe Moglia, who retired after the 2018 season.
Chadwell has turned two other programs into winners: He helped North Greenville win 11 games in 2011, and he led Charleston Southern to two 10-win seasons during a four-year tenure that ended after the 2016 season.
It's the reason why he is appearing on the short list of candidates, along with Louisiana's Billy Napier, for the head coaching job at South Carolina, which fired Will Muschamp Sunday in his fifth season.
Coastal Carolina is beating Sun Belt teams by an average of 22.8 points per game. That's boosted by a 51-0 win against Georgia State, a team that held App State to 17 points.
Coastal Carolina has found a stellar starter at quarterback, redshirt freshman Grayson McCall.
He's connecting on 69.6 percent of his passes, with 1,393 yards and 16 passing touchdowns. He has run for four more scores and thrown only one interception in his six games (he didn't play against Georgia Southern on Oct. 24).
And by App State coach Shawn Clark's account, he wanted McCall to be a Mountaineer. The coach said he was recruiting McCall during the transition from Scott Satterfield to Eli Drinkwitz. But the Indian Trail native ended up in Conway instead.
"I knew he was a great football player. I tried to get him here, and just things didn't work out," Clark said. "He went to Coastal, and you can see he's going to have a great career.
"Knowing Grayson, nothing phases him. It doesn't matter who he's playing ... He's going to be the same Grayson McCall, just a level-headed kid that knows how to win. I have a lot of respect for that kid."
Be the first to know
Get local news delivered to your inbox!