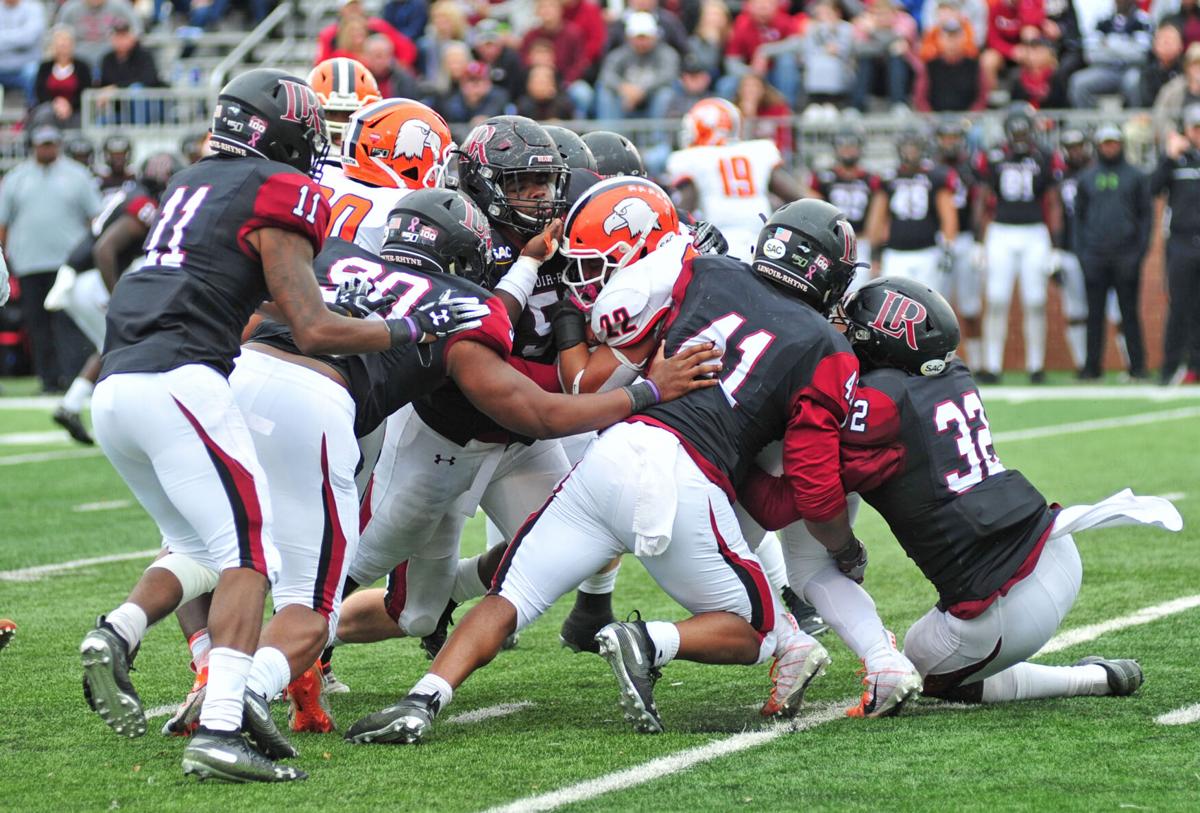 A lot has changed for the Lenoir-Rhyne football team since it last took the field on Dec. 7, 2019. The Bears have plenty of fresh faces including a new head coach, and after the 2020 season was postponed to the spring of 2021 due to the COVID-19 pandemic, their schedule also underwent a major upheaval.
The Bears' four-game spring season begins on Friday with a trip to Newberry and continues with their home opener on March 20 against Barton. L-R has two additional contests after that, and could even host the South Atlantic Conference championship on April 17 if they're able to win the Piedmont Division, which includes the aforementioned Newberry and Barton squads as well as Wingate and Catawba.
The SAC's other division for the 2020-21 season is the Mountain Division, which consists of Carson-Newman, Limestone, Mars Hill, Tusculum and UVa Wise. The two division winners will face each other to determine a conference champion next month, with no NCAA Division II playoffs scheduled to be played this season.
"I'm fired up for our kids," said L-R coach Mike Jacobs, who was hired to replace Drew Cronic on Dec. 22, 2019. "They've given so much to get to this point ... and so to finally get to a point where we can play a game, I'm beyond excited for our kids."
"We're excited just to play football," he added of this season's format. "I think that when they canceled the fall there were quite a few of us that were in favor of playing but doing it in a smart way where we didn't want to burn guys out for a full season, but we were still gonna work on giving our kids who have worked really hard the opportunity to play. I think what (SAC Commissioner) Mr. (Patrick) Britz and the SAC have put together with the two divisions and the opportunity for a little championship game there is something that the kids look forward to, and it gives us the opportunity to play which is all that we can ask for."
Back under center for L-R is redshirt senior quarterback Grayson Willingham, who has been with the program since 2016. An all-conference first team selection in 2019, he is the Bears' career leader in touchdown passes with 53, including 26 last season to go with 2,121 passing yards and a career-high 59.4 completion percentage.
"Grayson's a tremendous leader," said Jacobs. "You're talking about our school's all-time leading passer and a kid who has been through a handful of coaching changes and system changes and he just keeps getting better. He's been a tremendous leader for us in this extended offseason and we're looking forward to having him run the show and continued success here in the spring."
Willingham's top target is back as well in senior wide receiver Dareke Young. In addition to 25 catches for 515 yards and eight TDs — all team highs — Young also finished with 49 carries for 335 yards and four scores in 2019.
"Dareke Young's a guy that's on everyone's radar at wide receiver," said Jacobs. "We also think (sophomore receiver) Andre Lester has had a really good offseason for us."
Jacobs also mentioned tight ends Will Neal, Cody Osburn and John Godwin as potential pass catchers for L-R. Neal is a redshirt junior, while Osburn is a junior who transferred from Notre Dame College in Ohio — where Jacobs coached the previous four seasons — and Godwin is a freshman.
On the ground, the Bears will likely rely on a running back by committee, although senior Jace Jordan is expected to see significant playing time after finishing with 595 yards and five TDs on 67 carries last season, good for an average of 8.9 yards per carry. Other running backs to watch include junior Caine Crews and freshman Dwayne McGee.
Jacobs added that the Bears "feel good" about their offensive line, which includes senior Ian Brinson at right tackle and sophomore Blake Jefferson at center. Brinson has started all 28 games at right tackle over the past two seasons, while Jefferson played in 12 games as a freshman in 2019.
"There's certainly growth that's needed in all areas, but those guys are doing a nice job with what we're trying to do," said Jacobs of L-R's offensive linemen. "There's a fair amount of carryover in some of the things that we're asking them to do. I think that senior Ian Brinson at right tackle is really the leader of that group and has done a really nice job, we've got Blake Jefferson at center, and then there's been a combination of some young guys that have been in there and we're anxious to see them get their first action."
Defensively, Jacobs believes "everything starts up front" with senior defensive tackles Dan Louba and Amari Houston.
"I think those are two of the best interior players in the country," said Jacobs of Louba and Houston, who combined for 108 tackles, 27.5 tackles for loss and 19 sacks a season ago. Louba was an all-conference first team selection and an all-region second teamer, while Houston landed on the all-conference second team.
Jacobs also feels good about his squad's linebacking corps, which has to replace the likes of Sherrod Williams and Clayton Horn, who started for L-R in 2019. Senior Preston Joseph will take on a bigger role, and "there's a group of young guys that have been vying for that other starting spot and we've liked what we've seen out of them."
As for the secondary, it includes senior Eric Jackson and redshirt sophomore J.P. Palmer, a pair of safeties who appeared in all 14 contests last season. Jackson was an all-conference second team performer who recorded 67 tackles (38 solo) to go with three interceptions, seven passes defensed and a forced fumble, while Palmer had 22 tackles (16 solo), two passes defensed and two forced fumbles.
An experienced special teams unit could also be beneficial. Senior Chase Allbaugh — L-R's all-time leader in points with 264 — is back to handle field goal, extra point and kickoff duties after converting a Division II-record 76 of 76 extra point attempts and 12 of 16 field goal attempts as an all-conference second team honoree in 2019. Meanwhile, junior punter Michael Owen also returns after averaging 40.5 yards on 42 punts including six of 50-plus yards and 35 he placed inside the 20-yard line, which also led to him being named an all-conference second teamer.
Allbaugh "is just super consistent, we're excited to have him back," said Jacobs. "And he's a weapon because he can score points. Then you talk about field position and things like that, Michael Owen does a great job of putting the ball in the air and hang time and placement. Those guys are both a key element to what we hope to do."
With kickoff just days away, Jacobs is excited to see what the Bears can accomplish during this shortened spring season. He's hoping for steady improvement from week to week.
"We want to continue to grow, and we go into everything with the growth mindset," said Jacobs. "There's gonna be a number of guys that are gonna be playing their first college football for us. We've got to make sure that we have them prepared and get them the reps that they need to execute at a high level, and more than anything put our kids in good positions so they have a chance to win each week."
2020-21 LENOIR-RHYNE FOOTBALL SPRING SCHEDULE
March 12: at Newberry, 5 p.m.
April 2: at Wingate, 6 p.m.
April 10: Catawba, 1 p.m.
Josh McKinney is the sports editor for the Hickory Daily Record.