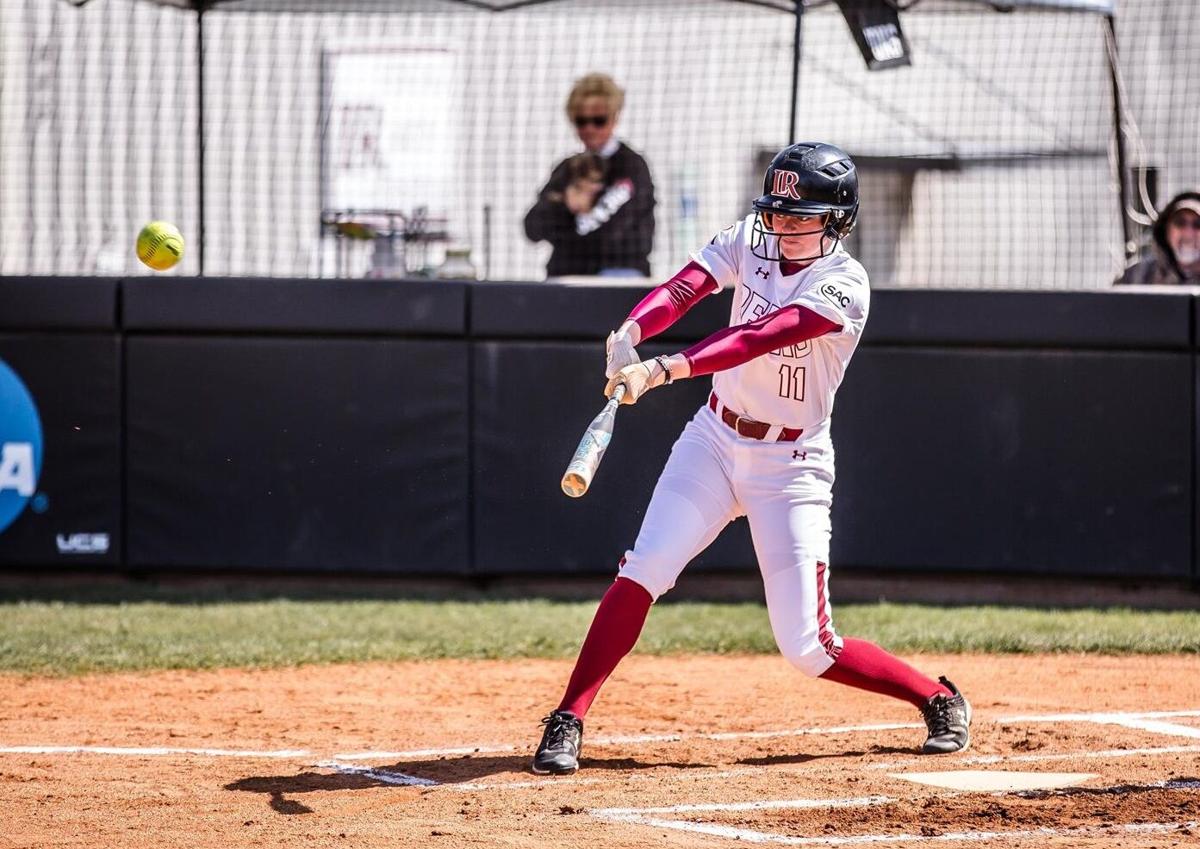 After having its first four games canceled or postponed, the 15th-ranked Lenoir-Rhyne softball team finally opened the 2021 season with a doubleheader on Friday at home. Following a 7-6, come-from-behind victory in Game 1, the Bears defeated visiting Pfeiffer 8-0 in five innings in the second contest to start at least 2-0 for the third year in a row.
In Game 1, Talon LaClair got the Bears on the board with an RBI double in the bottom of the first inning before the Falcons (0-2) scored twice in the top of the second. L-R's Kailey Travis countered with a solo home run in the bottom half of the frame to tie things at 2-all.
Pfeiffer's Makenzie Pennell gave the visitors a 5-2 lead with a three-run blast in the fourth, but Graleigh Hildebran — a freshman who graduated from East Burke High in 2020 — answered with a solo homer in the first official at-bat of her collegiate career during L-R's next trip to the plate. However, the Falcons regained a three-run advantage with a single run in the top of the seventh.
That's when the Bears made a dramatic comeback, getting singles from Leanna Sherrill, Hannah Jennings and Kendall Osborne before a Payton Bryant double and Travis single knotted the score at 6-all. Moorefield followed with a single down the left-field line to give L-R a walk-off victory.
Bryant collected her first career win in the pitcher's circle with an inning of relief. The Bunker Hill High alumna was one of three L-R hurlers to see time in the circle in the opener, along with Morgan Beeler and Mary Anna Clement.
Things went much easier for the Bears in Game 2, as Moorefield, LaClair and Kylee Leonhardt went a combined 5-for-11 at the plate with three doubles and all five of L-R's RBIs. The Falcons also committed four errors, which led to three unearned runs.
Freshman McKayla Watts pitched Game 2 for L-R, allowing no runs on four hits with four strikeouts in a complete-game effort. Only one Pfeiffer runner reached third base during the contest.
Travis was one of the standouts for the Bears on Friday, as she finished 5-for-7 with a homer and two RBIs during the twin bill. With two more victories, head coach Shena Hollar now has 835 wins at the helm of the L-R softball program.
L-R hosted a doubleheader against Flagler on Saturday before visiting UNC Pembroke for a twin bill today beginning at 1 p.m. Look for results from those contests, as well as the Bears' home baseball doubleheaders against eighth-ranked Catawba on Saturday and today, in Wednesday's edition of the Hickory Daily Record.