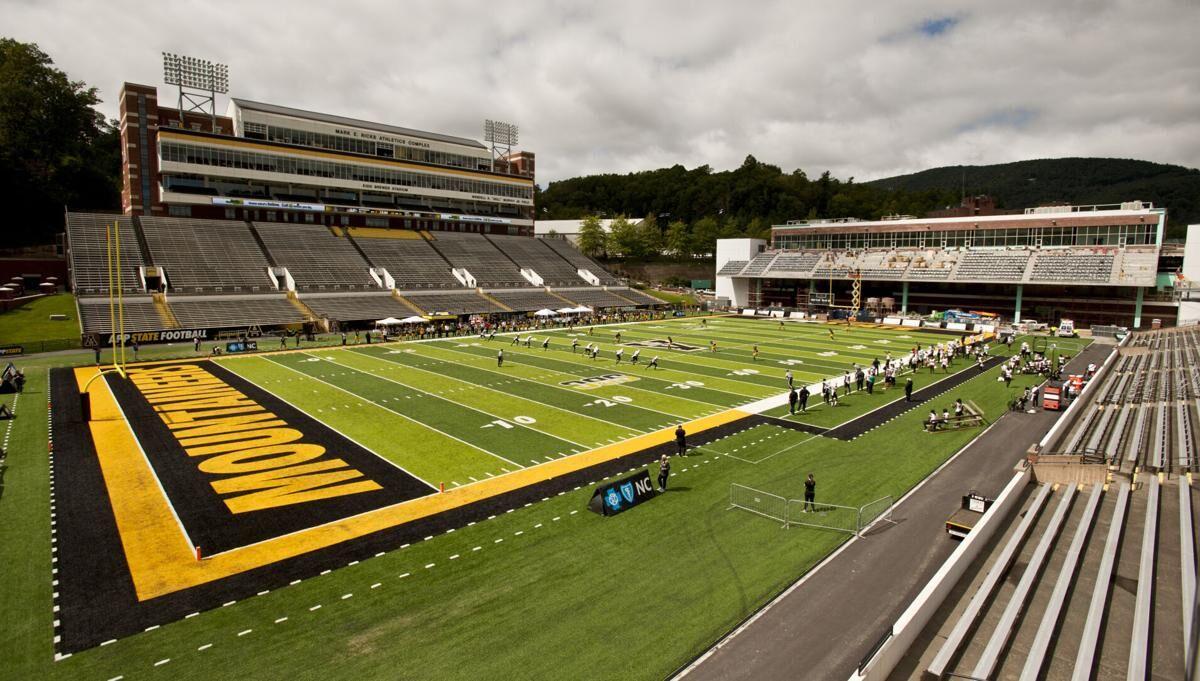 BOONE — Appalachian State announced Thursday night that there are 19 new positive COVID-19 cases in the football program, a development that led to the postponement of the team's game against Louisiana next week.
The school sent a campus-wide email providing updates on seven clusters in or around the university. In it, App State also acknowledged an influx of novel coronavirus cases for the football team.
The positive case total is made up of 11 students and eight staffers. The Winston-Salem Journal has learned that 10 of the 11 students are athletes.
App State's game against Louisiana was originally set for 7:30 p.m. Wednesday on ESPN. It is now expected to be to either Dec. 4 or Dec. 5.
All active cases on the team are in isolation and those who came in close contact are in required quarantine, the athletics department said in a news release. App State would not release statistics indicating the total amount of people affected with the program.
An athletics department spokesman said that the football program had "paused practices for now" and had not had a full practice this week.
This comes a week after the Mountaineers were short-handed in a game against Campbell, which played at Wake Forest on Friday night.
App State athletics reported three active cases of COVID-19 on Sept. 25, with one of those cases resulting in the contact tracing of 18 players and three coaches on Shawn Clark's staff — running backs coach/special teams coordinator Brian Haines, tight ends coach/recruiting coordinator Justin Watts and wide receiver coach Pat Washington.
The university this week also reported the death of a student because of COVID-19 complications. Chad Dorrill died Monday evening, becoming the first student death in the UNC system.
Appalachian State's COVID-19 dashboard shows 181 current cases involving students and four among employees. While the Thursday total is a decrease by two students and one employee from the previous day, Sept. 25 was the last day that App State's total number of current cases didn't exceed 100. The seven-day average for the university has been rising since Sept. 14.
The university's dashboard also provides information about clusters, defined as five or more cases, once a week.
Watauga County has reported 927 cases involving COVID-19, with 61 percent of them occurring among people ages 18-24.
The Louisiana-App State game is the 24th to be canceled or postponed this college football season.
"The health and safety of our student-athletes and university community remain our top priorities as we continue to navigate the unprecedented effects of the coronavirus pandemic," App State athletics director Doug Gillin said. "While we share in the disappointment of everyone who has worked hard to prepare for this football game, we have known that there will be challenges to maintaining the athletics calendar. We appreciate the continued support of Chancellor Everts for our student-athletes and athletics department, and we support the university's efforts to maintain a safe learning environment for students, faculty and staff."
Gillin was not available for comment, and officials with AppHealthCare and the Sun Belt Conference did not respond to a reporter earlier in the day.
"While we are disappointed that we will not be able to play Louisiana next week," football coach Shawn Clark said in a statement, "we are prioritizing the health and safety of our team, our staff and the university community."
App State and Louisiana have played four times over the last two seasons, all Mountaineers wins. Two of those matchups were in the 2018 and 2019 Sun Belt Championship games.
The Sun Belt Conference title game this year was originally scheduled for Dec. 5, with the flexibility to move to either Dec. 12 or Dec. 19.
Be the first to know
Get local news delivered to your inbox!