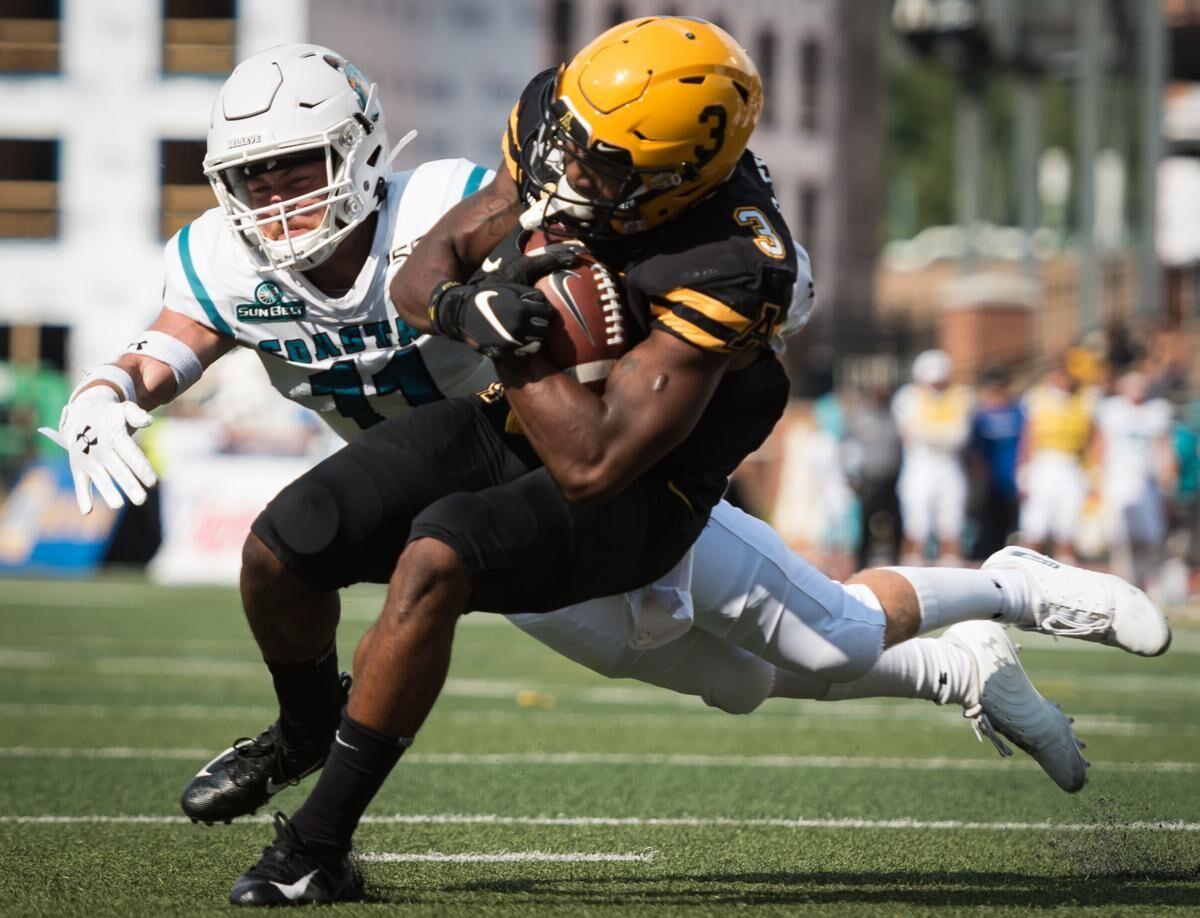 BOONE — The Appalachian State football team earned a 17-13 victory over Georgia State on Saturday at Kidd Brewer Stadium. 
Here's a recap of what happened:
An ugly win is still a win, but it was a struggle on offense. App State was held to its lowest yardage output of the season, 310, and still scrapped it together by the end.
The win also came with injury to App State quarterback Zac Thomas. Thomas was hit as he ran out of bounds during the fourth quarter. He was placed on a stretcher and taken off in an ambulance.
After Thomas' injury, backup quarterback Jacob Huesman went in and piloted the deciding touchdown drive.
Huesman hit Cam Peoples for a 12-yard pass, then later in the drive connected with Thomas Hennigan, a Northwest Guilford graduate from Greensboro, on a third-down catch of 14 yards. Peoples then ran for plays of 12 and 10 yards, the final being a touchdown to give App State the late lead.
App State showed life late in the third quarter to finally pull close.
A 55-yard pass from Thomas to Malik Williams sent the Mountaineers inside the 20. On the next play, Thomas rolled left and dumped a pass to tight end Henry Pearson, who dove down the left sideline and hit the pylon.
The play tied the score at 10-10 and capped a six-play, 80-yard series, the Mountaineers' longest drive of the game.
App State had issues moving the ball, totaling 89 total yards at halftime against a defense that had allowed 469.2 per game.
The Mountaineers' best drive was their second, when they took over at midfield and ran 12 plays. But Appalachian stalled out at the 4-yard line, settling for a 21-yard field goal from Chandler Staton.
The Mountaineers forced two fumbles in the first half — Georgia State had three fumbles during that stretch — recovering one that preceded Staton's kick, the Mountaineers' only points of the half.
Huesman, who ran into the game cold. The moment it became clear that Thomas wasn't going back in, he had to trade in his play-signaling gear for his helmet. He didn't even get a chance to throw warm-up passes.
Georgia State: 2-4 Sun Belt, 3-4 overall
Appalachian State: 4-0 Sun Belt, 6-1 overall
Georgia State: At South Alabama, 4 p.m. next Saturday.
Appalachian State: At Coastal Carolina, noon next Saturday (ESPN2 or ESPNU). The Mountaineers get a showdown with the No. 15 team in the nation. The Chanticleers, who are 5-0 in the Sun Belt and 7-0 overall, didn't play Saturday after their game against Troy was postponed.
Be the first to know
Get local news delivered to your inbox!