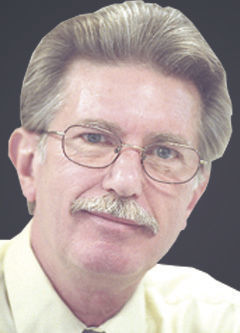 Protesters who want ballot-counting suspended because there are no poll watchers present to observe the proceedings are way off base.
Republicans and Democrats already have their people on the inside. It's the law, and neither party can be excluded from operating polls, collecting ballots and counting ballots.
State constitutions and the U.S. Constitution guarantee equitable elections. Election laws have evolved from the exclusionary Jim Crow-era to ensure everyone gets a fair chance to vote and every ballot will be counted.
Many states determine the supervisory representation at the polls and boards of elections membership by whichever party is in power — usually by the party of the current governor.
No matter how many members comprise local and state boards of elections and precinct officials, the majority comes from the ruling party. But the opposition party must be adequately represented.
In North Carolina, precinct judges and elections board members must be unanimous — that's everybody agreeing — to certify poll and ballot-counting results
Any supervising elections official of record who objects to certification can seek intervention through the system. Be sure the public will know if there is an unresolved dispute. The public cannot directly get involved, but government will if the process is compromised.
Poll watchers and the general public are not routinely allowed in the place where votes are counted to maintain consistency, accuracy, fairness and prevent distraction. That does not raise red flags or even concern among people familiar with how their elections work.
The parties are represented. You have somebody on the inside looking out for your interests, and the paramount interest is a fair election in which every vote is counted.
Even with the electronic voting machines used in North Carolina and many other states, there must be a paper trail. When I took my absentee ballot to my early-voting location, I could not just drop it in a box and walk away. I had to go through the chain of custody requirements.
Yes, I had to wait a little while, but I am confident my ballot was handled properly and my vote received all the care I expect — no, I demand. I know the person who took care of my ballot. We don't import election officials. The officials are us. It's that way in every other state.
No doubt this has been an election unlike any other. For one, the pandemic has played havoc with our society. That's why I'm not upset that counting votes is taking longer than usual. No judicial decision has failed to recognize the extraordinary circumstances of this election, including the necessity of extra time to receive mail-in ballots because of delays foisted on an overwhelmed U.S. Postal Service.
I pay many bills by debiting straight from by bank account. Many of you probably do the same thing. Normally, my bank reminds me that delivery may take two to three days. The pandemic changed that. Now, my bank says five to seven days.
That's OK with me. The objective is to get my bills paid without penalty. Adding a few days to get mail-in ballots into the right hands is of little concern to me. The objective is to get all the ballots counted.
So do not be alarmed that all the ballots in every state have not been counted. An election on any level cannot be treated lightly. Be vigilant. Do not be disruptive and certainly not violent.
Do not be misled by deliberate attempts to cause chaos in this election. You — Republican or Democrat — are represented in these ballot counts. You have witnesses on the inside who have sworn to conduct a fair and lawful election.
So do the people in Michigan, Pennsylvania, Florida, Arizona, Nevada, Alaska and every other state in our nation.
We are weary. We are weary of the pandemic and we are weary of bitter and often-divisive campaigning that has given rise to malignant notions and outright lies.
We must not let weariness, frustration and impatience overcome our good sense and our trust in the system we demanded our elected officials establish. We have people on the inside who have taken oaths to preserve our system and make it work for us — all of us, regardless of political affiliation.
The people on the outside looking in who are not certified to handle any aspect of our elections — you know, those who sometimes act like rabble — aren't inside milling around for very good reasons. The people on the inside have signed their names on the dotted line to protect our interests.
If something goes wrong, they are the ones who will be held responsible. That in itself affects their performance.
Catch the latest in Opinion
Get opinion pieces, letters and editorials sent directly to your inbox weekly!