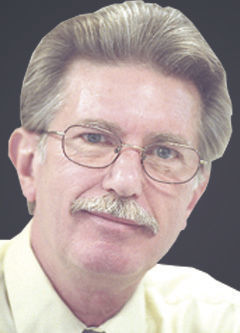 Ah, autumn. Nature's way of providing longed-for refreshment from the heat of summer.
When the temperature finally drops and the humidity goes down, living is easier for us, but wild things respond with frenzied preparations for everything from distant journeys to the long sleep.
Woods and lawn begin a dramatic change. While my activity outdoors increases, the rest of the residents that dwell on my little plot go in the other direction. It's predictable. Food is not as plentiful as it is in the summer.
Summer is a time of feasting. Excess rules. Now, however, the summer blooms are spent except for lantana, marigolds, a few roses and native fall-flowering plants like ragweed. Flying insects are becoming a rarity, but squirrels show themselves more often because the acorn monsoon has begun.
Some birds are departing, as are the migrant butterflies. Ants will continue to work, with much of their toil put into building new colonies. Survival is a common obsession, and the diversity of strategies seems infinite.
Spiders still spin, but webs small and large are not maintained for long. It's time to sow for the next year, and it's also time to concede that individual lives do not go on forever.
The internal clock says do this now because the days left to ensure future generations are few. It makes some species reclusive and others angry at the least intrusion. But it's always nature's way that frivolity is not part of the cycle of life.
Most flying insects are abandoning the yard and flower beds to seek sustenance elsewhere. The tall mint is spent, and the chives sport seed pods where they once were crowned with tiny white flowers. Some summer visitors, like bumblebees, still drop by from time to time just in case a late bloom pops.
I finally learned how to deal with chives. They spread out like mad and thrive in good soil, poor soil and even gravel driveways. Cutting off the buds early in the summer will keep them from spreading, but then there won't be any flowers drawing the attention of butterflies and the like.
So cut off the heads that have gone to seed when the flowers are gone. Each single bud produces a mass of flowers and thus a mass of seed pods.
I have never gotten close enough to insects that love chives to see if they have bad breath. If they do, it's not enough to induce social distancing.
Leaves are starting to fall. A few oaks that are shedding lots of leaves this early may be stressed. I must keep an eye on them. A premature cascade of leaves is one of the signs of slow death.
If the weather turns hot and muggy, even for a day or two, once autumn has aged a bit, some insects will revive for a while. Spiders, especially, are very temperature-sensitive and will take advantage of even one warm day to keep the population going.
Every creature knows cold weather is coming. Birds that have not visited the tall feeder in weeks are looking to see if the hopper is filled. They understand, without being told or consciously reasoning, that summer is over.
They will use every means necessary to meet another spring, as will every other creature no matter how big or small. They cannot afford to neglect the primary law of nature, unlike many two-legged mortals who have the ability to think, that the time is now — no matter what the season — to do whatever needs to be done.
Humans are the only critters who can look at nature and go "Wow!" I have done that many times, but it's not a good reason to put off important stuff.
GOOD NEWS for those of us who miss going to music festivals. PBS (I love it) will have a very special Austin City Limits on Oct. 31: "50 Years of Asleep at the Wheel."
The extended set will show performances from 1976 to the present. Asleep at the Wheel has appeared on Austin City Limits numerous times, and ACL is pulling stuff from those programs. Some of the numbers will include guests such as Willie Nelson and Lyle Lovett. And The Avett Brothers. And Vince Gill.
The band has a lot planned for its half a century of delivering great music, and the ACL special is the kickoff event. I'll be watching.
Check the PBS station you watch most for the exact schedules. Not all PBS stations jive on show times.
By the way, the band performed on the first episode of Austin City Limits. As the old saying goes, the rest is history —for the band and the show.
Catch the latest in Opinion
Get opinion pieces, letters and editorials sent directly to your inbox weekly!