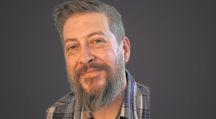 When I'm not writing columns, running a small-town newspaper and refusing multiple pleas to shave, I enjoy conversing online with people who want to steal my money.
I recently learned these scammers with a shaky grasp of English are even willing to turn on each other to rip me off.
The following are lightly edited email exchanges between a couple of these grifters and me.
"Compliment of the Day," begins one that caught my attention. "We seek individual(s) … that knows how to handle the investment and management of over £22.4 million from private investors. I'm Mr. George Culmer from Lloyds banking Group United Kingdom."
Intrigued, I write back under the guise of my alter ego, Gary.
"Mr. Culvert: It was a pleasure to hear from you and the banking group on such a beautiful day as this, which happens to be my cousin Eugene's birthday. He is 54, though he claims to be 39 and holding — holding everything he can, as the old song goes — but that is neither here nor there. I am much interested in your offer, as I am a semi-professional money person who does things with money. Please advise as to how we proceed post haste. Sincerely, Gary P. Dexterist, esquire."
Mr. Culmer, seemingly unconcerned that I addressed him as Mr. Culvert, quickly responds:
"Dear Gary, Thanks for your prompt reply to my proposal. I'm very convinced in partnership with you in trust, honesty and total transparency in this Joint Venture."
Feeling that Mr. Culvert and I are moving too quickly, I wait to hear from him again. I did not wait long.
"Greetings Gary, How are you? I have waited for your reply based on a proposal which I sent to you.. — Mr. Culmer."
I apologize in my next email.
"Top of the day, my good man. Forgive my delay. My cousin Eugene had a medical emergency of a very personal nature — he fell and broke his tibia while peeking through a neighbor's window — and I have been waiting on him hand and foot. Eugene has large feet and an extra thumb on his right hand so that is quite a chore. I am greatly interested in the details of the proposal which you provided in your previous correspondence and would like to know more about this Joint Venture, which coincidentally is the name of Eugene's favorite medical marijuana dispensary. I must have your assurances however that this proposal is 100 percent legitimate and at least 45 percent legal to proceed on my end. — Gary."
Before Mr. Culmer/Culvert can reply, I receive an unrelated yet similar email from Capt. Steve Polston, who says he is fighting for our freedom.
"Greetings. Permit the manner with which I am seeking your assistance but I am short of options and have no other choice. I am Steven Polston, a US Army attached to the NATO Military force in Afghanistan/Iraq… In my duty here I discovered a box that contain US$12.5Million (US$12,500,000.00) in farmhouse… — Steven Polston."
Polston needs my assistance getting that cash out of the country. I reply.
"Commander Polston: First, let me thank you for your service to this great nation of Canadia and all members of the NATOS. The box of monies found in a farmhouse greatly interests me in that I can use it to continue my mission work to the town of Letterkenny. Please let me know how I can assist you in me getting this money."
Polston immediately replies with details, but I decide to run it by my new friend Mr. Culmer/Culvert first.
"Mr. Culvert," I write. "I have been contacted by a Steven Polston, US Army, and I am inclined to deal with him on his offer instead. My cousin Eugene was a part of the Klingon conflict and I have a great respect for our interplanetary veterans so you can understand my inclinations in this fiduciary manipulation. — Your pal, Gary."
Mr. Culmer/Culvert is alarmed by the turn of events:
"My dear friend," he writes. "I will advice you to stop any deal you are about to have with Steven Polston. There is no such name in the US Army. He is not real and have no good intention on a positive deal with you. Thanks and be Bless. — Mr. Culmer."
That's just like Mr. Culvert. Always looking out for my best interests.
Catch the latest in Opinion
Get opinion pieces, letters and editorials sent directly to your inbox weekly!