911 call from Pine Meadows house fire
Authorities confirmed Tuesday that two bodies recovered in a mobile home fire in Taylorsville were brother and sister 11-year-old Angel E. Pacheco and 12-year-old America D. Pacheco.
Alexander County Sheriff Chris Bowman said he believes the 11-year-old boy, the 12-year-old girl and their mother, Maria Calderon, died at the home on Pine Meadows Lane prior to the Saturday fire and that Calderon's body was discarded in the Catawba River at Riverbend Park. Calderon's body was still missing Tuesday at 5 p.m.
A Taylorsville man and a Wilkesboro teen were charged on Monday by the sheriff's office in connection with the three deaths.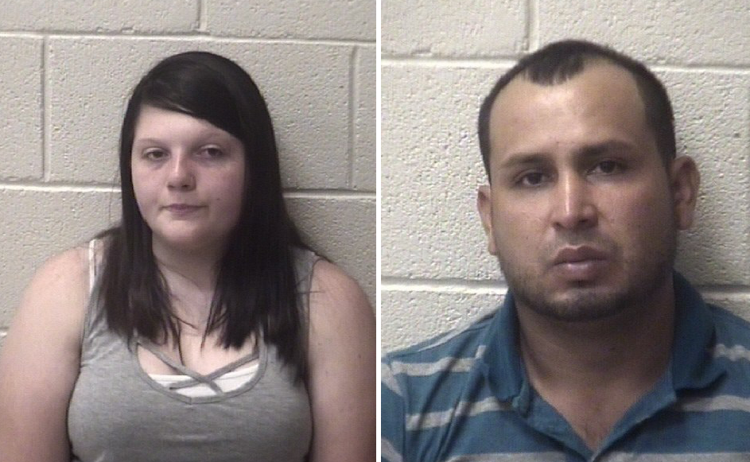 Heidi Darlene Wolfe, 16, of Wilkesboro, and her boyfriend Areli Aguirre-Avilez, 30, of Taylorsville, are charged with three counts of first-degree murder and are being held without bond, according to the sheriff's office.
The cause of death for Calderon and the Pacheco siblings is pending, according to a Tuesday press release from Alexander County Sheriff's Office.
The police are also looking for Jose Carlos Mendez and Luis Fernando Sanchez, who are acquaintances of Calderon. Mendez and Sanchez are not considered suspects, according to the Tuesday release.
Bowman said U.S. Department of Homeland Security is working to verify the United States citizenship of Avilez.
The investigation led police to Catawba County's Riverbend Park and the Catawba River, but Bowman said investigators are not sure why the third body would be separated from the children's bodies in Taylorsville.
"That's a question we ask and hope that we can find out why," Bowman said.
Law enforcement and emergency agencies began searching the water and shore along Riverbend Park for the mother's body Monday afternoon. The team expanded its search to Lookout Shoals Lake on Tuesday, according to Bowman.
Rescue workers are facing mud from recent flooding and heavy river flow from overnight rain. Bowman said the search has been a challenge.
A lawman with more than 40 years of experience, Bowman said the case is notable.
"This one here is probably one of the worst ones that we've been involved in for quite some time," he said.
On Monday, Alexander County Chief Deputy Tod Jones said the case is the worst he has worked in his 30 years as a lawman.
Agencies working to find the body include Alexander County Sheriff's Office, Taylorsville Police Department, Catawba County Sheriff's Office, cadaver dogs from the North Carolina State Bureau of Investigation and Charlotte-Mecklenburg Police Department, a North Carolina State Highway Patrol helicopter, Alexander County Emergency Services, Alexander County Rescue Squad and EMS, Catawba County EMS, Catawba County Emergency Services, Sherrills Ford – Terrell Fire & Rescue, Claremont Rescue Squad and Catawba Rescue Squad, according to Bowman.
The Alexander County Sheriff's Office is requesting anyone with information on Calderon's whereabouts to call them at 828-632-2911 or Crime Stoppers at 828-632-8555.
Be the first to know
Get local news delivered to your inbox!