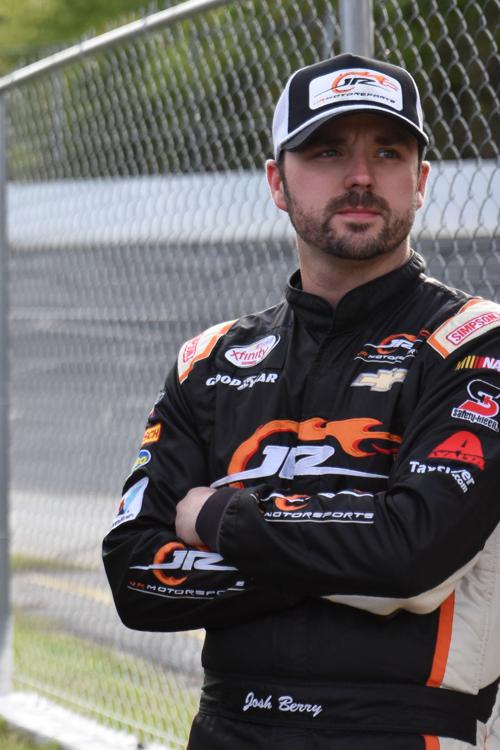 HICKORY – For the second time this year, the CARS Racing Tour is the featured event at Hickory Motor Speedway but Saturday's visit is a trip back into the past.
CARS will run 138 laps for the Late Models and Super Late Models as part of Throwback 276 presented by Hickory Soup Kitchen.
The 276 theme is in relation to the final cup race that race at Hickory in 1971 which was a 276-lap event.
As of this past Monday there are 23 throwback paint schemes including the Dale Earnhardt Wrangler paint scheme, Richard Petty's STP, Dale Jarrett's Busch Grand National and the Cole Trickle scheme from the movie "Days of Thunder."
Two drivers to keep an eye on have local ties.
Josh Berry in the Late Model Stock division and Brandon Setzer in the Super Late Model Stock division.
Berry is tied for ninth with Keith Bumgarner and Austin McDaniel with 21 career wins in the Late Model Stock at HMS having won an event this season.
Berry will be driving the paint scheme of Kelly Earnhardt's Late Model Stock car of Mom 'n' Pops Restaurant.
In five starts in the CARS Tour at HMS, Berry has two wins and two top five finishes.
Berry enters Saturday's race tied for second in points with teammate Anthony Alfredo – five back of Layne Riggs. Berry has three wins in 10 starts with six top-fives.
Berry, who drives for JR Motorsports (Dale Earnhardt Jr.), has won two of the last four events and finished third in the other two.
In the series last visit to HMS earlier this year, Berry finished 21st and second respectively.
In the three-year history of the series, Berry is tied for sixth with McDaniel in career starts (23) and first in wins with 11.
Riggs short history at HMS has been mixed with an average finish of 10th in three races. In Riggs previous three events at HMS, he has finished sixth (twice) and 18th.
Alfredo, also a driver for JR Motorsports, has run three events at HMS with two wins in the last two and a ninth-place finish in his first race.
In the Super Late Model division, Newton's Brandon Setzer should be a strong challenger.
Setzer will be running the paint scheme of his father's (Dennis) Orange Blossom Special.
Setzer enters Saturday second in points – 13 back of leader Cole Rouse.
Setzer has two wins and finished fifth or better in nine starts on the season.
Setzer is the series career leader in starts (28), earnings ($49,475.00) and tied for first in wins (five) with Raphel Lessard.
Setzer has run six series events at HMS with four top-5's finishes and one win.
Setzer's win came in the Cloer Construction 300 (Oct. 29, 2016). Setzer has finished fifth and fourth respectively in the last two events.
In addition to the throwback paint schemes, there will also be throwback concession prices and $100 given to the best dressed throwback fan.
Wadell Wilson, Harry Gant, Ned Jarrett, Robert Huffman, Robert Pressley and Jack Ingram will be signing autographs.
Gates open at 5 p.m. with a fan fest at 6 p.m. and the green flag at 8 p.m.
Qualifying is slated for 5:05 p.m. (Late Model Stock) and 5:30 p.m. for the Super Late Models.
Admission is $20, a throwback value pack $30 and 12-and-under are free.
Advance tickets can be purchased for $17 and half of all advance ticket sales goes to the Hickory Soup Kitchen. Advance tickets can be purchased at carsracingtour.com.
Be the first to know
Get local news delivered to your inbox!