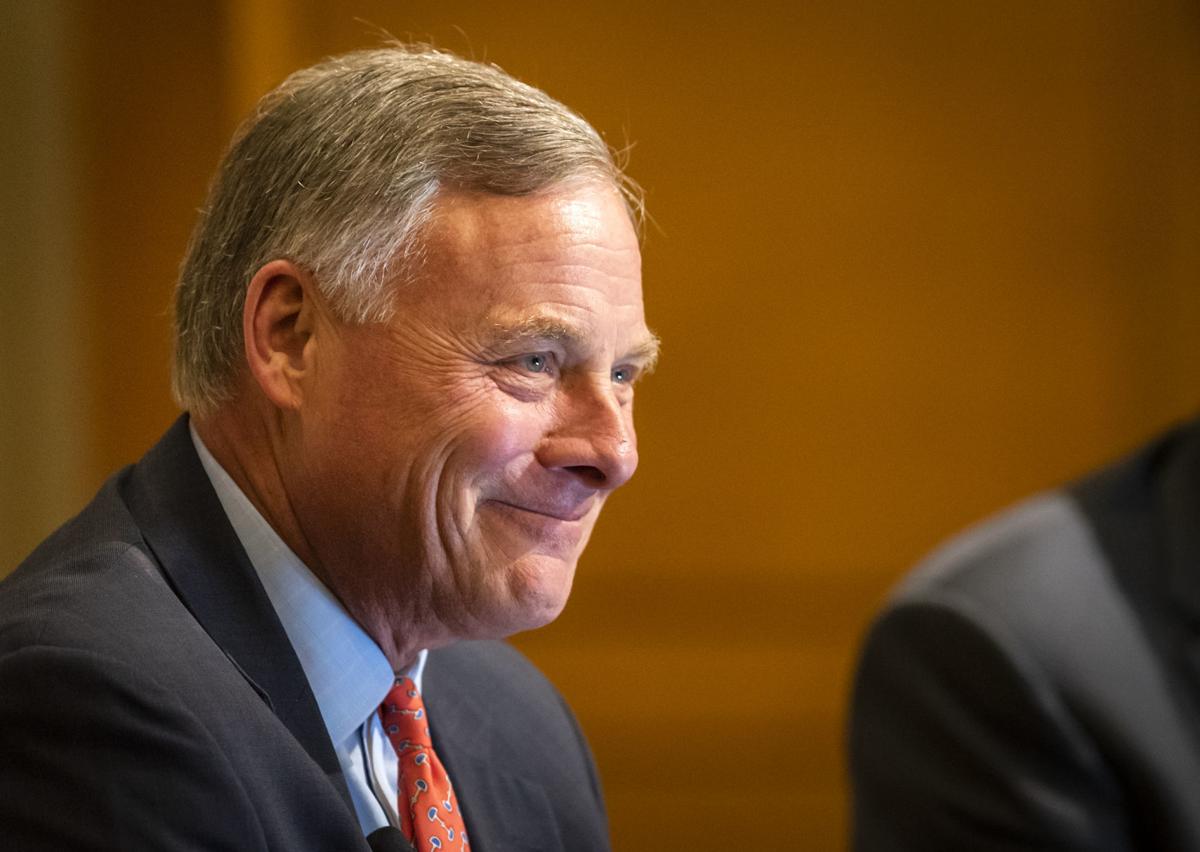 Increased legal and political scrutiny facing U.S. Sen. Richard Burr has led him to resign as chairman of the Senate Intelligence committee.
Senate Majority leader Mitch McConnell, R-Ky., released a statement around noon in which he said "Senator Burr contacted me this morning to inform me of his decision to step aside as chairman of the Intelligence committee during the pendency of the investigation."
"We agreed that this decision would be in the best interests of the committee and will be effective at the end of the day tomorrow (May 15)."
Burr's stepping down follows reports late Wednesday that his cellphone had been seized by the Federal Bureau of Investigation agents.
Calls have been renewed for the Republican from Winston-Salem to step down as chairman of the committee, if not from the Senate, amid claims he violated the federal STOCK Act.
Congress passed the Stock Act in 2012, which made it illegal for lawmakers to use inside information for financial benefit. Burr was one of three Republican senators to vote against the bill.
The cellphone seizure appears to be tied to U.S. Justice Department and Securities and Exchange Commission investigations into stock sales made in February by Burr and his wife, Brooke.
The Los Angeles Times first reported Wednesday night, citing an anonymous law-enforcement source, that FBI agents came to Burr's home in the Washington area with a search warrant for the cellphone.
The newspaper updated its report Thursday to include that federal agents served an earlier warrant on Apple for information in Burr's iCloud account. Agents used that information as evidence to obtain a search warrant from a judge for Burr's phone.
Burr spokeswoman Caitlin Carroll declined to comment Wednesday night on the L.A. Times report.
"This is not something the FBI or DOJ does lightly," Preet Bharara, a former U.S. attorney for the Southern District of New York, tweeted Wednesday night.
"It requires layers of review, the blessing of a judge, and consideration of severe reputational harm to a sitting US Senator."
Barb McQuade, a University of Michigan at Ann Arbor law professor, tweeted that "a search warrant requires a judge to find probable cause of a crime. Search warrant of a senator requires approval at the highest levels of DOJ.
"Investigation of Sen. Richard Burr just got serious."
Burr attended a joint Jan. 24 Senate Health and Foreign Relations committee briefing on coronavirus that included the director of the Centers of Disease Control and Prevention and Dr. Anthony Fauci, head of the National Institute of Allergy and Infectious Diseases.
U.S. Senate financial disclosure documents show Richard and Brooke Burr sold between $628,000 and $1.72 million of their stock holdings in 33 separate transactions on Feb. 13. The publication Roll Call listed his net worth at $1.7 million as of 2018.
Burr released a statement March 20 saying "I relied solely on public news reports to guide my decision regarding the sale of stocks on Feb. 13. Specifically, I closely followed CNBC's daily health and science reporting out of its Asia bureaus at the time.
Burr has hired attorney Alice Fisher of Latham & Watkins to represent him in potential investigations.
Fisher released a statement March 30 in response to the CNN report: "The law is clear that any American — including a senator — may participate in the stock market based on public information, as Senator Burr did."
Action by the Senate Ethics committee is not as relevant now that an FBI investigation is under way, said Larry Sabato, a University of Virginia political science professor.
"The committee very probably wouldn't take any action until the FBI and, if necessary, the courts had finished," Sabato said. "Burr could easily be out of office by then" considering he has pledged not to seek re-election in 2022.
Sabato said "the fact that the FBI seized Burr's cellphone is unsettling on its face."
"But every American deserves the presumption of innocence, so let's wait and see whether there are actually charges filed against Burr and if so, how they are adjudicated."
Other Burr issues
Burr has faced bipartisan criticism of his actions over the past three months. Those include:
Burr's comments carry significant weight in part because he is author of the federal Pandemic All-Hazards Preparedness Act of 2006.
The sales price was $900,000 — an amount "tens of thousands of dollars above some estimates of the property's value by tax assessors, a real estate website and a local real estate agent," according to the report by ProPublica, an online investigative news outlet.
"There is no evidence that Green tried to influence Burr's actions as a senator or discussed any legislation with him specifically," ProPublica said.
But if the town house was sold for more than fair market value, the transaction could be considered as a gift from a lobbyist, which typically would not be allowed under U.S. Senate ethics rules.
Even if a gift is allowed, it typically must be publicly disclosed.
According to a federal Public Financial Disclosure Act filing, Gerald Fauth sold six stocks valued between $97,006 and $280,000.
Be the first to know
Get local news delivered to your inbox!