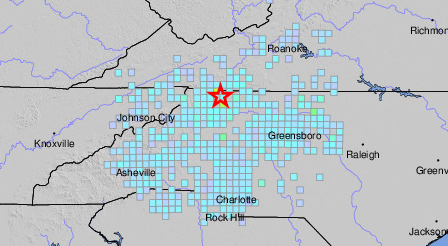 Officials say an earthquake — the strongest in more than 100 years — shook much of North Carolina early Sunday, rattling homes, buildings and residents.
The 8:07 a.m. earthquake centered near the North Carolina-Virginia border was felt throughout the Triad.
The 5.1 magnitude earthquake was centered two and a half miles southeast of Sparta, according to the U.S. Geological Survey.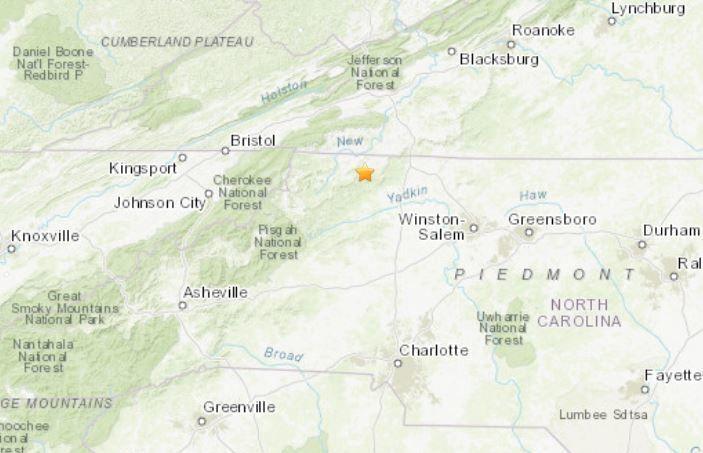 Randy Baldwin, geophysicist for the U.S. Geological Survey, said the shaking also was felt in most of South Carolina as well as in Lexington, Ky., Atlanta, Ga., and Knoxville, Tenn.
"Quakes of this size don't occur this often," said Randy Baldwin, a geophysicist for the U.S. Geological Survey.
It was the largest earthquake to hit the state since 1916, when a magnitude 5.5 quake occurred near Skyland, the weather service said.
The intensity was light and a map at the USDS indicates no damage, although pictures posed on Facebook show some structural damage in the Sparta area.
View the USGS details and interactive map here.
USGS received more than 30,000 reports within an hour of the earthquake from people who felt it.
On, Aug. 23, 2011, there was a 5.8 magnitude earthquake in Louisa, Va.
"So you do get quakes of size occurring every now and again," Baldwin said. "On a weekly basis, quakes are much smaller. Of course, it's the bigger ones that get felt.
There is a 46 percent chance of a smaller aftershock within the next day, the report says.
There is a 4% chance of one or more aftershocks that are larger than magnitude 5.1 in the next week, according to USGS. It is likely that there will be smaller earthquakes over the next week, with 0 to 60 magnitude 3 or higher aftershocks, the agency said.
The foreshocks leading up to Sunday morning were magnitudes of 2.6, 2.1 and 2.3, Baldwin said.
This is what the Food Lion in Sparta is dealing with this morning! Thanks to Mikey Whitt for letting us share these. He works for Pepsi and was making a delivery when the earthquake began @wsoctv pic.twitter.com/zoShgPWR6M

— Susanna Black (@SusannaWSOC9) August 9, 2020
Be the first to know
Get local news delivered to your inbox!