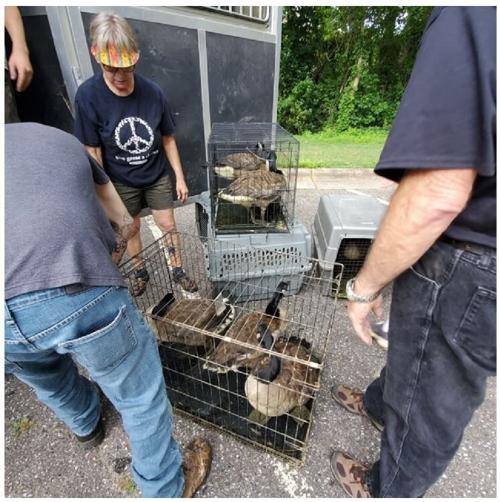 A total of 43 birds were removed from Statesville's Martin Luther King Jr. Park on Friday by Carolina Waterfowl Rescue after at least four cases of "extreme cruelty" were reported there.
"There is a pattern of abuse to animals in the park," Jennifer Gordon, Carolina Waterfowl director, said on the group's Facebook page.
The city of Statesville approved Carolina Waterfowl's plan to remove the birds to prevent further incidents from happening. Reports came in that ducks were being used for target practice, one duck was beaten over the head, and another duck was found in the bathroom with its feet cut off.
In the same post, Carolina Waterfowl said after the most recent case, "It was time to act to protect the birds in the park from further harm."
There were estimated to be around 75 waterfowl in the park, but 43 were recovered by Carolina Waterfowl. Gordon said it was likely the wild birds flew away while the domesticated ones stayed.
Carolina Waterfowl said the birds will be available for adoption after a health screening.
The group also is looking for donations to help care for the influx of waterfowl under its care. For information, see cwrescue.org.
Richard Griggs, the recreation and parks director for Statesville, was appreciative of the efforts from Carolina Waterfowl. He said that, after talking to the group about a different incident involving a duck being caught in fishing line, his department was open to doing what was best for the animals at the park.
"As they were ready to mobilize, we were happy too happy to take on their help in in in protecting the waterfowl," Griggs said.
See something, say something
The Statesville Police Department said none of the incidents had been reported to authorities, which Gordon noted that it isn't uncommon in cases like these. People often call Carolina Waterfowl or other animal services, but not law enforcement.
Gordon said that she knew at least one of the people who reported the incident to Carolina Waterfowl had not reported it to police despite her urging of them to do so.
"People expect us to file the report, but we can't because we didn't witness it. If people see it happening, they need to contact law enforcement," Gordon said.
Kristian Hernandez of Iredell County Animal Services said they hadn't been contacted about any of the incidents. Even though that agency would not be enforcing any animal cruelty laws, they would begin the reporting process to turn over to law enforcement when warranted.
"If people suspect anything, they need to call law enforcement, it could be minor, it could be major, but especially in cases like these, they need to reach out and say something," Hernandez said.