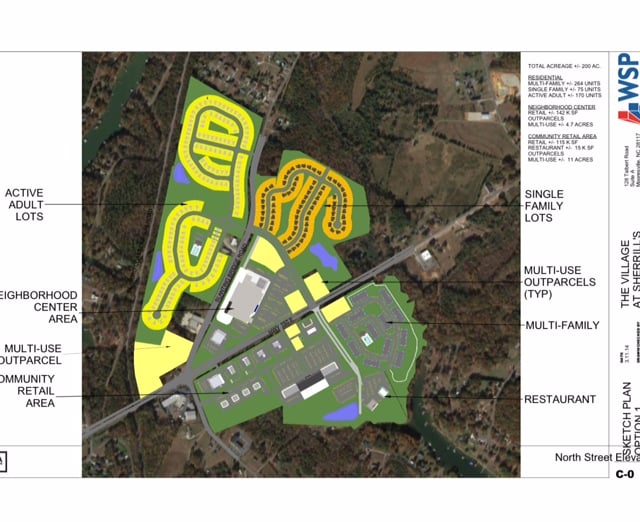 SHERRILLS FORD, NC — After little interest in it for years, a group of developers are looking to buy 200 acres in the Sherrills Ford area.
Dale Morrow and his wife, Sandy, of Morrow Development Group LLC, along with Mark and Lori Ahuna and the Simonini Group in Charlotte, plan to develop more than 200 acres at Slanting Bridge and N.C. Highway 150 that has previously been known as Village Center. The proposed development was expected to be the spot for residential, commercial and office space.
But that was when business was booming and before the Great Recession. When the economic downturn hit, any planned development seemed to freeze in many parts of the country.
Crescent Resources owned the property proposed as Village Center. Crescent Resources, which was the real estate arm of Duke Energy, filed Chapter 11 bankruptcy in 2009 and emerged from reorganization in April 2013 as a limited liability company under the name of Crescent Communities.
The original plans for Crescent's Village Center were for 145 single-family units, 70 multi-family units and 135 senior housing units. A neighborhood center included office, retail and mixed-use space, outparcels, a fire station, medical office and a library. The county decided to build a new library branch in Sherrills Ford near the intersection of N.C. 16 and Sherrills Ford Road instead.
The Village Center plans also included a day care, YMCA and space for an elementary school.
Morrow said his plans for the development of Village Center call for more residential and less commercial construction. His plans are for 200 to 250 single-family lots with three different price points. The price points are $200,000, $300,000 and $400,000.
The homes on the west side of Slanting Bridge Road would be those costing $200,000, with the homes costing $300,000 across the street, Morrow said. He said there is 35 acres on the south side for the homes that would cost $400,000.
Morrow said the less expensive homes would be built first.
The plans also call for commercial and retail, Morrow said. The residential units will take three to four years and commercial development is expected to take about five years, he said.
"We're trying to plan the commercial about the time DOT would widen (N.C.) 150," Morrow said.
Morrow said the developers have contacted grocery store chains about locating in neighborhood. They've also talked to CVS and Walgreens pharmacies, he said.
In addition, the group plans to talk to a hospital in Catawba County about doing a free-standing emergency room clinic, Morrow said.
"They've all told us the same thing: Get the rooftops started, and we will be very interested," Morrow said.
Morrow added, "We are looking at possibly doing two water-front restaurants."
The entire development will cost more than $100 million, Morrow said.
Jacky Eubanks, planning and development director for Catawba County, said the county hasn't seen any official plans so far for the 206-acre property. He has talked to developers in general terms but the original plan for the property is still intact.
Before any major retailers move to the area, residential housing needs to increase.
Eubanks said everyone is telling him there needs to be more rooftops in the Sherrills Ford area of the county before they can get more large-scale commercial building.
Eubanks said he is optimistically encouraged with the interest from Morrow and the group.
"We're encouraged we're hearing some good things," Eubanks said.
Eubanks said Morrow and the group are the first ones to advance this far in seven years.
Eubanks said developers are calling and talking about development in the Sherrills Ford/Terrell area and they seem to be more positive about future development. He said things seem to be coming together that will foster development in that area of the county.
Those things include the county wrapping up the installation of sewer lines along Sherrills Ford Road and N.C. 150. The total cost over time in the southeastern sewer system, including the county's portion of the revamped wastewater treatment plant, is $22,718,262, according to county officials.
Eubanks said the other positive for the future of the area is the plans to widen N.C. 150 from Lincoln County to Interstate 77 in Iredell County, with DOT spending more than $100 million to do it. Other positives for the development future are the corridor from the area to Charlotte, as well as to Mooresville, which is busting at the seams, he said.
The big question for Eubanks is how many changes will the new developers make and will they have to go through an amendments process.
Whatever Morrow and the group does with the property, it will be something nice, he said.
"Basically, what I want to do with that property is raise the bar," Morrow said.
The property itself will have upscale lighting and ornamental landscaping with a theme that will be used throughout the development, he said.
David Simonini with the Simonini Group said residential building should start in early 2015. The residential construction will include townhomes, homes for seniors and waterfront apartments. He's not sure if the Simonini Group will do all of the construction. The group has been talking to some national builders.
"We're excited about it, and there's a lot of growth heading in that direction," Simonini said.
The reason development hasn't happened in the area is because of the lack of water and sewer, Morrow said.
Mark Ahuna with Lori Properties said the residential parcels will be sold to a national developer and the out-parcels will likely be sold to the end-user, meaning a grocery store, pharmacy or some other type of retail company.
"We're all very, very excited about it," Ahuna said.
Ahuna said rarely has he been a part of something where all of the parts seem to be coming together so seamlessly, including support from end-users, builders and Catawba County officials.
Morrow Development Group LLC is based in Denver in Lincoln County, according to documents on the N.C. Department of the Secretary of State website. Filings with the state say the corporation was formed in August 2013.
Morrow has developed property around the perimeter of Lake Norman for 25 years, he said. Some of the developments Morrow has been involved with include Liverpool Business Park in Cornelius, Shops on the Green in Cornelius, LakeShore Marketplace in Cornelius, Royal Pointe in Mooresville, Malibu Pointe in Mooresville and Smithstone in Denver.
Morrow said he has been a commercial and real estate developer for 30 years. He partnered with the Griffin Brothers Acquisitions in Cornelius on a project at N.C. 73 and N.C. 16 called Waterside Crossings in Denver. Harris Teeter is the anchor of Waterside Crossing and includes single-family and multi-family housing, according to the website of Griffin Brothers Acquisitions.
"Teaming with Simonini Group LLC is perfect to guarantee a great community," Morrow said. "They're experience and dedication to quality has been their trademark for years."
Morrow said the group plans to close on the sale of the property in the fall.
Other property in the Sherrills Ford/Terrell area that was set to be developed before the recession is still undeveloped. Those properties include Key Harbor, a 700-acre property that was supposed to be residential development, Terrapin Creek, a 500-acre property off of Molly's Backbone Road that was supposed to be a low density, large-scale development and a 22-acre tract of property across from the Southeast quadrant of N.C. 150 and N.C. 16 that was supposed to be a Lowe's Home Improvement.