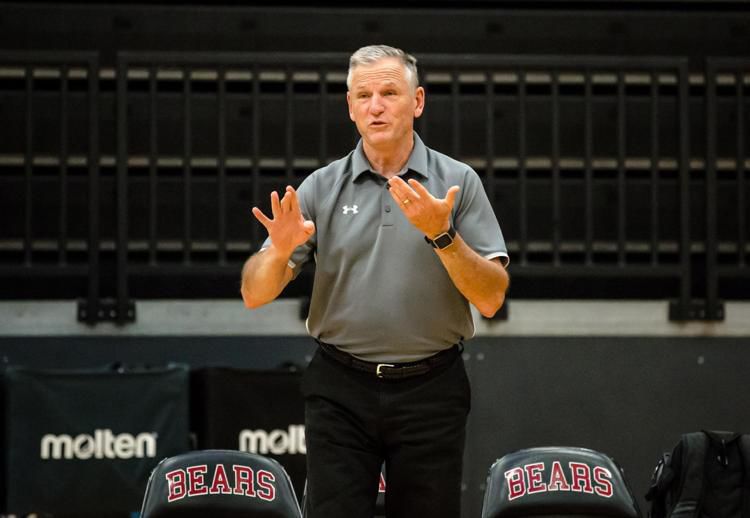 OLIN — North Iredell High School landed a veteran coach to direct its decorated volleyball program.
Athletic director John Sherrill announced that the Raiders hired Dave Markland, who coached the Lenoir-Rhyne University women's volleyball team the previous 17 seasons (2003-2019).
"I am very excited about this opportunity," Markland said. "The rich tradition of excellence that North Iredell volleyball enjoys is a tribute to the commitment that the players, coaches and administration alike have made to this program over the years. It is a tradition that I certainly hope to continue and build upon."
Markland replaces Megan Norris, who spent one season at the helm. Under her direction, the Raiders qualified for the 3A state playoffs and finished 14-9 overall. They were 5-5 in the North Piedmont Conference but took league champion and 3A West region finalist West Rowan to five sets in all three meetings.
North Iredell returns the bulk of players who made up that roster. Among them are three members of the 2019 All-County team. Headlining that group is 6-foot middle hitter Karli Gray, a rising senior.
Markland said he was not familiar with any of the players by name but noted he did have the chance to see North Iredell in action once last year against West Rowan.
When he might be able to meet prospective players and hold offseason workouts is largely up in the air for the time being due to the disruption brought about by COVID-19.
"Waiting to see what (the North Carolina High School Athletic Association allows) and when they allow it," Markland said.
He inherits a program that rose to power the last two decades. North Iredell captured two 3A state championships (2008, 2017), four 3A West region crowns and 11 NPC regular-season titles since 2001 while Natalie Tribble held the coaching reins.
Quite a few of the Raiders players that made that success possible went on to play for Markland at Lenoir-Rhyne.
Having recruited in this area over the years, he knows the situation he is jumping into. He envisions building on past accomplishments.
"(I'm) not getting into the number of wins or anything like that, but I think here they expect to be competitive in conference, number one," Markland said. "Then of course strong postseason play each year. I look forward to the challenge."
At Lenoir-Rhyne, Markland led the Bears to the South Atlantic Conference championship in 2004 and 2006, seasons he was subsequently named SAC Coach of the Year. They qualified for the NCAA Division II Tournament in 2004, 2012, 2014 and 2015.
From 1992-98, Markland led the Appalachian State women's volleyball team. The Mountaineers claimed Southern Conference titles in 1992, 1994 and 1996. In two of those seasons, Markland was named SoCon Coach of the Year. ASU earned NCAA Division I Tournament bids in 1993 and '94.
Markland's college coaching career also includes a stint (1989-1992) as an assistant at the University of North Carolina.
He began his volleyball coaching career (1983-89) at Rugby Junior High in Hendersonville.
Previous high school coaching stops included West Caldwell (1999-2000) and Davie County (2000-03). His 2001 and 2002 Davie County teams secured Central Piedmont Conference championships.
"I think regardless of which level you're coaching at it's about the athletes taking it seriously and working hard at it," Markland said. "At North Iredell, there are a lot of those kids and they are looking to play at the next level."
Be the first to know
Get local news delivered to your inbox!