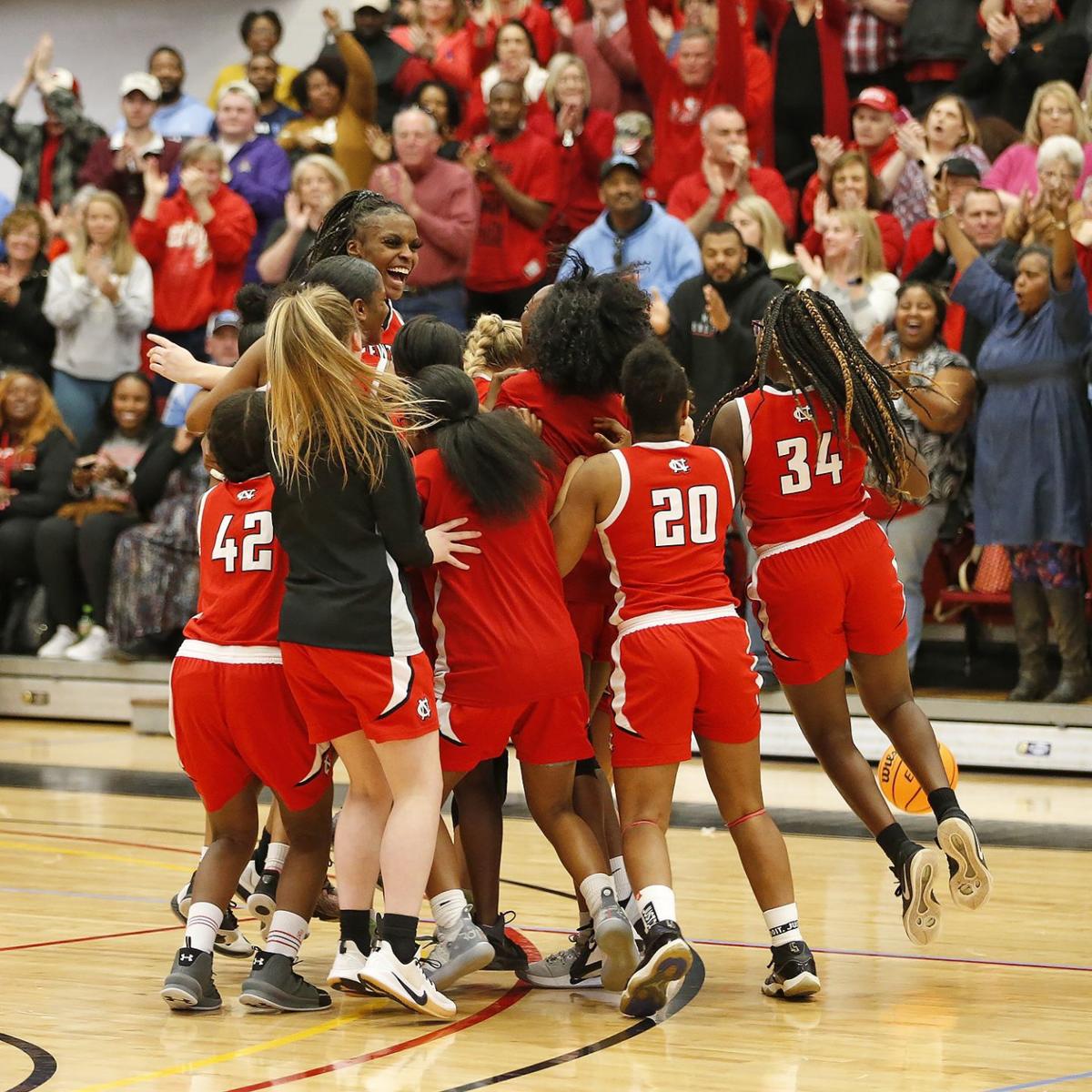 CHAPEL HILL — Following the North Carolina High School Athletic Association's announcement Wednesday that all 16 teams who qualified for the state basketball title games will be named co-state champions, the 2019-20 Newton-Conover girls are officially state champions for the second time in program history and the first time since 1992.
Rather than declaring the eight girls and eight boys squads who reached the state finals regional champions and naming no state champions, as was done in football from 1961-71, the NCHSAA decided to go in a different direction amid the coronavirus pandemic. The championship contests were originally scheduled to take place on March 14 at the University of North Carolina's Dean E. Smith Center and North Carolina State University's Reynolds Coliseum, but were postponed indefinitely on March 12 along with all other spring sports activities across the state.
"First of all, I want to thank the NCHSAA board and Commissioner Que Tucker for the work they have done with this matter," Newton-Conover head coach Sylvia White said of Wednesday's ruling. "They took their time to try to make the state championship games possible and when that was no longer possible, naming co-champions was the best decision for all teams involved.
"During this time it is small compared to what is happening in the world right now, but to our team is something they will take with them for a lifetime," she added. "Our ladies committed themselves this year to becoming an excellent team and they did. As we entered the playoffs, they were in a mental and physical state that they were not going to be denied a trip to the state finals."
After North Carolina Gov. Roy Cooper's announcement late last week that public schools would remain closed for in-person instruction for the rest of the school year, the NCHSAA followed suit by announcing the basketball title games and all remaining spring sports contests were canceled.
"Today's decision is difficult for the NCHSAA Board of Directors and staff. We empathize with the thousands of student-athletes, especially graduating seniors, coaching staffs, officials and family members affected by this decision," said Tucker in a statement last Friday. "However, this decision reflects a commitment to keeping our student-athletes, officials and member schools' staffs and their communities safe, while following the guidelines provided by the governor and his team, along with the Department of Public Instruction and the State Board of Education.
"We had maintained hope for a conclusion to our state basketball championships and a modified spring sports season to help return a sense of normalcy to our communities," she added. "Now, as we continue to deal with this difficult time, we must do so by applying the lessons that education-based athletics teaches us: cooperation, patience, sacrifice, responsibility, perseverance and resilience. Together, we will be able to put a 'W' in the win column."
In addition to West Regional champion Newton-Conover and East Regional champion Farmville Central at the 2A level, other girls teams earning co-state championship recognition included West Regional champion Weldon and East Regional champion Murphy in 1A, West Regional champion E.E. Smith and East Regional champion Southeast Guilford in 3A and West Regional champion Zebulon B. Vance and East Regional champion Southeast Raleigh in 4A.
On the boys' side, West Regional champion Henderson Collegiate High School and East Regional champion Winston-Salem Prep shared the 1A title, West Regional champion Shelby and East Regional champion Farmville Central shared the 2A title, West Regional champion Freedom and East Regional champion Westover shared the 3A title and West Regional champion Lumberton and East Regional champion North Mecklenburg shared the 4A title.
"It was the goal of our seniors from the first day this season (to win a state title)," said White of her four-player senior class that included Rutgers University signee Chyna Cornwell, Aaliah Walton, Jahlea Peters and Mackenzie Johnson. "They knew hard work every day was what it was going to take to make it happen. They did it. I have never worked with a group who were so focused on getting better and who worked so hard at practice to make it a reality.
"I am sad that they did not get to experience what it is like to walk out on that college court and play and be crowned state champions," she continued. "I just hope they can be proud of what they accomplished this year and take the lesson they learned with them as they enter the next chapters of their lives."
Other players for the Red Devils included juniors Grace Loftin, Mia Powell, Nalece Duncan and Jaelyn Hayes, sophomores Emma Fox, Lexi Martin, Monet Wilson, Lizzy Duncan and Hannah Watkins and freshman Cassidy Geddes. Geddes started for much of the season alongside Cornwell, Walton, Peters and Loftin.