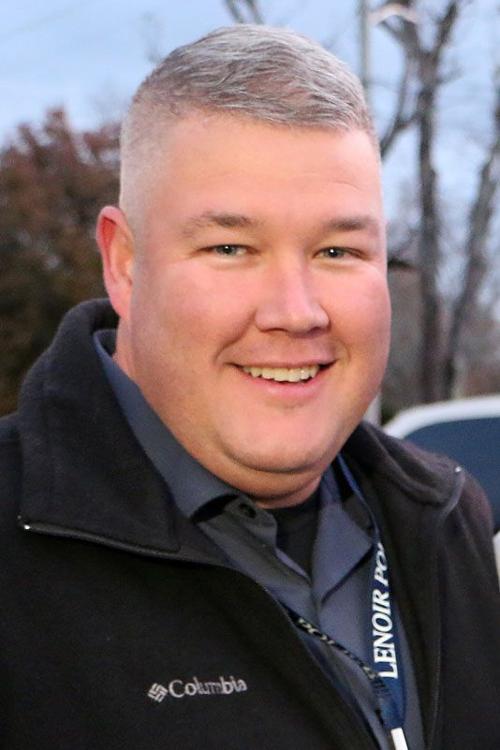 LENOIR — The City of Lenoir has decided who will serve as their new police chief, according to a City of Lenoir press release.
City Manager Scott Hildebran announced longtime officer and Capt. Brent Phelps as the new chief of the Lenoir Police Department on Friday after an extensive assessment process. He will take over the position when current Chief Scott Brown retires at the end of July.
"I am excited for the new opportunity to continue to serve the community I call home and to work with the fine men and women in the City of Lenoir Police Department and the City of Lenoir," Phelps said.
Phelps, who joined the Lenoir Police Department force in 1996, has served as the Captain of Support Services since 2012. That position made him the senior captain of the department.
In his 22 years at LPD, Phelps has served as a patrol officer, narcotics investigator, patrol sergeant, patrol lieutenant, investigations lieutenant and professional standards lieutenant.
Originally from York, South Carolina, Phelps moved to Newton in 1989. He graduated from Newton-Conover High School then earned an associate degree in applied science from Western Piedmont Community College.
In 2005, Phelps earned a Bachelor of Applied Arts and Science in criminal justice from Lees McRae College before graduating from the FBI National Academy in 2007.
As the senior captain, Phelps has supervised the department in the absence of the chief, which includes supervising 18 full-time and eight part-time employees, serving as one of two public information officers for the department, interacting with the media almost daily, managing internal investigations, overseeing the department's communication center and more.
"I like the size of our department, and I love our community," Phelps said. "For the past 10 years, I've thought I would like to be Chief one day, but I really wanted to be a Chief here in Lenoir."
At the moment, Phelps said he doesn't have plans to make any drastic changes to the department, however, he does plan to focus on a couple of issues, according to the release.
He'd like to look for ways to allocate more resources to code enforcement, and he said the department is going to have to work hard to recruit and retain high-quality officers, just like all other departments across the county.
In addition to his work at the police department, Phelps currently serves on the Shelter Home of Caldwell County Board of Directors. He's one of two officers from the Lenoir Police Department that serve on the Caldwell County Incident Management Team.
Phelps has been married to his wife Tonya, a physical therapist assistant working in home health, for 21 years. They have two high school-age children.
"We're at a very good place as a department," Phelps said. "And I look forward to continuing the successes of Chief Scott Brown."
The Lenoir Police Department will host a reception honoring retiring Chief Scott Brown from 4:00 to 6:00 p.m. on July 19, at the J.E. Broyhill Civic Center.
Jordan Hensley is the court reporter at the Hickory Daily Record. ​
Be the first to know
Get local news delivered to your inbox!