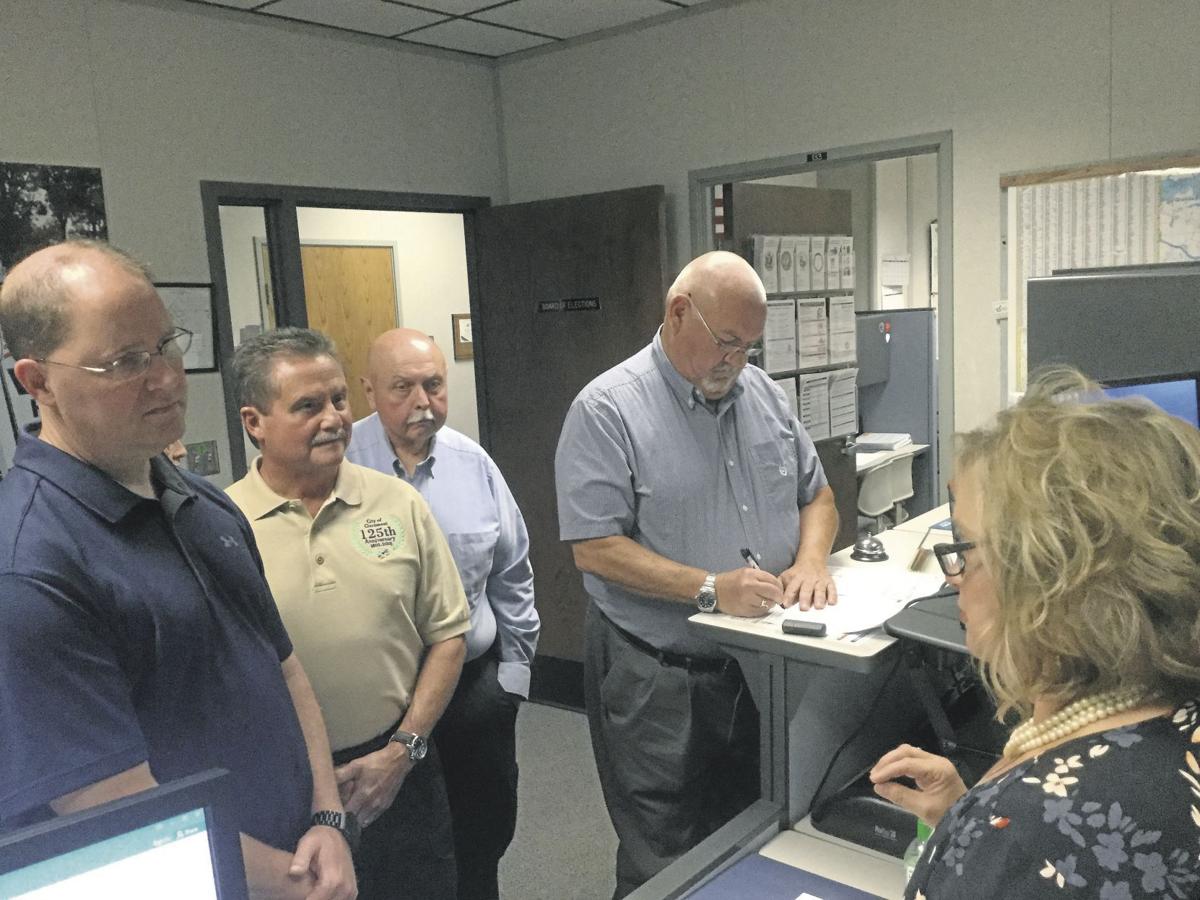 The 2019 election season kicked off Friday with candidates from across Catawba County making their bids for office official.
Filing for the November 2019 elections in eight municipalities opened at noon on Friday and will continue through noon on July 19.
The eight municipalities with elections this fall are Hickory, Newton, Conover, Claremont, Conover, Maiden, Long View and Catawba.
Claremont City Council candidate David Pruitt and Maiden Town Council candidate Danny Kiser were the first to file.
Others, including Claremont City Councilman David Morrow, Conover Councilman Kyle Hayman and Newton mayoral candidates Al Hoover and John Stiver, were not far behind.
The candidates included both incumbents and challengers.
Based on the first day of filing alone, there will be competitive races for Newton mayor, Newton City Council and Conover City Council.
It remains to be seen if there will be a Hickory primary this year.
Three city council seats in Hickory are up for election.
If more than two candidates run for any of those seats, there will be a primary on Oct. 8 to determine which two candidates will move on to the Nov. 5 general election.
So far, incumbents Danny Seaver and Charlotte Williams and newcomer Dustin Strickland have filed for Hickory City Council.
The filing fee is $12 for the city of Hickory offices and $5 for offices in all the other municipalities.
Seats on the Hickory and Newton-Conover school boards will also be up for election in November. Filing for those offices begins Aug. 16.
For more information on filing for office, call the Catawba County Board of Elections at 828-464-2424 or visit the office at 25 Government Drive in Newton.
The following candidates filed for office on the first day:
City of Hickory (Three council seats-Wards 1, 2 and 3)
Dustin Strickland (Ward 1)
Charlotte Williams (Ward 2, incumbent)
Danny Seaver (Ward 3, incumbent)
City of Newton (Mayor and three council seats)
Jerry T. Hodge (council, incumbent)
Jody M. Dixon (council, incumbent)
Rick Settlemyre (council)
City of Conover (Three council seats)
Kyle J. Hayman (incumbent)
Bruce R. Eckard (incumbent)
City of Claremont (Three council seats)
David B. Morrow (council, incumbent)
David J. Pruitt (council)
Town of Catawba (Mayor and two council seats)
Amanda Drum Stewart (council)
Town of Maiden (Mayor and three council seats)
Max Bumgarner Jr. (mayor)
Danny Lee Kiser (council)
Town of Long View (Three council seats- Wards 1, 3 and 4)
Randall Mays (Ward 1, incumbent)
Thurman VanHorn (Ward 3, incumbent)
David Elder (Ward 4, incumbent)
Town of Brookford (Two council seats)
Bill McGregor (incumbent)
Note: This story has been update to reflect the fact that there is no mayoral race in Claremont this year. 
Kevin Griffin is the City of Hickory reporter at the Hickory Daily Record.
Be the first to know
Get local news delivered to your inbox!