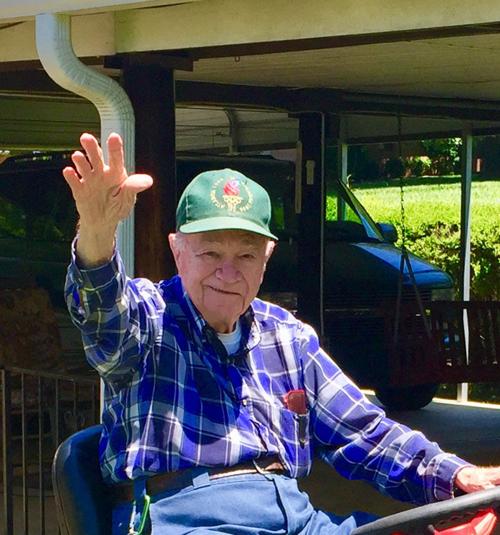 On Aug. 6, Alden Dixon will be 100 years old. Now that I've spent some time with him and two of his children, Brenda Gibson and Nancy Boggs, both of Hickory, I'm adding Alden to my people-I-most-admire list.
When Nancy suggested I write about him in honor of his milestone day, she described him as "a kindhearted and humble man, remarkable for a man his age, with a strong mind and able to live on his own." Well, he's all that and then some.
I found him standing in the sunny kitchen of his Conover home. He used no walker or cane, was smartly but comfortably dressed, and appeared remarkably fit. With a welcoming smile, he greeted me and then led me into his den where he, Brenda, Nancy and I sat while Alden shared the highlights of his life. They began with where he was born: "In the country," said Alden, "down below Rocky Mount."
Born to Jesse and Leathie Weeks Dixon, Alden was one of the middle children of seven boys and one girl. His only remaining sibling, a brother in Rocky Mount, died a month ago. He'd have been 96 on Aug. 6, having been born on Alden's fourth birthday.
The Dixons were a farming family. Fifty acres of cleared land. Ten that they worked. "When you got old enough to do anything, you went to work," Alden explained, saying he was 8 or 9 when he joined in on breaking land, plowing, planting, hoeing, and harvesting. The Dixons grew, among other crops, tobacco, cotton, corn, and peanuts.
They also raised fruits and vegetables for their own table. "You raised what you ate," Alden pointed out, adding animals to the list: hogs, chickens, cows, mules to pull the plows, and so forth.
He was in the 10th grade when the family got electricity in their home. "Everybody had oil lamps," he explained. And wood heaters. They had a well in the yard and an outhouse. "Just one?" I asked him.
"A two-seater," he responded with a smile.
Outhouse talk reminded Alden of a neighbor who knew a storm was coming but needed to visit the outhouse. He thought he could conduct his business and run back to his house before the wind picked up. He was wrong, Alden declared. A gust knocked over the little building, its owner still perched on the "throne."
Alden was the first Dixon child to graduate from high school. He said "Stone's Arithmetic," the name of his math book, was challenging but not unconquerable and that he was the star pitcher when he was in high school. Alden smiled and shared that before one of his games, a pretty girl promised a kiss for each of his strikeouts. "I struck out 13!" Alden announced. "But I collected only seven [kisses]."
At 21, Alden joined the Army. He stayed stateside during his service, which took place during World War II. "He was a mail clerk in Atlantic City for 500 recruits," said Nancy, "doing mail call five days a week and was promoted to corporal in six weeks for handling the job so well."
After an honorable discharge, Alden returned to the farm, and then a few years later, worked at an airport where he learned to fly. He piloted crop dusters for three summers, a dangerous job, he pointed out. Crop dusters fly low. Alden said he always surveyed the area before going up in the plane. He wanted to know exactly where obstacles, such as wires, were located.
Some years prior to the end of his crop-dusting phase, Alden met the love of his life at a dance. Lucille Pridgen from Roanoke Rapids was 17 and had never dated anyone. Alden was 23. They'd been married almost 70 years when Lucille died in 2017. Alden continues to grieve his loss and spends a portion of every day maintaining an organized, pristine home in memory of the wife who'd been a consummate homemaker, "the world's best cook," Nancy added. Lucille also worked 50 years as a nurse in a hospital, including as an operating room nurse, and in a nursing home. Additionally, Lucille was a licensed beautician and styled hair in her kitchen. "She had people coming from all around," reported Alden. "My wife was gifted."
It was when Lucille was pregnant with the Dixons' first child, Brenda, that Alden gave up crop dusting. With a baby on the way, he couldn't continue engaging in a job that could get him killed.
Flying remained a passion for Alden, however. At one point in his life, he'd begun training to become a commercial pilot, "but then the government closed the school," said Alden, who at that time couldn't afford private classes. He did later in life share ownership of an Aeronca 7AC, a single-engine plane with two seats. "I never had a crash, but I did have my share of ups and downs," Alden quipped.
He'd take his kids and their friends up and stall the engine on purpose — for fun, he said. He'd fly them around the local baseball field. Eventually Alden sold his share of the plane.
Alden also fished for "anything that would bite," he said, hunted squirrels for eating, and maintained a vegetable garden.
For many years, Alden, who has an innate sense for all things mechanical, worked in textiles at various locations, ultimately moving to the Catawba Valley. He was a sought-after mechanic who could repair textile machines, his talent having been honed on the job.
Alden's daughters said his doctor was amazed at their father's good health, "the vital statistics of a 30-year-old man," said Nancy. Alden said he has no aches or pains, and his only real challenge is some hearing loss for which he uses a hearing aid. His driver's license is good until he's 105. He takes himself to the grocery store and Dollar General where he does his own shopping. He plants tomatoes, does his laundry, cleans his house, takes the stairs to his basement, and regularly pulls out his leaf blower to blast debris off his outdoor sitting area. He pointed at a photo of Lucille and repeated that he tries to keep the house clean to honor her.
"He's still got a lot to teach us," Brenda shared, saying she, Nancy, and their brother, Marion Dixon of Morganton, continue to call Alden with questions. How to do this or that. How to get rid of pests, etc. From the way his daughters talked, Alden is a mini internet made of flesh and bone and a jam-packed brain.
I wondered how Alden compared life decades ago to life now. He talked about the simplicity of depending on a horse and a good pair of mules back in the day, of having minds filled with know-how. Today, the know-how is in little machines. "All this innovation," he stated. "Now everybody has an encyclopedia in their pocket."
"Now is better as far as transportation, food, and homes," said Alden, but he's concerned with all the competence people no longer possess. "In a catastrophe, half the people would starve to death," he predicted.
Alden doesn't watch a lot of TV, catching just one daily news show, seeing what the Weather Channel is predicting, and enjoying "Jeopardy" each evening. He attributes his long life to clean living, reading the Bible every day, and eating whatever he wants but in moderation. "If you put [too much] in," he warned, "it's going to come out in circumference."
Alden has three grandchildren and two great-grandchildren. On Aug. 6, he'll be honored at a small family party.
Happy birthday, Alden! You're a treasure.
"When you got old enough to do anything, you went to work."

Alden Dixon, 100