As the Blue Angel plane flew into Hickory Regional Airport someone among the crowd said, "That's the sound of freedom."
The Blue Angel #5 F/A-18 BuNo 162411, a plane flown in the U.S. Navy Blue Angels demonstration squadron, joins the Hickory Aviation Museum's flight line collection after flying in from Pensacola, Florida on Friday afternoon.
"This is going to be the centerpiece of the museum," said Wesley Parlier, Hickory Aviation Museum volunteer. "We're going to be only one of five aviation museums nationwide to have a Blue Angel — this is going to be the crown jewel of the museum."
Parlier added that only two of the recently retired Blue Angel planes were flown to their destinations — one to Hickory, and the other to the Smithsonian Museum. Other retired Blue Angel planes were taken apart and shipped to museums across the country.
The retirement of the planes comes after the U.S. Navy made plans to transition to newer models. "This airplane is the oldest of all Blue Angels that are flying right now," Parlier said. "It has services in Iraq and Afghanistan — it's an awesome airplane."
Although the Blue Angel is parked at the Hickory Regional Airport, Parlier explained that it will be a few weeks before it will be on display. "For us to get it, we have to have people come in and demilitarize it," Parlier explained.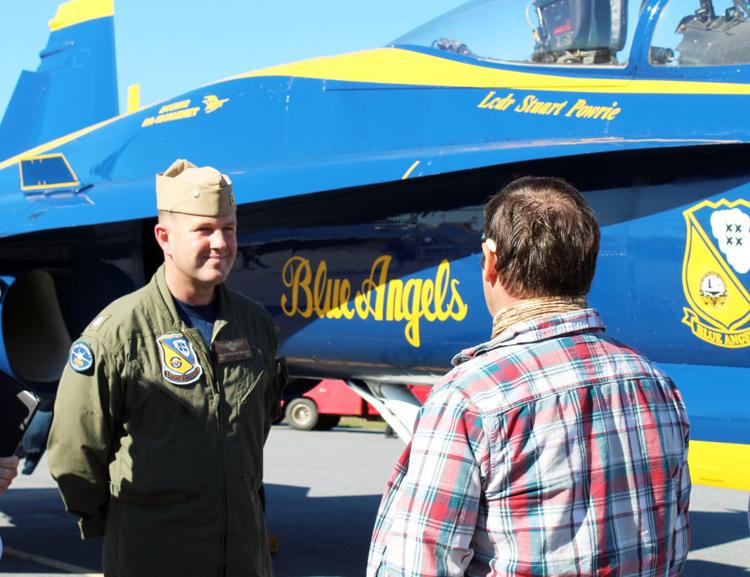 Blue Angels pilot Cmdr. Frank Weisser flew the Blue Angel plane from Florida to Hickory. "This airplane is an exceptionally awesome airplane for us; we've had it for years and years," Weisser said. "It's had a really long and storied history with us, and to bring it up here is awesome."
Hickory Mayor Hank Guess expressed his gratitude to the U.S. Navy Blue Angels and the Hickory Aviation Museum for the addition of the plane.
"It's extremely exciting for us to have this opportunity and to be able to add this plane to our museum," Guess said. "I don't know how many opportunities a person might have to be able to get this close and sit in, not only this aircraft, but the other ones the museum has as well. The Hickory Aviation Museum provides such a unique experience for everyone."
Weisser explained that the Navy's Blue Angels fly the planes all over the world, and they can sometimes be overlooked in larger cities.
"To bring it to a town like Hickory where it's going to be a loved airplane and part of a wonderful museum… it's the best spot," he admitted. "Everyone appreciates the magnitude of what this means, and that's important to us. We care about where we send these (planes) for their final spots."
Emily Willis is a general assignment and education reporter at the Hickory Daily Record. 
Get local news delivered to your inbox!
Subscribe to our Daily Headlines newsletter.