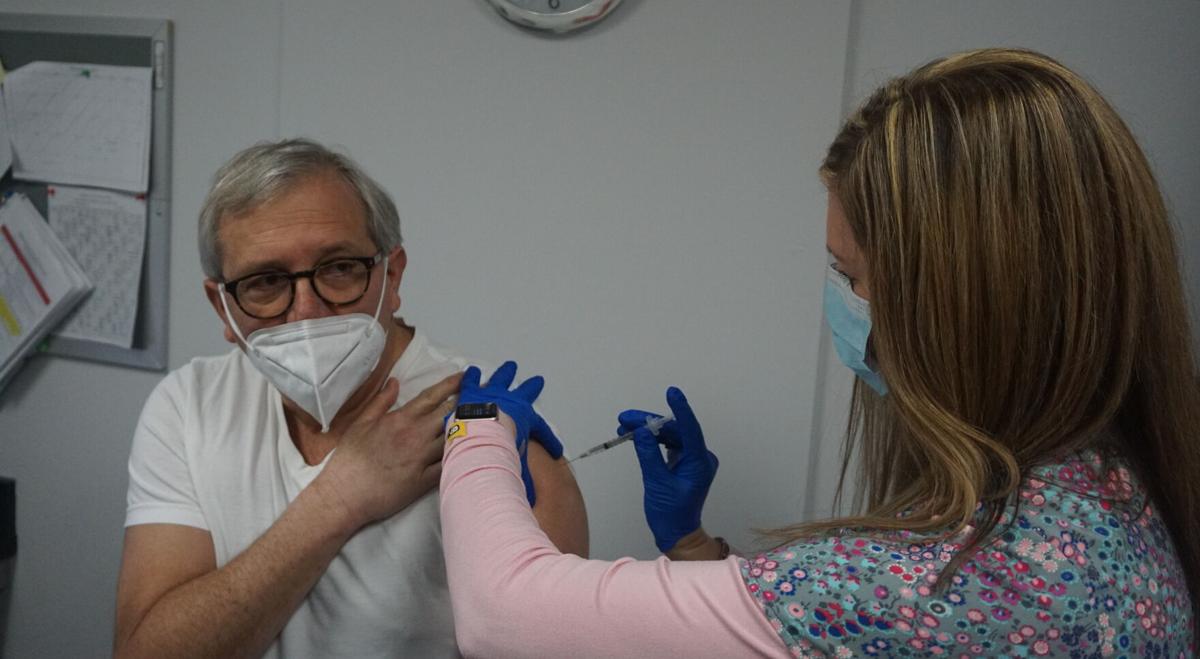 Paul and Laila Caporossi were committed to taking the COVID-19 vaccine when their turn came. They didn't expect it quite so soon.
When the couple heard that Catawba County Public Health would start vaccinating anyone over 75 years old starting Jan. 4, they leapt at the opportunity. The couple called the health department before the appointment phone line was officially open, Paul Caporossi said.
"I heard through the grapevine that the health department was taking appointments for the following week so … I called and left a message and over the weekend they called back and said we'll register you," he said.
On Monday, Jan. 4, Paul and Laila got the vaccine. The whole process took about 20 minutes, he said. They arrived at the Hickory Metro Convention Center at the designated time, walked in to get checked in and were directed to their cubicles where public health staffers gave them information on the vaccine, walked them through a short health questionnaire and set up an appointment for a second shot.
Once the vaccine was administered, Paul and Laila waited with other vaccine recipients in an observation room for 15 minutes. Everyone is asked to stay for that time to make sure they don't have an allergic reaction to the shot, according to public health.
The entire process was efficient and effectively socially distanced, Paul Caporossi said.
"Kudos again to the health department and the Metro Center for providing that facility," he said. "That system works flawlessly."
The Caporossis weren't the only ones clamoring for the vaccine. The health department's phone lines were busy all week, but the department asked people to keep trying to get through so they could get an appointment. Currently, appointments for those eligible are scheduled about one week out, but that can change depending on vaccine availability and demand, according to Catawba County Public Health Community Engagement Specialist Emily Killian. People over age 75 and health care workers most at risk of being exposed to COVID-19 are eligible.
The health department is expecting to get a weekly shipment of the vaccine, and so far has received at least 1,950 doses from the state. Catawba County as a whole, including both hospitals, has received 8,775 doses so far and vaccinated at least 2,150 people as of Jan. 5.
"The important thing to remember is that there will be enough vaccine for everyone who wants to receive it, although it will not all come at once," Killian said.
As a former practicing physician and an 80-year-old, Paul Caporossi knew the importance of the vaccine for himself and his community. Still, he thought their time to get the vaccine wouldn't come for weeks or months, he said. Under North Carolina's original vaccination plan, it wouldn't have. The plan was changed in late December to open vaccination to anyone over 75 as the second phase of distribution.
Catawba County was among the first counties in the area to open vaccination to people over 75. Paul Caporossi knew it was important to get the shots as soon as possible.
"I've heard some people refer to it as the golden ticket, the get-out-of-jail-free card," he said. "I won't say that we're out of the woods yet, but it is a step in the right direction."
Appointments for vaccination won't stop, Killian said.
"We have had some people worried about their appointments or worried we might stop taking appointments," Killian said. "We anticipate receiving weekly shipments of vaccine and are continuing to make appointments for priority groups."
The health department has received three shipments of the Pfizer vaccine, which is sent in batches of 975 doses.
"We have additional staff who are trained and are ready to expand our capacity when the time comes," Killian said. "We anticipate receiving weekly shipments of vaccine and are continuing to make appointments for priority groups. ... We are actively managing the number of appointments we schedule to align with the amount of vaccine we anticipate receiving."
The health department will be joined in vaccinating people over age 75 on Jan. 11, when Catawba Valley Medical Group will start the vaccinations. Other physician offices, pharmacies and providers are expected to start giving the vaccine in the coming weeks or months, Killian said.
"This will happen as more and more doses become available and we move through additional phases and groups," she said. "We are eagerly awaiting this because as more people are vaccinated, they will not have to face the potential short- and long-term effects of COVID-19."
Paul Caporossi hopes many follow in his footsteps. He's encouraging friends, family and neighbors to take their shot when they can and asking others to do the same.
So far, neither he nor Laila has seen any side effects of the first dose. In three weeks, they'll return for their second shot, which is more likely to cause side effects, but nothing serious, according to public health. The vaccine is safe, Killian said. It cannot give you COVID-19, but causes your body to build immunity to the virus.
"Side effects do not mean the vaccine gave you COVID-19," Killian said. "It means that the vaccine is causing your immune system to make antibodies to fight off the virus. In other words, if you feel some discomfort, then the shot is doing its job."
Alexander and Caldwell counties also started vaccinating people over age 75 last week.
Alexander County, medical institutes and the health department have received 3,150 total doses of the Moderna and Pfizer-BioNTech vaccines.
Caldwell County, both medical institutes and the health department have received 4,400 total doses.
Burke County has not started vaccinating people over 75. The county health department, local hospital and other medical institutes have received 4,500 doses of the vaccine in total.
The next phase of vaccination will be health care workers and frontline essential workers who are 50 or older. Those workers include first responders, correction officers, food and agricultural workers, U.S. Postal Service workers, manufacturing workers and grocery store employees, among others. Those people will not be vaccinated until the state and local health departments announce that they are eligible.