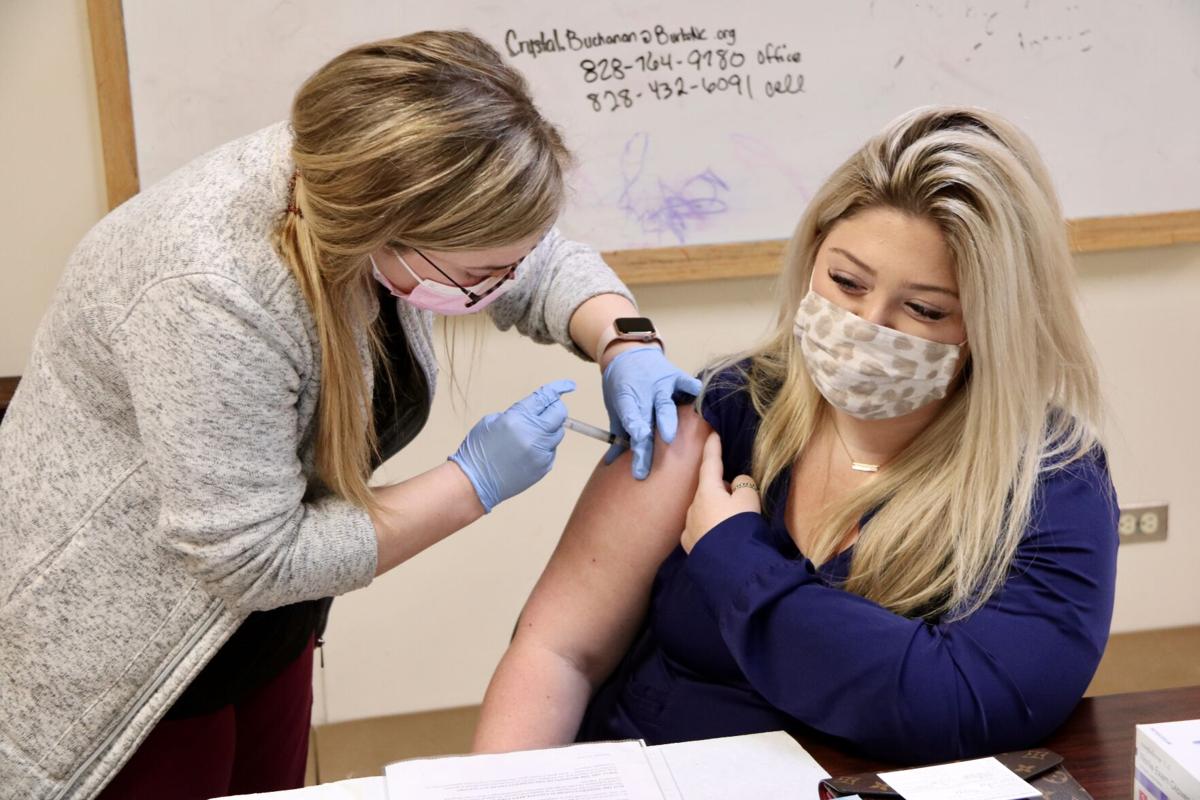 Schools nurses are among the public health nurses helping distribute the COVID-19 vaccine in Catawba and Burke counties.
School nurses are taking part in contact tracing, coordinating quarantine and self-isolation and monitoring students for symptoms of COVID-19. Now that the vaccine is available, they're assisting in the vaccination process.
In Catawba County, school nurses are being trained to administer the vaccine, Catawba County Public Health Community Engagement Specialist Emily Killian said.
"We have nurses from a number of different program areas that we're rotating through (vaccine administration)," Killian said.
Among those are case management nurses, adult health nurses and school nurses, along with communicable disease nurses. They have all been trained so they can rotate nurses throughout the days of vaccinating.
When more doses are available, those nurses will be ready to step up to expand the vaccination program, Killian said.
In Burke County, school nurses will be helping in the community where needed to help administer the vaccine, Burke County Public Schools Head Nurse Miranda Michaels said in a news release.
The county's school nurses have been trained and will start administering the vaccine this week.
The school system has also offered to contribute other staff and resources, including building space for vaccine clinics, the news release said.
"We continue to be in this together and take action to help mitigate the effects of this pandemic to get us closer to our new normal, which means ultimately getting our staff and students back into a full-time, healthy learning environment," Burke County Public Schools Superintendent Larry Putnam said in the news release.
Catawba County is currently administering the vaccine to health care workers in the first group of eligible vaccine recipients and anyone older than 75. Burke County is only vaccinating health care workers most at risk of exposure. Burke will move on to people older than 75 in a week or two, according to the news release.
The next group of vaccine recipients, after people older than 75, will be health care and essential workers older than 50, according to the N.C. Department of Health and Human Services. Those essential workers include teachers and education staff, first responders, corrections officers, food and agriculture workers, grocery store employees, manufacturing workers and U.S. Postal Service workers.
Case count
Catawba County reported 148 new confirmed cases of COVID-19 on Monday and two new deaths.
The new cases put the county total at 13,248, according to Catawba County Public Health. The county has now seen 199 COVID-19 related deaths.