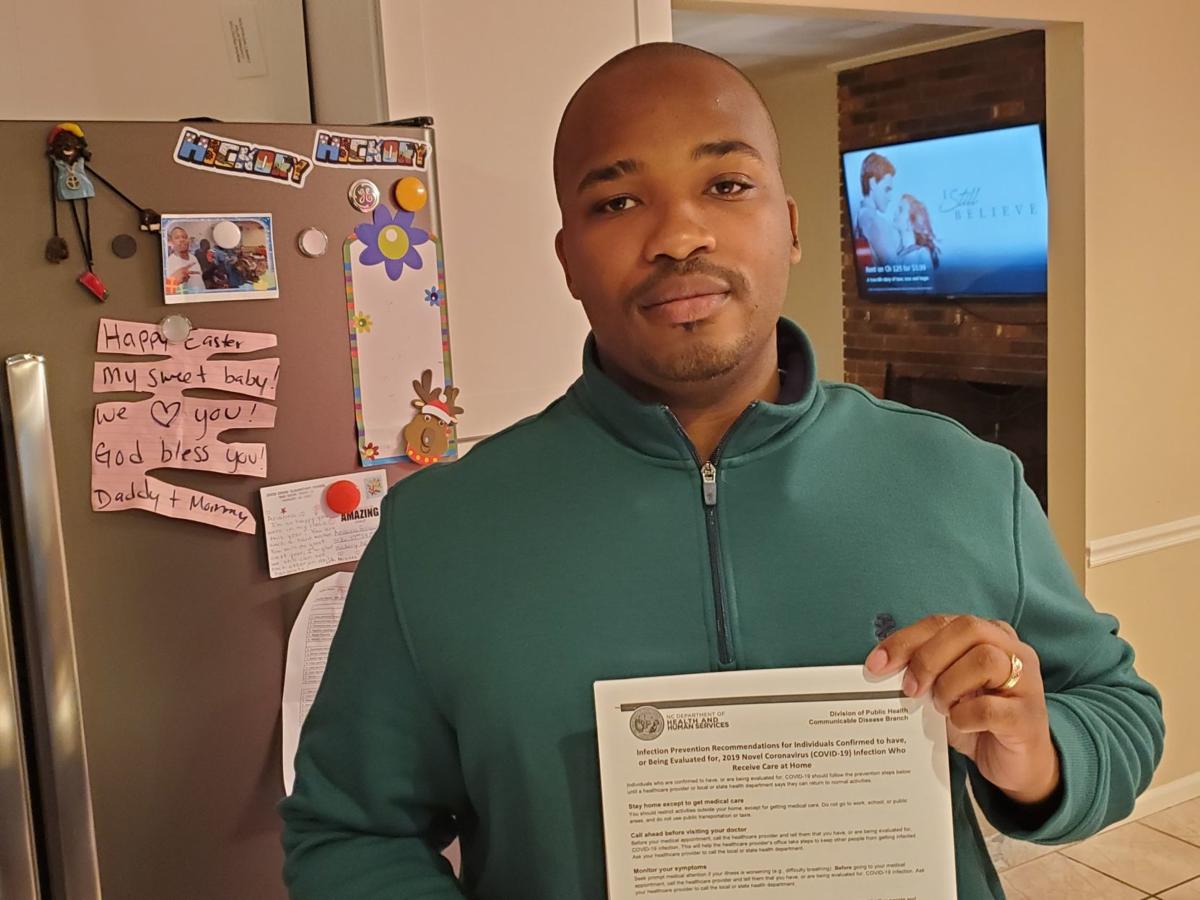 When Gerald Ferguson first became sick in mid-March, he thought he had food poisoning.
His symptoms — diarrhea, back pain and loss of appetite in addition to a fever — did not seem to match the symptoms of COVID-19.
Ferguson languished for nearly a week before going to an urgent care and then to the hospital.
He was hospitalized at Frye Regional Medical Center initially. After about two days, he was transferred to Baptist Hospital in Winston-Salem.
Eventually, Ferguson would learn he contracted the virus. He believes he got the virus at a wedding in Hickory he attended shortly before he started showing symptoms.
Ferguson, a 29-year-old with no underlying conditions, did not seem like the typical person who would suffer from a severe case of the virus.
The severity of his condition seemed to puzzle the medical personnel at Frye, Ferguson said.
"Personally, they didn't say this but I think that's why Frye transferred me to Baptist because they had no idea what was going on and the status quo at that point was it's only affecting the sickly or the high-risk and I didn't fit any of that at all," Ferguson said.
He said he was transferred to Baptist Hospital in Winston-Salem after roughly two days in Frye.
In total, he spent a little more than two weeks in the hospital. He was on a ventilator nearly half of that time.
At one point, he had to be restrained because he had hallucinations of being kidnapped and attempted to crawl out of his bed.
He attributed the hallucinations to the drugs he was given.
Ferguson lost track of time. His room in the Intensive Care Unit had no clock. There was a window, but it was positioned in a way that he could not see it.
Eventually he started keeping track of time based on the schedules of the nurses.
For several days, he was not allowed to eat or drink and had to subsist on ice chips.
Throughout his hospital stay, he noticed nurses who seemed nervous about divulging too much information about his condition.
"All (my nurse) would say was, 'You were in really bad shape,"' Ferguson said "Nobody would say, 'Hey, you were in lung failure.'"
The effects of COVID-19 lingered even after he left the hospital. He slept for about a week after leaving the hospital.
By late May, he'd regained much of his energy and was feeling much better. Still, he said it did not feel like his lungs had fully recovered.
One thing that struck Ferguson was the way the disease sneaked up on him. He said it took him time to grasp how serious his condition was.
"I was laying in bed not realizing this is actually getting a lot worse than it is," Ferguson said. "And the nurse told my wife … 'Hey, if he had laid in bed for a couple more days, he'd have been dead.' I didn't feel like I was dying."
He added: "Some people say that it's just like the flu. I don't think they're giving it enough credit."
Get local news delivered to your inbox!
Subscribe to our Daily Headlines newsletter.