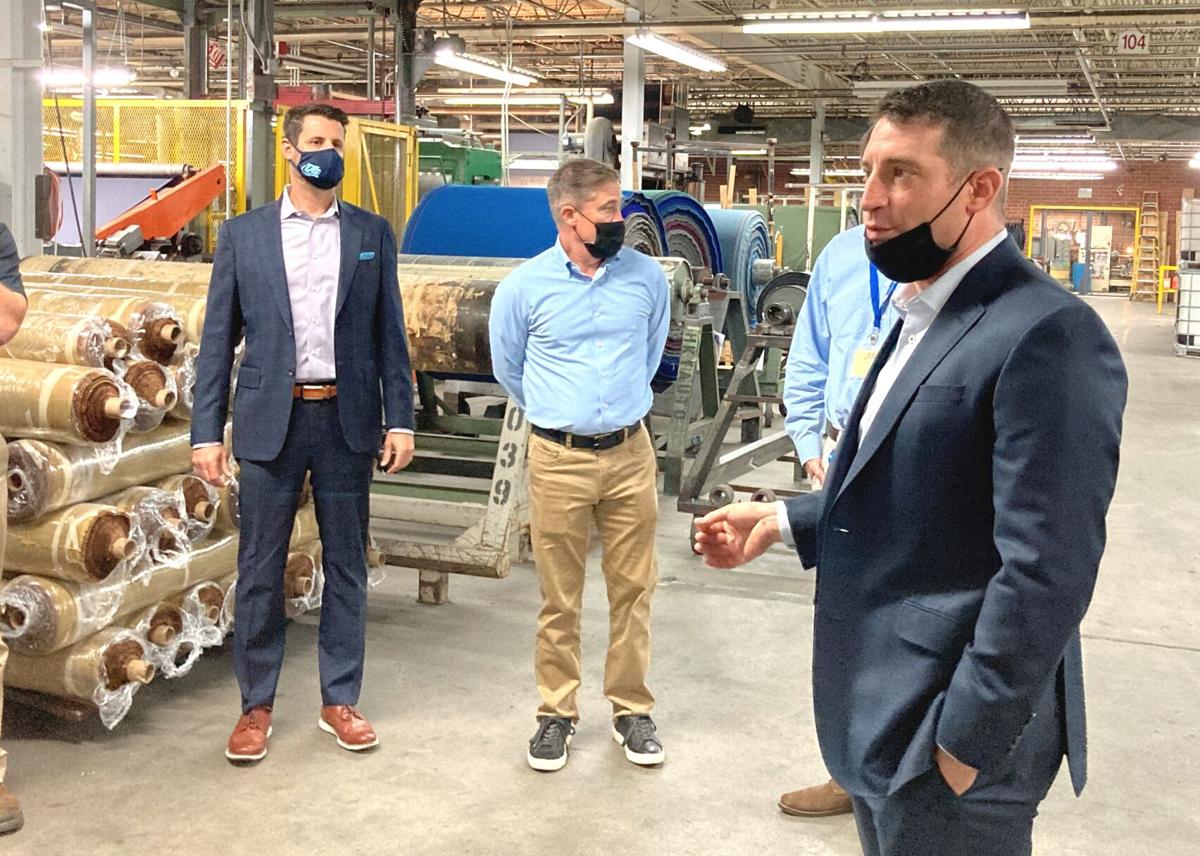 Rolls of fabric are piling up in TSG Finishing's intake area.
The company adds finishes to fabrics — making them waterproof, fire retardant, softer and stiffer — and is seeing increasing demand for their services. They just don't have enough employees to keep up with the demand.
The struggle to hire is the number one issue facing employers right now, TSG President Michael Goldman said. The company is urging local and state officials to do something about it.
"We all know it's a problem, but we don't want to complain without presenting any solutions," Goldman said.
The company convened with a dozen manufacturing leaders and public officials Friday morning in Long View to talk through the hiring stagnation.
The group included Goldman, TSG CEO Brian Rosenstein, Shurtape Technologies CEO Vuk Trivanovic, Valdese Weavers President Blake Millinor, Century Furniture CFO Brandon Hucks, State Sen. Dean Proctor, a representative from Sen. Thom Tillis' office, a representative for Rep. Patrick McHenry, Catawba County Economic Development Corporation President Scott Millar, Hickory City Manager Warren Wood and Catawba County Manager Mick Berry.
TSG made their situation clear to the group: the finishing plant is running its fabric finishing machines at 40% capacity. If the company had the number of employees they desire, they'd be able to do 75%. To keep up with the growth in orders they're seeing now and expect well into the future, TSG wants to employ enough people to run the machines at 90% capacity, Goldman said.
Without the employees they need, the wait time for finishing fabrics has increased from one week to a month or more for an average order, Goldman said.
The company tried increasing pay, improving benefits and adding employee perks without much luck. That's why they decided to turn to local leaders for help.
Other industry leaders made it clear that TSG is not alone in their hiring struggles.
Shurtape CEO Tribanovic said the company is struggling to keep up with growth.
"We appreciate you guys having this meeting because we are facing challenges supporting our growth," he said.
Valdese Weavers is seeing a high turnover rate and consistently open positions, company President Millinor said.
"We've got 800 employees and like everyone else in the room we're looking for more," he said. "This is of critical importance."
TSG encouraged local leaders to consider specific action that could ease the hiring difficulty, Goldman said.
TSG leaders see the workforce problem as multi-faceted. The causes could be reluctance to work due to health concerns surrounding COVID-19, disincentive to work due to pandemic stimulus programs or the influx of new jobs created by new companies brought to the area by economic incentives, TSG leaders suggested in an agenda packet provided at the meeting.
The company also offered possible solutions for addressing the shortage.
TSG officials suggested local, state and federal leaders should attract immigrants or resettled refugees to western North Carolina to join the manufacturing workforce. The company also encouraged vaccination campaigns to combat vaccine hesitancy, increasing requirements to qualify for unemployment insurance and employer-based stimulus packages.
At a state level, TSG suggested developing incentives for existing manufacturers to retain and hire people in existing jobs and considering legislation to stop federal unemployment supplements or reward COVID-19 vaccination.
Federally, TSG would like to see leaders advocate for a study on the causes of the labor shortage and a focus on buying American-made products.
State Sen. Proctor said that he sees two potential solutions to the shortage: cutting the federal unemployment supplements and mandating that people on unemployment who are offered a job must take it.
TSG, like many companies, is reaching a critical level of staff shortages, Goldman said. He said he's never seen so many backed up orders waiting to be processed. The company turned some orders away to keep wait times down, and that business may never come back.
Even with incentives and bonuses to keep up with rush and bulk orders, TSG employees can barely turn out the minimum their customers need, Goldman said.