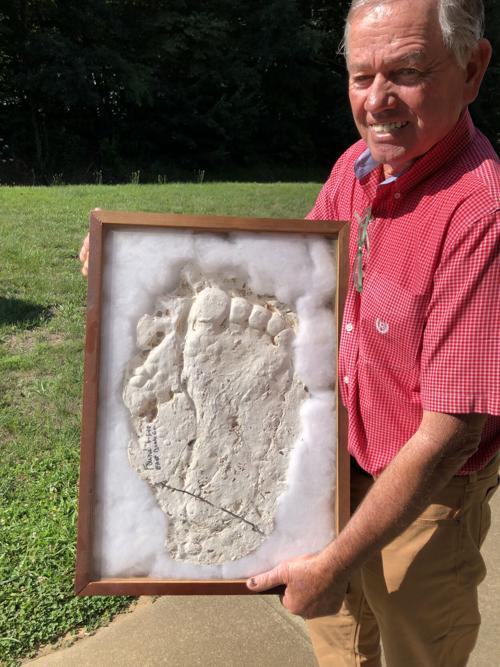 When I left you last week, I promised information about Bigfoot in the George Hildebrand area of Burke County.
Let me recap a bit first. The July 4 story centered around Rex Lail, whose mother Ruth Ellen Lail had named him Rex Allen after a singing cowboy she admired, and Rex's large family, many of whom started a little theater in Rex's construction business' warehouse to portray the growing-up years of the Lail family. Then they moved into a newly constructed theater on the Lail family property, the same land on which Rex and his seven siblings grew up and where he has his home and his business, Lail Builders.
After 14 years of putting on shows for each other and then for audiences as large as 200 people, the skits ended, and the theater, along with a portion of the surrounding property, became an events venue: weddings, parties, and the like.
In the meantime, a new theater came to be, this time on TV: the "Rex Allen Theater Presents," which airs every Friday night at 8 p.m. on WHKY-TV14. "Every Friday night for the last 11 or 12 years," said Rex. "I film it, edit it, and get it out. I also come up with each show's program, which is always about people and the interesting things they do." The family-as-theater moved from the stage to the television, along with guests and sometimes, surprising testimonials from people who've seen or heard things in Burke County that left them pretty darn sure there's something or some things living in the woods that aren't bears or big cats or any other creatures one learned about in school.
Before I get to the big beast, let me tell you a little about the show. It's always 28 minutes and 56 seconds long, according to Rex, and because he has such a big family, "there's always that pot to dip from," as he described where he gets some of his actors and hosts. "I use my grandkids as little actors," he said. Rex has nine grandchildren, boys and girls ages 6 to 17. They portray their grandparents and great-aunts and uncles growing up, such as them going through the motions of daily life decades ago.
There's a cooking show: "Kathy's Cooking." Host Kathy Hildebran is Rex's sister. Sometimes she's the whole show; sometimes the program moves on to gardening with Don Brittain of George Hildebrand or to a special guest. Sometimes, Teddy Lail, "the comical one," said Rex, appears on the "Rex Allen Theater Presents" when the topic is Bigfoot.
Rex said he used to think Bigfoot was something made up. "Before all this happened, I thought this was all bull," said Rex. After hearing lots of stories, though, from people who seemed very sure of what they'd seen and heard, he started thinking about things he'd heard when he was a kid, and his mind began to change.
Rex said his parents — before they had children — returned from a church social one night. "Mom had made a gallon of salt pickles," said Rex. "My dad said, 'I think I'll have a couple of pickles before I go to bed.' The next morning, my mom told my dad, 'You must have been hungry. There's not a pickle left in that jar.'"
Rex said his mom and dad decided there must have been an escaped convict in the area, and he'd come into their kitchen while they were sleeping and eaten all the pickles that were "just sitting out in a big crock," Rex described. After hearing all the Big Foot stories, Rex began to reconsider things he'd heard, such as all the pickles going missing long before Rex was born.
First, there are the hunters, folks who know the woods inside and out: the smells, the sounds, the sights, so when something's not right, they can only assume it's not an ordinary forest dweller. Rex said they talk about a "distinctive, pungent smell — a different kind of smell." One hunter claimed he'd seen the creature. Others said they'd heard it, that it made sounds, screaming actually, unlike any other animal or wind traveling through the trees.
"These guys were scared to death," said Rex, who shared the story of some hunters who'd had big rocks thrown at them from some unknown source. The rocks were just flying through the air.
And then there were hunters who found an enormous pile of excrement. As said, the people who hunted those woods were very knowledgeable about the animals that lived there. They'd never found such a pile of manure.
This interest in Bigfoot started for Rex in 2010 when a giant footprint was found by a man known as Pork Lowman. Pork was on his brother Johnny Lowman's property. Pork tended a garden on Johnny's land. He was going out to his garden when he saw the enormous footprint." Rex suggested it was just too perfect to have been contrived. He has a plaster cast that was made from the footprint.
I wondered why there was only one print. Apparently, the area around the patch of soft ground was such that more footprints wouldn't have been made.
Nighttime seems to be when the creature does its roaming. There have been people so sure of spotting the beast that they've put on night vision goggles while in the woods.
Rex said he's gone out to do some looking and listening for himself. "We take people on hunts with us," he reported. Rex said he's heard the screaming.
So, how does a creature that lived many decades ago and ate salt pickles in a little kitchen continue living today? "I think there's many of them," said Rex. "They're thought to live in caves and caverns."
On his TV show, Rex offered $2,000 to anyone who could prove that the footprint was a hoax. When no one responded, Rex upped the reward to $5,000. "Not one taker," Rex declared.
All sorts of folks have roamed the woods looking for Bigfoot, including a bunch from California.
Speaking of California, one of Rex's best stories is about a woman originally from that state, who moved to Burke County. She told Rex she was heading slowly down a road, her dog with her in her truck, a dog that never barks while enjoying rides. The dog started barking and looking intently through the truck's back window. "The dog was going crazy," said Rex. "[The woman] glanced in her side mirror and then her rearview mirror and saw a big creature like it had stopped behind the truck," said Rex.
"Then she looked out the window on the driver's side, and in three steps he was across the highway," Rex continued, emphasizing that the creature had crossed the wide road in only three steps. "She described it as 'big, black, long hair, and wet."'
Here's maybe the most interesting part of this particular testimony: The woman had spotted the beast in the vicinity of the footprint Pork Lowman had found one week prior.
"We're not out to hurt this creature in any way," Rex stressed, saying another hunter shared that he had seen the creature step over a high fence. "[The hunter] had a high-powered rifle with him," said Rex. "He just got up and left."
There are many more stories, numerous videos Rex has made of people sharing what they've seen, heard, found, and smelled. You might see some of them on Rex's show, "Rex Allen Theater Presents." Or, you might go on a Bigfoot hunt yourself. Take a handful of salt pickles with you. I hear the thing really likes them.