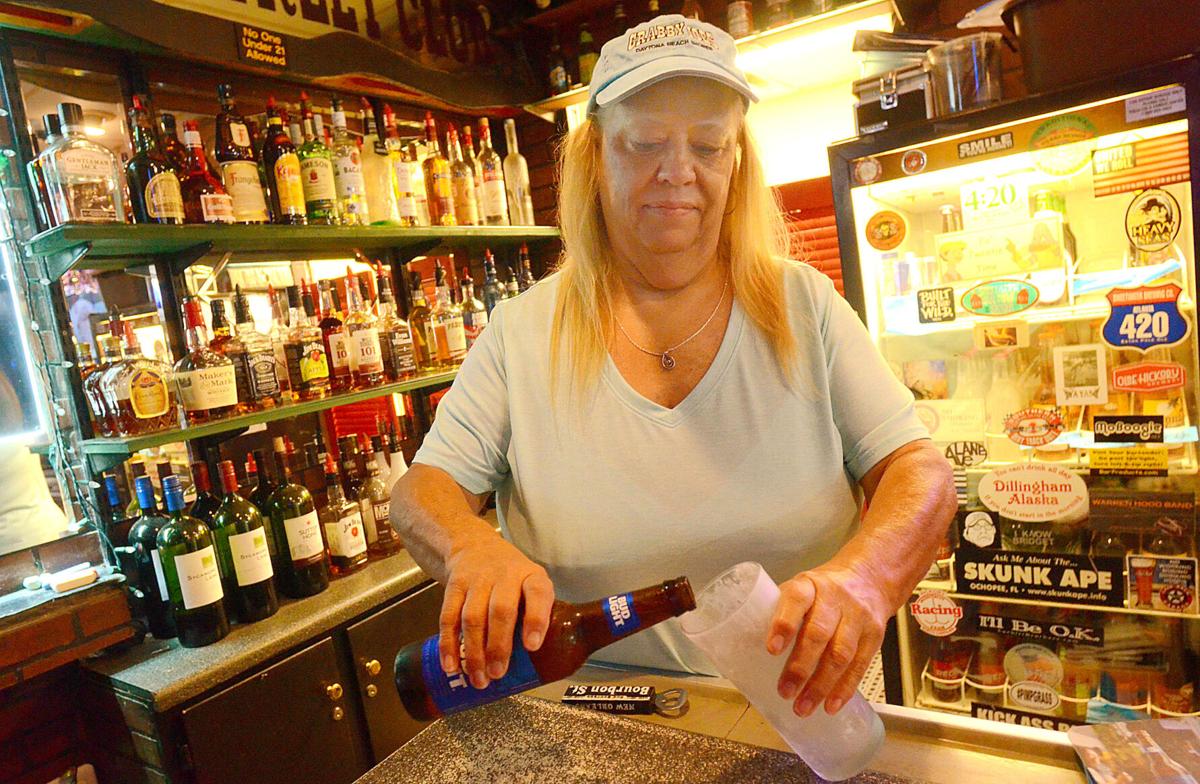 Donna Hedrick was narrowly able to reopen Bourbon Street Alley after being closed for months under the state Stay-At-Home order.
She needed the help of a GoFundMe started by friends and patrons to resume serving drinks at the longtime Hickory bar.
Now, North Carolina's new curfew on alcohol sales could permanently close her business, the place where she's worked since 2004 and owned since 2011.
"If it stays this way for a while I don't know if I'll be able to stay open," Hedrick said.
On Tuesday, Gov. Roy Cooper announced his latest executive order banning the sale of alcohol for on-site consumption after 11 p.m. The order goes into effect Friday and is in place until Aug. 31 unless it is repealed or extended.
The order is aimed at keeping restaurants and breweries from turning into bars late at night — where people may gather and spend time together, potentially spreading COVID-19. Bars — establishments that sell alcohol but do not sell food — are still ordered to remain closed under a previous executive order. They have not been allowed to reopen.
Hedrick sells food, so Bourbon Street is able to remain open. Still Hedrick sees the treatment of bars during COVID-19 as unfair, especially the latest blow. She cleans, sanitizes and ensures social distancing, she said.
"For us to be labeled as the worst place that you can get the virus is hard," she said. "I know what I do here and how well we do. It's better than other places. It's not fair that bars get the brunt of all of it, but it is what it is and we can't change it."
The new order will severely limit her income and what the bartenders earn, Hedrick said. Much of the bar's business comes late at night on the weekends — between 11 p.m. and 2 a.m.
"It'll be thousands of dollars because after 11 p.m., that's when a lot of the crowd comes out," she said. "People want to wait and go out late. So Thursday, Friday and Saturday, I'll lose a lot of money. My bartenders will lose a lot of money."
The new executive order comes just as Hedrick was starting to get business back to normal — as much as it could be. She spent last weekend building an outdoor deck and setting up outdoor seating at the bar so she could have live music outside and still encourage social distancing.
Now, those musical acts will have to start earlier and a night that could have meant more money will be cut short.
"I don't know if this continues very long, if I'd be able to last or not," Hedrick said. She's grateful for the $5,500 raised for her to reopen the bar. Bourbon Street resumed when restaurants were allowed to reopen at 50 percent capacity. But she doesn't want to rely on the goodwill of others to keep the business going. "I can't depend on people just raising money every time this happens because there are too many other places that need help," she said.
The latest COVID-19 executive order goes into effect Friday at 11 p.m. Businesses are still allowed to stay open past 11 p.m. as long as no alcohol is sold for on-site consumption between 11 p.m. and 7 a.m. Businesses can sell alcohol for off-site consumption, according to the executive order.
The order can be enforced by law enforcement and N.C. Alcohol Law Enforcement. Violations of the executive order can be punished as a class two misdemeanor, according to the executive order.
Hedrick plans to tackle the new challenge head-on and hopes patrons and the community come out to support her business. "I'll just work with the rules we're given and do what I can do," Hedrick said. "I'll give it 110 percent of everything I've got. I'll brainstorm what I can to keep things going."
Get local news delivered to your inbox!
Subscribe to our Daily Headlines newsletter.