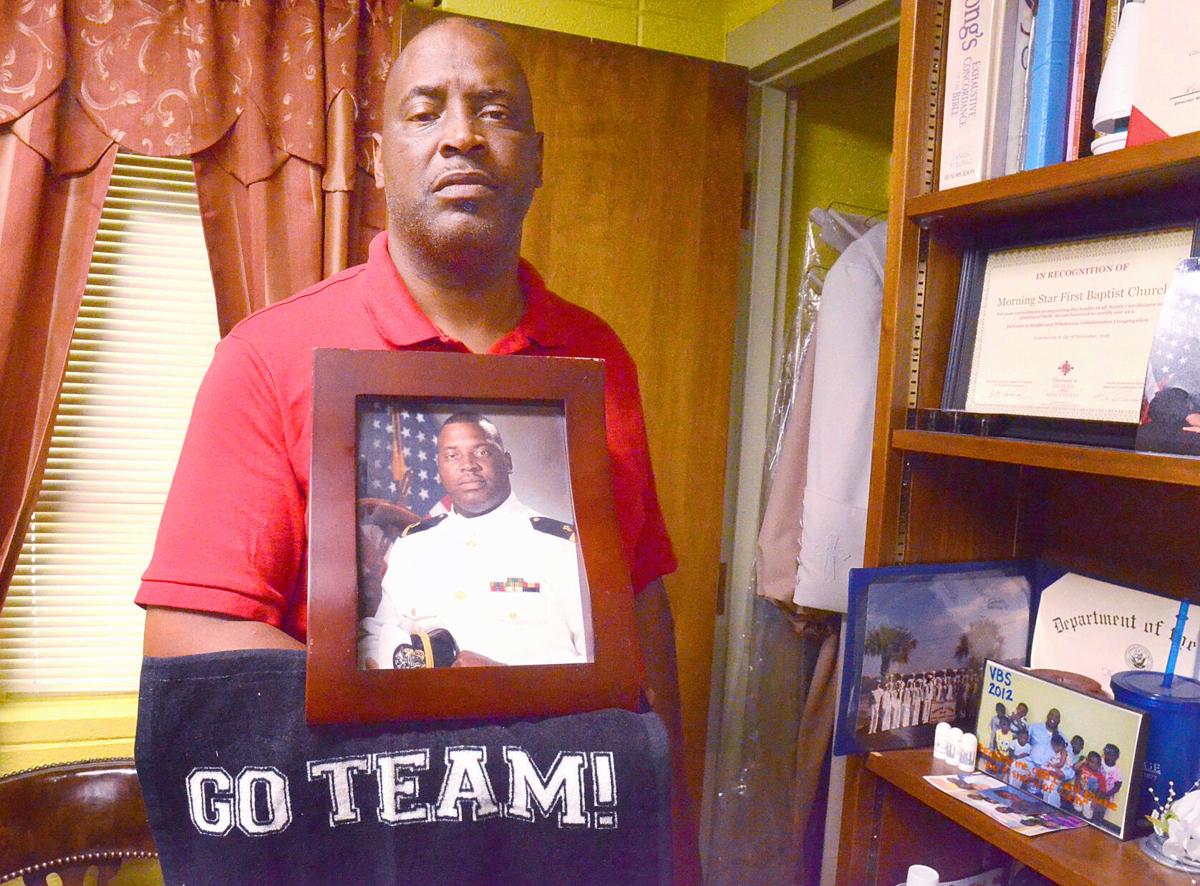 Stories of service members saving fellow service members are not uncommon. Still, U.S. Navy veteran David Roberts' story is different from most.
Roberts recalled seeing a group of Black sailors surrounding someone. He could not see who the person being cornered was, but he had a good idea.
He got closer, and it was confirmed. It was Rothwell, a sailor known for his "bad problem of saying the N-word."
Roberts intervened, standing up for Rothwell. Eventually the men backed down, and Roberts left with Rothwell.
He then confronted Rothwell.
"Man, I ain't going to be with you forever, and you going to find yourself dead using that word," Roberts said. "What is wrong with you, man? Your parents taught you that or whatever, but you was not born this way. You're a good dude."
It would not be long before Roberts and Rothwell went their separate ways. Roberts cannot say for sure what sort of long-term impact those events had in changing Rothwell's racist views.
However, for some years after, Rothwell sent Christmas cards to Roberts, thanking him for saving his life and helping him become a Christian.
Roberts counts that as the proudest moment of his service.
"I helped a guy understand that we're fighting for the same cause, and that's everybody in America," Roberts said. "But most importantly, I introduced him to Christ, and that was my greatest thing."
Roberts, 56, is pastor at Morning Star First Baptist Church. He served in the Navy from 1987 to 2007.
He was a signalman — a sailor who specializes in using flags to communicate in code with other ships — and later a chaplain.
He discussed his experiences swimming in the Navy, the bonds between enlisted sailors and his advice for the next generation of service members.
This interview has been edited for length and clarity.
On difficult swim lessons
I can't swim. I wasn't going to get out of boot camp unless I passed the test.
So I had to pray because you have to go like 25 feet up, jump in the water, come to the top, float for a while and then swim the length of an Olympic pool. I was like, 'I don't know how I'm going to do that.'
I was praying, and a SEAL came behind me and said, 'Young man, you're holding up the line. You got to get in the water.'
I was like, 'Man, give me a minute. I've got to get myself right.'
He said, "I'm going to count to three. You're going.'
I said, 'Man, don't put your hands on me. Don't do that. I'm going to tell you, I've got a phobia about water.'
And he did. He reached out to touch me, and I grabbed him. We went in together.
You know, when you're nervous and the adrenaline kicks in, you become super strong. So he almost drowned as I was getting out because I kept him up under me.
When I got out and got to the shore, then he finally got out.
He was like, 'Don't nobody bother that man. Y'all leave that man alone. That man is strong.'
I had to go to a remedial class and take swim lessons. But I still can't swim.
I stayed next to the side where I could reach and touch it.
If I felt like nobody was looking, I'd hold on for a while and I'd ask God to give me the strength and I'd go back to doing what I'm doing until they said, 'Get out.'
On his strongest memory
Brotherhood. The unity. Being on the ship late at night steaming somewhere, and the camaraderie you have with your fellow sailors, especially as an enlisted sailor.
Nothing like the enlisted sailor. The heart of the military is the enlisted guy, because they do all the work.
The officers are there. They provide leadership. They provide guidance. They provide a little structure. But the actual work of the military is on the enlisted side.
So I love the fact that I was enlisted for 13 years … then I crossed over and became a chaplain.
On advice for the next generation
Remember your core values: honor, courage, commitment, duty.
But remember it's an honor to be able to put yourself in the position to make the ultimate sacrifice for your fellow mankind.
It takes courage to deny yourself for the benefit of others who you'll never meet.
We, as African Americans … we know that we go to fight and that when we come back we might face systemic racism.
But it is an honor and a duty for us for that next generation to at least ensure a better way or a greater democracy.
So that's what I would say to the next one that's going in there: Remember, it's bigger than you, and it's for the next generation to have a better life than you had.
Kevin Griffin is the City of Hickory reporter at the Hickory Daily Record.
Get local news delivered to your inbox!
Subscribe to our Daily Headlines newsletter.