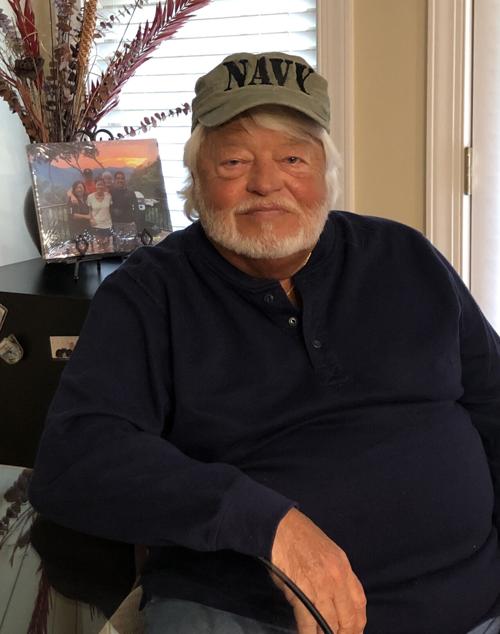 In early December 2020, while talking to Miiko Rowe and Naomi East about Hickory's long-standing Oriental Woman's Club, I met Naomi's husband Tom East, a U.S. Navy veteran. Always interested in veterans' stories, I made plans to interview Tom. We talked on Jan. 19.
Born in Baltimore, MD, to Tom and Rose East, Tom Jr., and his family moved to Hickory when Tom was 6 months old. His father, a World War II veteran, worked for the G.C. Murphy Company and ran the Hickory "five and dime" in the 1950s. Tom went to elementary school in Hickory before his family moved to Jacksonville, FL, and then to Alexandria, VA. The Easts relocated often as Tom Sr. rose in the company.
In the 1960s, Tom's family moved to LeRoy, NY, "the home of Jell-O," Tom offered. "Where it was first invented."
Tom's next move was his own: In 1965, at age 17, he joined the U.S. Navy. Tom Sr. had been in the Navy and suggested it.
"I did three tours in Vietnam," said Tom, "and in Korea when [North Korea] took the [USS] Pueblo, a spy ship. We were in Vietnam at the time."
The "time" was Jan. 23, 1968. "Coming from [warm] Vietnam to [frigid] North Korea, we had no winter clothing," Tom explained, still displeased that the military hadn't provided appropriate gear. "No gloves. No heavy coats. Nothing. It was terrible. You'd hand your jacket off to the next guy on watch."
"Anything metal and outside was covered in ice," said Tom, who was an E5 signalman and worked on deck. "Korea was the worst place I'd been in my life."
North Korea had overtaken the Pueblo and captured its crew, prompting the United States to increase its military presence off North Korea's coast. Tom said his ship "went up there — left Vietnam — to sink [the Pueblo] or burn it — just get it out of Korean hands." For 90 days, Tom's vessel followed a rectangular pattern 12 miles by 3 miles over and over, getting "very close to the coast of North Korea," said Tom. His ship never got orders to destroy the Pueblo, however. To this day, the ship remains in North Korea.
Before Vietnam and Korea, Tom trained in San Diego and then went to Pearl Harbor where he joined the crew of the USS O'Bannon (DD-450). The destroyer would go to South Vietnamese waters for seven months, return to Pearl Harbor for three, and then go again to South Vietnam. Tom experienced three such trips, the third of which was cut in half because his discharge was coming up.
Communication from one ship to another was the job of the signalman, who flashed Morse code, ran up the flags that told other ships what the O'Bannon was doing, and used semaphore (hand signals) to convey information to other ships when the vessels were close to one another.
Three destroyers accompanied one aircraft carrier. The destroyers protected the carrier. When a plane was shot down over the water, the O'Bannon went to the location where the aircraft had fallen, and crew members, including Tom, got into a small boat, which was lowered into the water. They'd attempt to rescue the pilot, perform first aid, and get him onto the ship for medical treatment.
Sometimes, the only accomplishment was retrieving a body, but more often than not, Tom and fellow shipmates conducted successful rescues. Tom detailed one incident that took place at night during a savage storm and dangerously rough seas. "A plane was shot down, and we were called to go pick up the pilot and co-pilot," said Tom. "We reached there, and there were 12 to 15 [sea] snakes that were attacking one guy. We were beating them off and trying to get him into the boat."
With the pilot and co-pilot finally in the little boat, the sailors returned to the O'Bannon and barely survived being raised up the side of the ship as it repeatedly dipped and rocked in the choppy water, the small boat banging into the ship's side. There was the strong possibility that the craft would break apart or that the crew would be thrown into the water. "The water was so rough a rescue would have been impossible," Tom recollected. They made it safely onto the ship, but the pilot and co-pilot ultimately did not survive.
A couple of duties took Tom off the ship. One was driving the captain around during R&R in places such as Hong Kong, Japan, Australia and Taiwan. Tom saw sights he wouldn't have seen and enjoyed meals he wouldn't have eaten had he not been with his captain, a nice man, Tom pointed out.
The second job was being part of a four-man crew on a swift boat that moved up and down the Mekong Delta. "We raided villages and checked out sampans," said Tom about the small Vietnamese boats that were "their mode of transportation on the water. We would stop them and make sure they weren't carrying guns, dope, things they weren't supposed to have."
Many sampans were simply vessels being used by non-threatening South Vietnamese civilians as they went about their daily lives. Others, however, were piloted by the enemy.
Two members of Tom's four-man group would stand on top of their swift boat, machine guns aimed, while the other two men searched the sampan. If weapons or drugs were discovered, Tom's party confiscated the items, burned the sampan, arrested the people on board, and took them to the nearest city where the South Vietnamese government dealt with them.
Sometimes the enemy "made a run for it," said Tom, "and we'd shoot them."
Of course, Tom and his little swift boat crew were shot at as well. When one of Tom's comrades was killed, another took his place. In all, Tom lost five friends while traversing the Mekong Delta.
Tom said they'd occasionally dock and take supplies to Marines who were a mile or so inland. If the Marines were "in trouble," said Tom, "we'd help them fight."
"I saw a lot of action," Tom shared.
About his service, which ended in 1970, Tom concluded, "It was interesting. It was scary. I made a lot of good friends. Lost some. I saw a lot of the world."
And, he met his future wife. During his last year in service, while in Honolulu, Tom went on a blind date with Naomi, a nursing student at the University of Hawaii. They joined another couple at the movies. Clint Eastwood's "Coogan's Bluff" was playing. By the end of the evening, Tom and Naomi had decided they weren't that crazy about each other, but Tom called Naomi anyway for a second date, this time without another couple along. It was love at second sight. "We had a great time," said Tom. A year later they married in Honolulu. (Their last anniversary was their 51st.)
When Tom Sr. became sick, Tom and Naomi moved to Hickory to help Rose. Tom worked for General Electric a short time and then borrowed money from the GI Bill to build a car wash in Conover. It was so successful that Tom was able to pay back his loan in two years. But the car wash required hard work seven days a week, so Tom sold it and became a salesman for Hickory Printing. Again, Tom met with much success. He began thinking he could run such a business. He went to work for Deluxe Printing Co. Inc. in Hickory and eventually bought it. Today, Tom still owns the printing business. His two sons manage it and own the building.
Tom, thank you for your service!