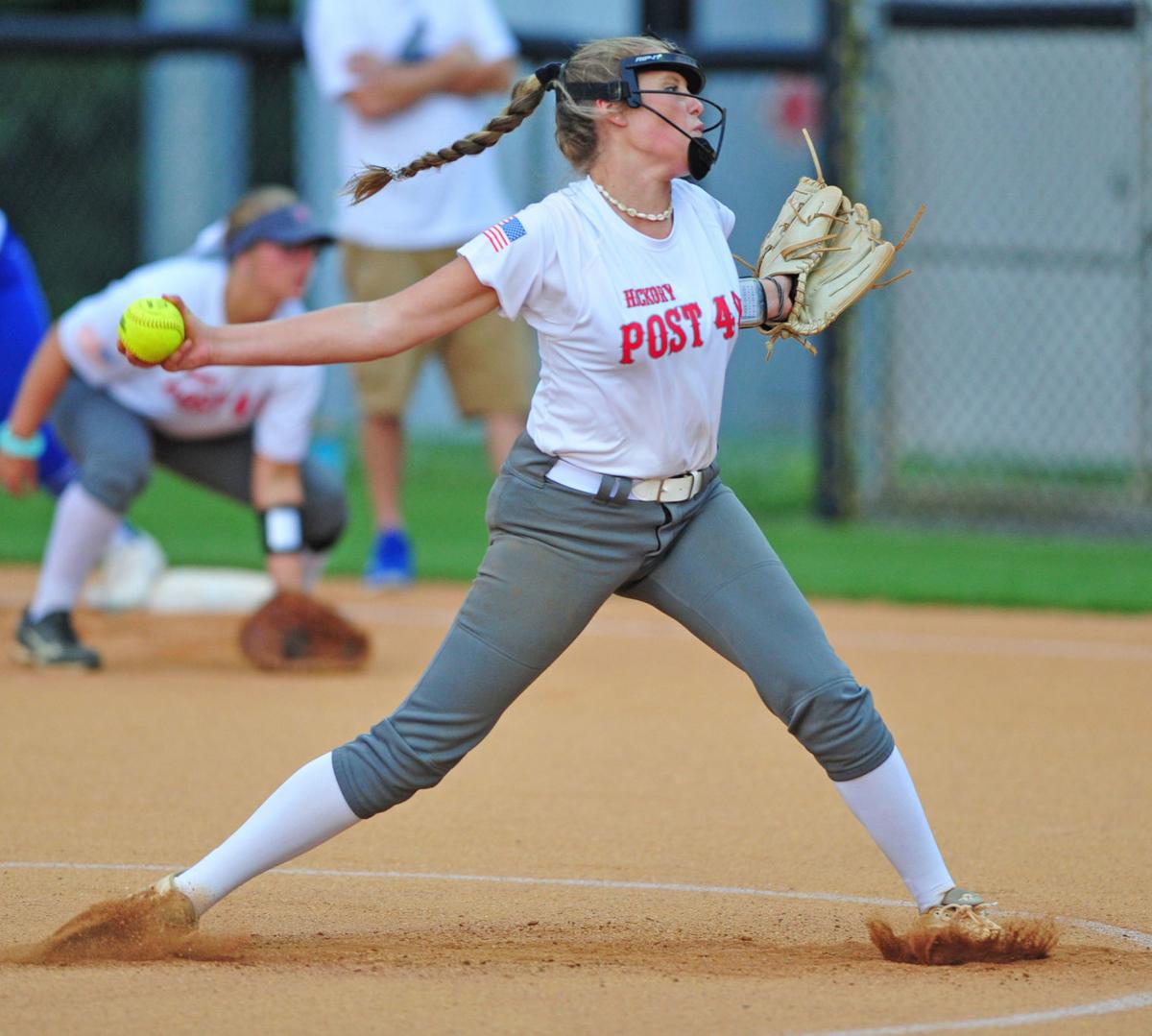 HICKORY – The American Legion Post 48 softball team made the most of strong pitching and timely hitting Tuesday night at Lenoir-Rhyne University. Hickory swept a conference twin bill from McDowell by the scores of 5-0 and 6-3.
To view more photos, scroll to the bottom of this article.
"Great evening. I'm just proud of the way the girls came out and played," said Hickory coach Todd Smith. "The pitching was fantastic. We gave them a few runs there that (second) game, but other than that I think we played pretty solid."
In the 10 innings covering both ends of the doubleheader, Hickory pitchers allowed just a total of four hits – two in each game.
The night certainly didn't begin that way as McDowell lead-off batter Candace Cooper stroked the second pitch she saw from Hickory starter Mayson Levi into right field for a base hit. But Cooper was wiped off the base paths when she was thrown out trying to steal second on a perfect peg by Hickory catcher Kayla Hollar.
After that, Levi was all but unhittable. She did give out two free passes in the third inning which proved to be McDowell's biggest threat and a looping double down the left field line in the fourth to Taylor Morgan. Morgan was stranded there after back-to-back strikeouts to end that inning.
"She (Levi) has been doing great all year," Smith said. "Any time she's throwing strikes, we've got a good chance to win."
Hickory gave Levi plenty of support with a single run in the second inning and four more in the third.
Madison Rowe led off the second inning with a single up the middle. She moved to third on a passed ball and an infield out before coming home on another base hit up the middle, this one by Katelyn Thompson.
Hickory put the game away in the third with four runs. Post 48 had four hits and a walk in the frame including three consecutive singles by Emily Dishman, Hollar and Emma Lay. Payton Goble had the other hit in that Hickory at-bat and her single drove in two runs.
Levi finished the night with nine strikeouts against two hits and two walks.
Offensively Hickory finished with six singles, all by different players, and left just one runner on base the entire game.
In the second half of the twin bill, McDowell picked up a run right away in the first inning when Cooper singled off the leg of Hickory starter Destini Vine and later scored on an infield error.
But Post 48 immediately responded with two runs in its first at-bat. Lay and Macey Pennell hit back-to-back singles and both later scored on the third Hickory hit of the inning by Payton Goble.
Three straight hits by Hickory in the second inning by Bailey Burton, Kaitlyn Britton and Vines put Hickory up 5-1.
McDowell added two unearned runs in the third inning, but Hickory got one back in the fourth without the benefit of a hit for the final score of 6-3.
The defensive standout of the game was Hickory third baseman Ashtyn Hopson. She started a slick 5-4-3 double play in the second inning and then stole base hits from McDowell with great glove work and strong throws in the third and fifth innings.
"She (Hopson) played out of her mind today. I can't say enough about her play," Smith said. "She saved some hits there. Those were outstanding plays right there."
Vines was relieved by Goble in the fourth. The lefthander threw two scoreless innings. Both Hickory pitchers allowed just one hit. Vines had one strikeout and Goble had a pair.
Hickory collected eight hits in the second game, including a double to deep left center by Madison Rowe. Again, no Hickory player had more than one hit in the game.
"I feel pretty comfortable with all the girls in there hitting," Smith said about contributions from the entire lineup in both games. "All the girls can hit."
Hickory remains in second place in the conference with a mark of 7-3, 9-3 overall, behind leader Burke County.
Post 48's next game is Thursday at North Lincoln.
---
Get local news delivered to your inbox!
Subscribe to our Daily Headlines newsletter.