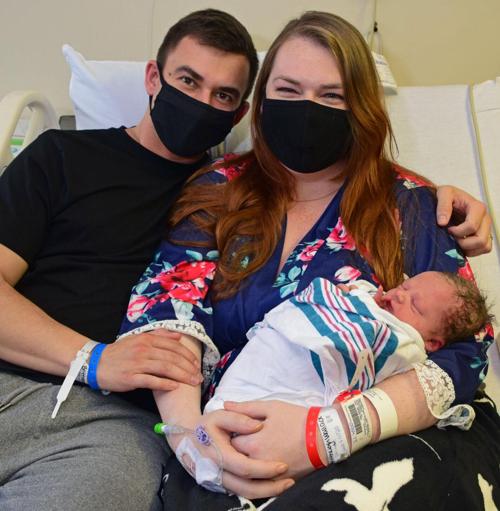 Staff Sgt. Brandon and wife Brittneigh Wallace have had lots of new in their lives recently: A new posting, a new house, and a new doctor.
And, as of 12:20 a.m. on Jan. 1, a new baby.
The Wallaces hadn't planned anything special for New Year's Eve; they're not really late-night owls, she said. But they were Friday after Grayson decided it was time to make an appearance two and one-half weeks early.
The Wallaces are brand new to Southwest Oklahoma, having recently arrived from a two-year tour in Korea.
"We actually arrived two weeks ago, just in the nick of time," Brittneigh said as Grayson snoozed on her chest at Comanche County Memorial Hospital.
"We though we'd had some time to get adjusted and everything," she said, "but he had other plans."
"I've met four people in the unit that I'm going to," Brandon said. "I haven't even in-processed yet."
"I have not even introduced myself to my neighbors yet," Brittneigh said.
"Our household goods have not arrived from Korea yet, so we don't have our house together yet," she said. "We have a full nursery and an empty house."
Brittneigh's first appointment with her new obstetrician was Wednesday (which just happened to be the couple's third wedding anniversary), and the couple expected a little more time to get ready before the due date of Jan. 17.
Then she went into labor on Thursday and the Wallaces were off to the hospital before they'd even had a chance to pack a bag.
The process went smoothly, Brittneigh said. Brandon is a combat medic but delivery is not his expertise. "We train on it once a year, and that's about it," he said.
As if having the New Year baby wasn't enough, Brandon noted that Thursday's cold rain turned to snow just as Grayson made his big entrance.
The Wallaces are originally from Hickory, N.C., and their parents still live there. Both grandmothers are flying to Lawton and all five will be making the trip back home soon.
Brittneigh's family also has some experience with a New Year baby. Her grandfather was born Jan. 1, 1952.
"Everybody's excited that Grayson was born (on Jan. 1) and he gets to share a birthday with his great-grandfather," she said.