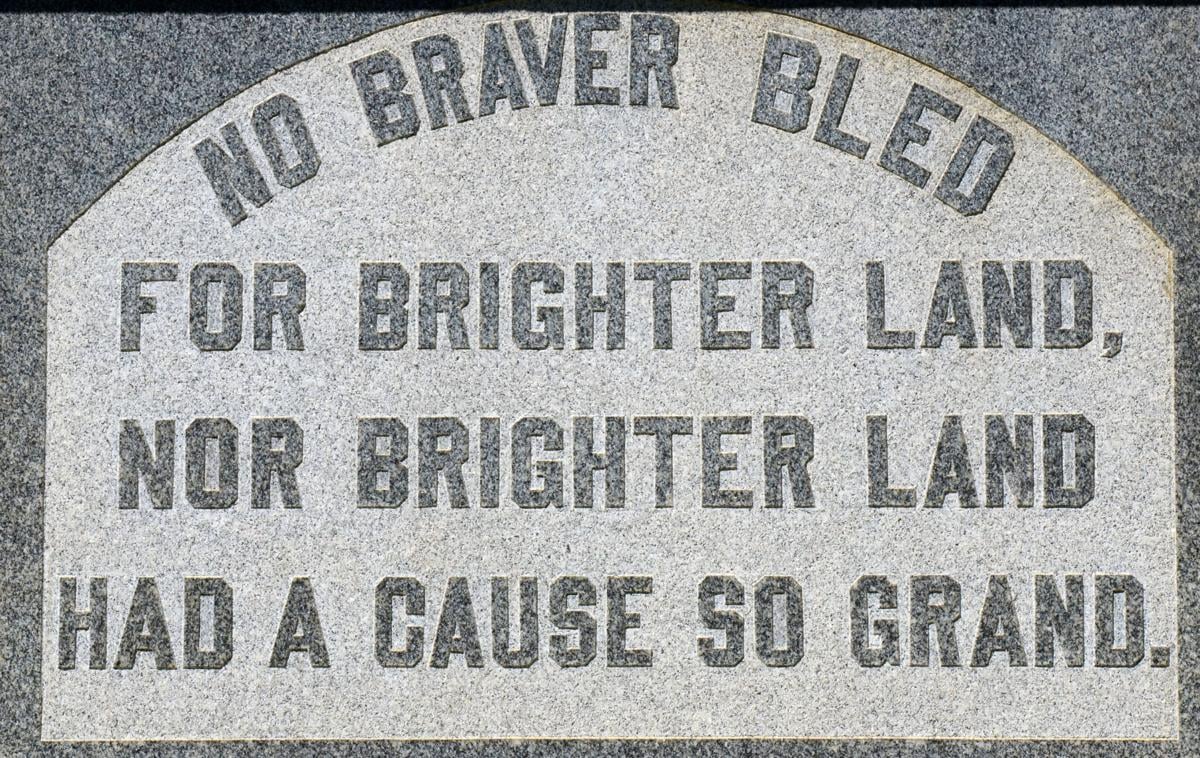 Cliff Moone wants to find a compromise in the ongoing debate surrounding the Confederate monument at Catawba County's historic courthouse in downtown Newton. If the statue won't be moved or altered, he wants the truth and context of why it was likely erected to be clear.
The 1907 statue was created during a time many monuments were erected to promote the Confederacy's cause. During public comments at Monday's Catawba County Board of Commissioners meeting, Moone proposed the creation of a plaque explaining the context of the monument.
"Until the day comes when a different board of commissioners and a different political climate do finally probably remove this statue to a less prominent place, and to recognize a more truthful history about the Southern insurrection of 1861 to 1865 ... I would like to propose that you consider placing a historical marker in front of the Confederate statue which provides a more accurate historical context for the statue's placement during the early years of segregation, and the assertions of lost cause mythology, which were the primary reasons most of these statues were erected," Moone said.
The Catawba County Truth and Reconciliation Committee has been asking the county board to move the statue since August 2020.
In October, Moone, not a member of the committee, proposed covering or removing a specific phrase from the monument: "No braver bled, for brighter land, nor brighter land had a cause so grand."
At Monday's meeting, Moone said he didn't think the commissioners intended to do anything to the statue, so he revised his proposed compromise to ask for a historical marker explaining the monument's significance in history.
"As those words in 2021 as a tribute to the most terrible insurrection in American history are not only blatantly offensive but are also, and more importantly in some ways, historically untrue," Moone said of the statue's engraving. "And I hope — and hope you still believe — that truth matters. I know you do. It is increasingly clear, however, … and I may be mistaken about this, that the board of commissioners has no intention of doing anything about the memorial statue or the scandalous words engraved upon it. I want to be clear that I, for one, do not question or know your motivations for not trying to do something, anything, to ameliorate this situation. … Given all this I come before you to make another plea for a different compromise."
Moone hopes a historical marker explaining the statue's possible intention could shed more truth on the monument.
"Somehow, someway we must renew our commitment first and foremost to historical accuracy, but also find a path forward for racial justice and reconciliation," Moone said. "We must stop fighting that damnable civil war."
Moone also asked the board to pass a resolution inviting citizens and civic organizations, along with the county, to fund a statue commemorating the struggle of Black people for freedom and equality.
"I know we citizens could do that on our own but it would mean so much more if our elected leaders would promote that and help us move forward with it," Moone said.
Moone ended by quoting Martin Luther King Jr.: "The arc of the moral universe is long, but it bends toward justice."
"Please, as American's one and all can we not in Catawba County even in a small way help bend that arc now?," Moone said.