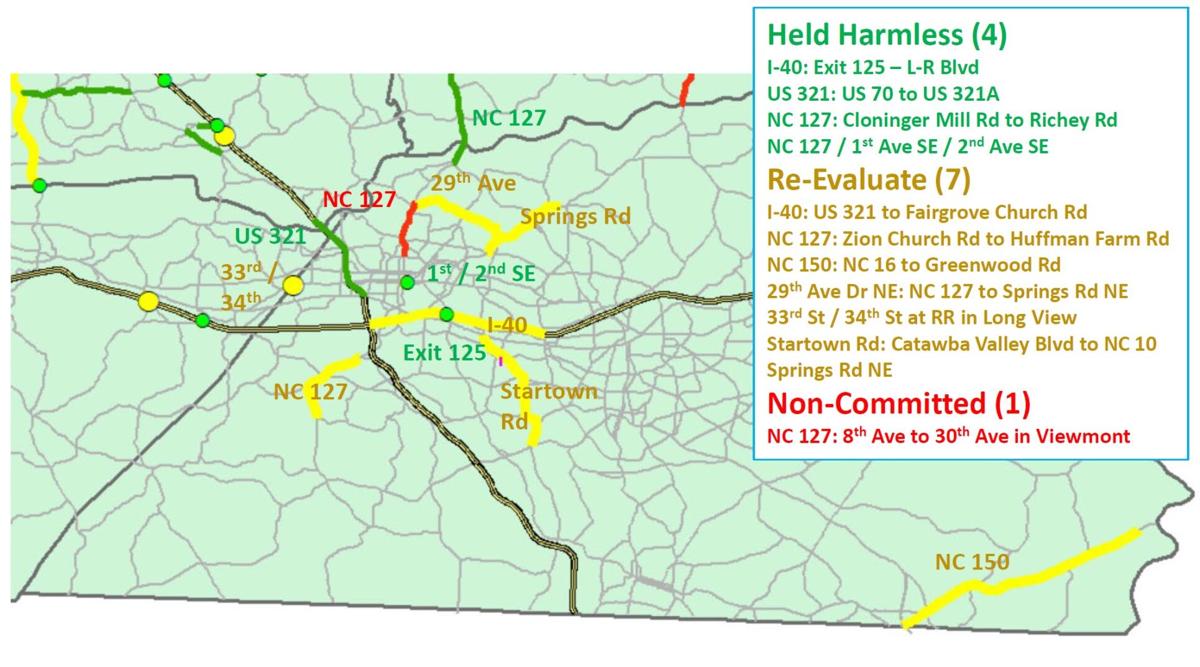 Several road improvement projects in Catawba County could lose funding, and others may be delayed for years.
Among the projects that could potentially lose funding include the expansion of N.C. 150 in the southeastern part of the county, improvements to Interstate 40 East of U.S. 321 and the widening of Startown Road, said Brian Horton, transportation planning manager for the Western Piedmont Council of Governments.
As the North Carolina Department of Transportation begins to create a new 10-year transportation improvement plan, it's likely no new projects will be added and some that were included and funded in past 10-year plans may be removed, Horton said at Monday's Catawba County Board of Commissioners meeting.
"That has never happened," Horton said. "DOT has historically said, 'Once committed, always committed.' So this is really almost a broken promise to the citizens and people of our communities, because historically every update has added projects. … It's concerning."
The reason Horton expects the cuts is increasing costs of construction and ongoing NCDOT budget issues. The NCDOT is reevaluating estimated construction costs for all of the projects on the current 10-year plan, last updated in 2019, Horton said. In that process, some project costs have grown tenfold.
Along with increasing costs, the NCDOT is also facing budget shortfalls due to storm damage to roads and increasing costs of right-of-way purchases. COVID-19 also caused a decrease in funding through gas taxes. NCDOT has already tried to stop spending by pausing projects not under construction. Horton expects cuts to continue in the creation of the new 10-year plan.
Some projects in Catawba County are likely still safe, Horton said.
The expansion of U.S. 321 to six lanes from U.S. 70 north to Granite Falls will likely remain in the budget but might be further delayed, Horton said.
Three other Catawba County projects are also likely safe: Improvements to I-40 Exit 125, expansion of N.C. 127 intersections at First Avenue SE and Second Avenue SE and improvements to N.C. 127 north into Alexander County.
Seven projects that were previously funded are now at risk, Horton said. Along with work on N.C. 150, improvements to I-40 and widening of Startown Road, the projects at risk also include improvements to N.C. 127 in the Viewmont area, 29th Avenue Drive NW, Springs Road NE and 33rd and 34th streets in Long View.
The projects are important to support growth in the county, Horton said.
"This is very dismal news," Horton said. "It is unusual. It's never happened before. We're in unusual territory here."
Adjusting some of the projects or shrinking them to make them less expensive, could help keep them on the 10-year plan, Horton said. It is important for leaders to know about the risks and to advocate for the projects. Local leaders will also have to decide which are most important to the county, Horton said.