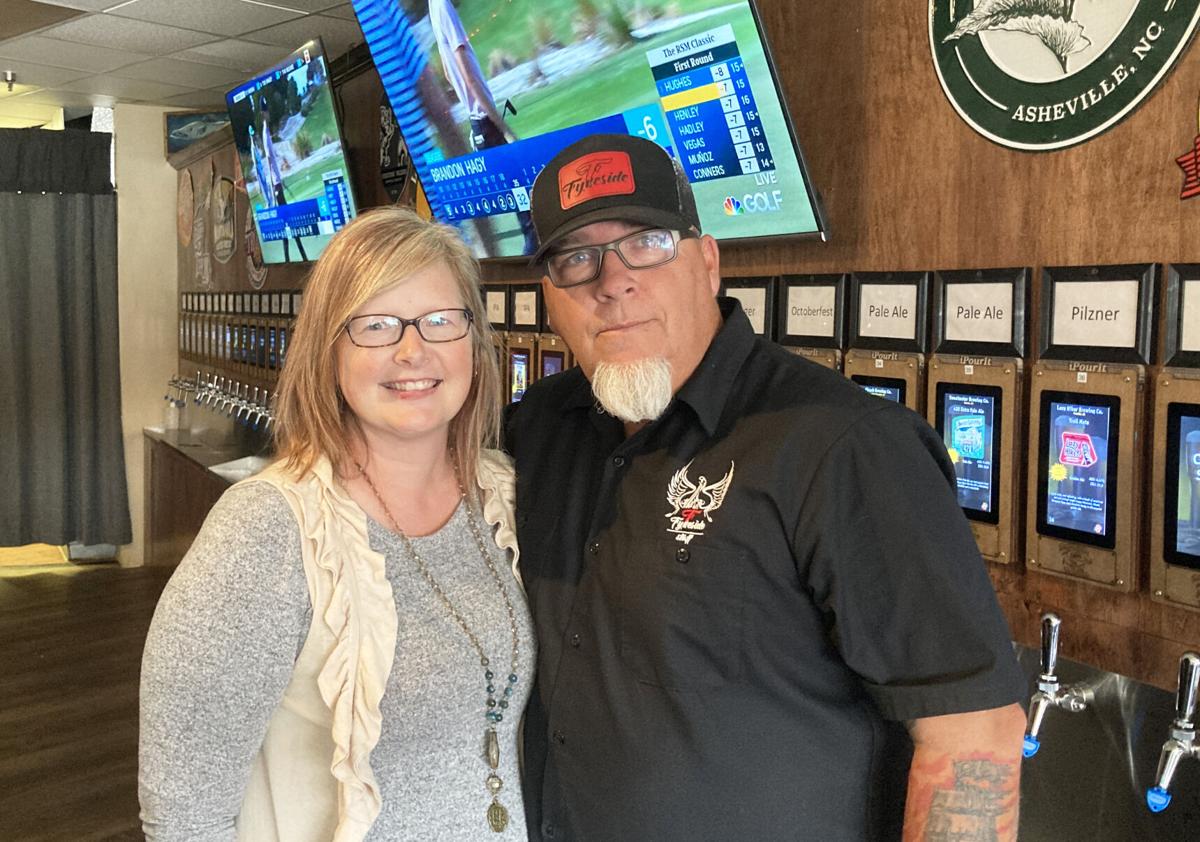 JP and Shelly Miller have successfully grown Fyreside Taproom and Eatery in Granite Falls into a popular "hometown hangout," as they call it.
The bar, which the couple opened in 2017, has regulars who support it, good food and good drinks, JP said. The Millers had no intention of expanding or adding to their workload. It was heavy enough as it was. Along with running the bar, Shelly works a full-time job and they have six kids, some his, some hers, some theirs.
If they expanded Fyreside, it would be a beachside location — or so they thought, Shelly said.
That was until a deal came across Shelly's Facebook page that the Millers couldn't pass up. Barracuda Taproom, a self-serve craft beer bar in Hickory, was for sale for an enticing price: $15,000.
Barracuda, which opened in December 2019 in the Belle Hollow Shopping Center, is a self-serve taproom with 42 taps. The location intrigued JP because of his love of craft beers. Owning a place with 42 taps meant a bigger focus on craft beer, he said.
The Millers toured the location and bought it shortly after, in early November.
"It just kind of happened," Shelly said.
The taproom has yet to be rebranded — Barracuda signs still mark the entrance — but Fyreside Taproom Hickory is open. The most difficult part of running the new place is remembering it's self-serve, so JP doesn't have to worry about refilling beers.
"I hate to see empty glasses; I want to get them a refill," he said.
The new location does have mixed drinks, nonalcoholic drinks and wine as well.
The taproom serves food like flatbreads and finger foods. The couple learned early on when running their first location that food is a necessity to keep people around, Shelly said.
The lessons they learned running Fyreside for the past four years have helped as JP and Shelly opened the Hickory location. They know more about management, lining up live music, getting the drinks customers want and creating an atmosphere people don't want to leave, Shelly said.
"Our mindset really is the mindset of when we opened the first place — something small, quaint, welcoming," JP said.
Because the location is small and tucked into a corner of the red-brick shopping center off N. Center Street, the Millers will have to do some work to bring attention to the taproom.
"It's a little hidden, so we'll have to work hard to get people here," Shelly said.
Already, Shelly is planning a beer festival in April that will bring breweries from all over for people to try.
The couple also said they hope their customers from Fyreside in Granite Falls will support the new location, as well. Over time, the Hickory location will grow its own group of regulars for JP and Shelly to get to know.
"I love the socializing. It's the social aspect of the business I love," JP said. "I love the people."
The Millers' top priority is catering to those people.
"We want to provide a place where people can mingle and get to know their neighbors," Shelly said. "We watch people become friends … that's the kind of environment we want to create."
The taproom, located at 3018 N. Center St., Hickory, will be open at 4 p.m. Wednesday through Sunday. On Fridays and Saturdays, the taproom is open until midnight and on Sundays it closes at 8 p.m.
For more information, visit the Fyreside Taproom Hickory Facebook page.