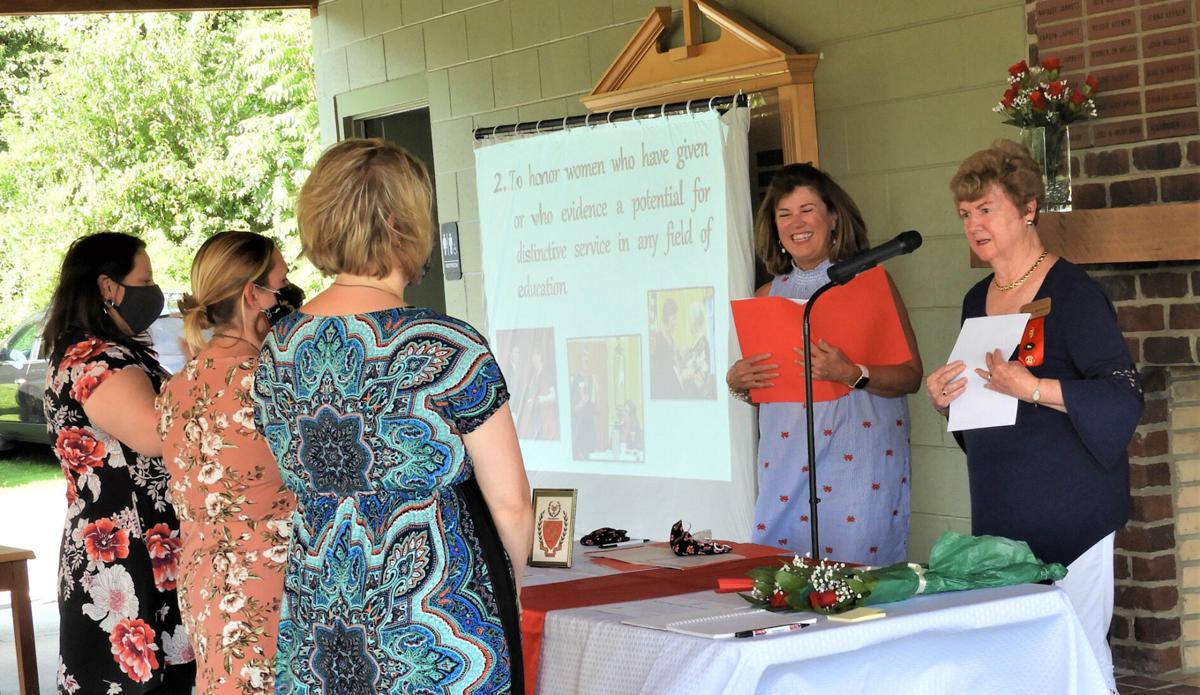 NEWTON — Nu Chapter, The Delta Kappa Gamma Society International, recently held its fall business meeting and induction ceremony at the outdoor pavilion behind Beth Eden Lutheran Church in Newton.
Three new members were formally received into membership during the induction ceremony led by Yvonne Barnhardt, and one member was reinstated. New members include Lee Ann Perry, media coordinator at Banoak Elementary School; Amanda Swengros, media coordinator at Catawba Elementary School; and Tabitha Toney, nursing professor at Lenoir-Rhyne University. Carol Propst, retired teacher, was recognized as a reinstated member. Each new member received a pin, a certificate of membership, and a long-stemmed red rose to commemorate the occasion. Individually wrapped, pre-packaged snacks and water were available for refreshments.
After the induction ceremony, Diane Creasman presented a program on the Schools for Africa project, which is recognizing its 10-year anniversary of international partnership with DKG and UNICEF. Creasman, chairman of the Nu Chapter Schools for Africa committee, shared a video about the project's goals to provide clean drinking water and bathroom facilities for children. Creasman also distributed bottles of water to take and then return them filled with money to the November meeting. The money collected will be divided between the Nu Chapter teacher grants and the DKG International Schools for Africa project.
Dee Snyder, Nu Chapter president, congratulated the members of Nu Chapter for achieving the 2020 Presidential Award as one of the top seven chapters in NC DKG. Nu Chapter also received the Communications Excellence Award. In addition, Nu Chapter member Amanda Moose was presented the 2020 Golden Key Award for Region X and the 2020 NC DKG post-baccalaureate academic scholarship. Although the NC DKG Convention was canceled due to COVID-19, these awards and honors were still recognized in virtual presentations.
Snyder submitted the 2020-2021 Nu Chapter strategic plan. The three goals chosen for the plan include membership, leadership development, and community connections. Specific actions of chapter members to achieve these objectives were proposed. During committee reports, the proposed budget was approved, members were encouraged to volunteer as Reader Leaders and at Classroom Connections, approximately 10 teacher grants of $200 each will be available, and survey results of the Taste and Talk fundraiser concluded with a rescheduling of the event for March 20, 2021. The educational law and policy committee also encouraged members to be informed about where political candidates stand on issues impacting education during this election year.
Delta Kappa Gamma is an international honor society that promotes professional and personal growth of women educators and excellence in education.
Be the first to know
Get local news delivered to your inbox!