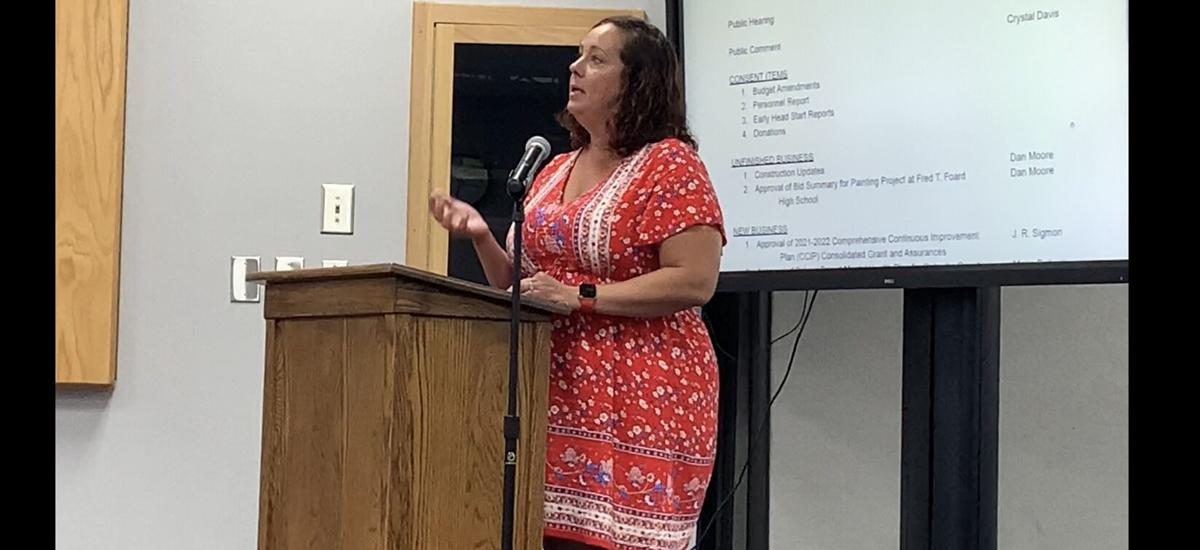 Masks will be optional for students and employees in Catawba County Schools during the 2021-22 school year.
The board of education, by a 6-1 vote, OK'd a plan for masks to be optional.
The single vote against the optional plan came from board member Jeff Taylor who said he'd rather more people were vaccinated before the board made the transition from masks.
Last year, masks were required for all students and teachers when school was in session.
"I respect the board's decision," he said following the vote. "I respect and appreciate the comments from the public. I just felt like all the recommendations from all of the experts ... I felt inconsistent voting for the motion," he said.
Board member Donna Lutz-Carpenter voted to make masks optional. "I believe good parents know what's best for their children," she said. "I just have to believe we in Catawba County are full of good parents."
During the school board meeting, none of the school board members were wearing masks.
The North Carolina Department of Health and Human Services issued guidance for school systems in a strong schools toolkit. Catawba County Public Health shared additional information with the three school districts in Catawba County referencing the toolkit from the state. "The guidance in the toolkit states that schools should require masks indoors for students and staff in kindergarten through 8th grade and directs schools to ensure unvaccinated high school students and teachers wear masks indoors," the update from Catawba County Public Health read.
According to the update, at least 1,500 staff members from the three school districts in Catawba County have been vaccinated. Dan Moore, assistant superintendent of operations for the Catawba County Schools district, said the school district will continue to maintain cleaning practices and encourage students to social distance.
Before the board voted, 13 parents, guardians and teachers spoke to the board regarding masks. All of them asked for masks to be optional.
Jamie Miles told the board she has four kids who all stayed home during the 2020-21 school year. "I kept them all home due to masks," she said. "Their grades faltered. I can only do so much keeping my four home. I want them to get a good education."
Angel Beard Ramseur said her two nephews, Baron Beard and Barrett Beard, would not go back to school if the board voted to require masks. Both suffer from asthma and have difficulty breathing with masks. "These two boys were left out of school last year," she said. "They did not get to see their friends. They did not get to play in any sporting activities. They didn't get any one-on-one time with their teacher."
Norma Cervantes said while her son was at school at Mountain View last year, he was diagnosed with the virus and wore a mask at school. "The masks don't work," she said.
Maiden High School teacher Cheri Paysour said masks are not a good fit for teachers and students. "The social interaction is lacking in classrooms," she said.
School board attorney Crystal Davis explained to the audience of parents that students would still be required to wear masks on school buses due to a federal mandate. Also, there may be mask requirements from the North Carolina High School Athletic Association. The association has not announced a decision on masks for the upcoming school year as of July 27.
Hickory Public Schools and Newton-Conover City Schools have not made a decision on masks.
Beverly Snowden, director of communications for the Hickory district, said. "A decision will be made during a specially called board meeting before August 9th, or the decision will be made during a board meeting on August 9," she said in an email.
Newton-Conover Schools Superintendent Aron Gabriel said, "Our board will not meet until next Monday, so at this time no decision has been made. We will have a special called meeting for personnel approval and for the board to make a decision on this topic prior to our work session beginning."
Masks will be optional for students and staff for Caldwell County Schools, according to a news release from the school district.
"Since the governor made his recommendations for the return of school, I have had many notifications from Caldwell County citizens," school board member Duane Knight said in the press release. "I have read them all and what I have found is that 9 out of 10 want the students to return with a choice. This is a school system of choice."