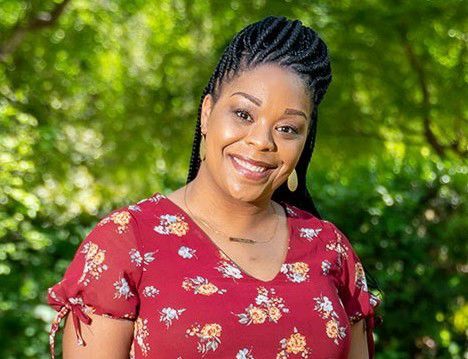 HICKORY — Out of the nine Hickory Public Schools teachers nominated for the 2020-2021 Teacher of the Year award, Viewmont Elementary's Dijion 'Anyea' Gibson claimed the title.
Following the interviews conducted by panel judges, the top three were announced: third place went to Casey Roberson from Oakwood Elementary School; second place, Madison Yount from Hickory High School; and first place to Gibson.
Viewmont Principal Jeff Hodakowski says Gibson is a teacher that all schools would be fortunate to have in their building. "I have enjoyed watching her grow over the last eight years that we have worked together," said Hodakowski. "Ms. Gibson is a very dedicated teacher. She spends a lot of time preparing for her 5th graders and helping them to succeed. I have been very impressed by the way that she conducts her classroom and how well the students learn."
He added that Gibson integrates a variety of technology into her lessons as she teaches math to nearly 90 students each day.
Jenny White, Viewmont's assistant principal, said Gibson is also very active in the community. "Ms. Gibson has a servant's heart," White said. "Her first priority is to form relationships with the students and their families, then, she begins the task of providing math instruction because she knows that the students do not care what she has to teach until they know she cares about them."
Gibson is the Youth Director at Hartzell Memorial United Methodist Church, works part-time with Ann Freeman School of Dance instructing dance to students of all ages. She helps to coach the Dance Team at Viewmont Elementary, and she coached the Lenoir-Rhyne University Dance Team from 2017-2019. In 2019, the team won the NCAA Division II National Championship in the Game Day Division.
"Winning the '2020-2021 HPS Teacher of the Year' is an honor," said Gibson. "I have worked for this amazing system and Viewmont Elementary for 12 years, including my student teaching experience at Viewmont with the third-grade class taught by Diane Creasman.
"This year, every educator should be recognized as 'Teacher of the Year' after working tirelessly to educate our kids during the pandemic. I am proud and humbled to receive this recognition among these excellent nominees," said Gibson.
Raised in Mt. Holly, North Carolina, Gibson graduated from Lenoir-Rhyne College in 2008 with an undergraduate degree in Elementary Education. She earned a Master's in Education from Appalachian State University in 2012.
"I would not be where I am today without the amazing women in my life, Gibson said. "My mom, Ann Gibson; my grandmother, Nancy J. Gibson; and my aunt, Nelda Rendleman—all serve as my backbone. And though my nana, the late Lois L. Gibson is no longer with me here on earth, her spirit lives inside me every day.
"I would also like to thank my aunt, Parthenia Friday, for serving as my biggest cheerleader. My family means the world to me! My aunts, uncles, and cousins have always provided constant support," said Gibson.
A veteran teacher at Viewmont, Gibson has taught both third and fifth grades. She earned the HPS Math Teacher of the Year (2018) and she was the Viewmont Elementary school representative for Rotary's Wilmer Jenkins' Teacher of the Year (2012). She also represented Hickory Public Schools for a PBS Special, "Catawbans" which featured positive aspects of life in Catawba County.
"As a role model, I must recognize my principal at Viewmont Elementary, Jeff Hodakowski — who is a miracle worker!" said Gibson. "He handles challenges like a true magician. He has also been there to support and encourage me, especially this year. I am blessed to work with this amazing leader."
"My assistant principal, Dr. Jenny White, has been the best school mom anyone could ask for. She has been a shoulder to cry on when I did not know where to turn. I am going to miss her immensely next year, since she is retiring.
"Lastly, I want to thank my mentor and school father, Grover Linebarger. He has also been there for me, in good times and bad. I cannot imagine not having his love and support in my life," added Gibson.
As the 2020-2021 HPS Teacher of the Year, Gibson receives a brand new car to drive for the next year from Mike Johnson's Hickory Toyota, a monetary gift of $1,000 from Vanguard Furniture, and a one-year membership to the Catawba Science Center.
The second runner-up, Madison Yount, received a monetary gift of $500 from Vanguard Furniture; and the third runner-up, Casey Roberson, received a monetary gift of $350 from Vanguard Furniture. All other nominees received a monetary gift of $250 from Vanguard Furniture.
In addition to the top three winners, other school winners include: Laura Beatty, Longview Elementary; Cindy Brittain, Grandview Middle; Lisa Gagliano, Southwest Primary; Jennie Handy, Jenkins Elementary; Melessa Pearson, Northview Middle; and Tracy Reese, Hickory Career & Arts Magnet High (HCAM).