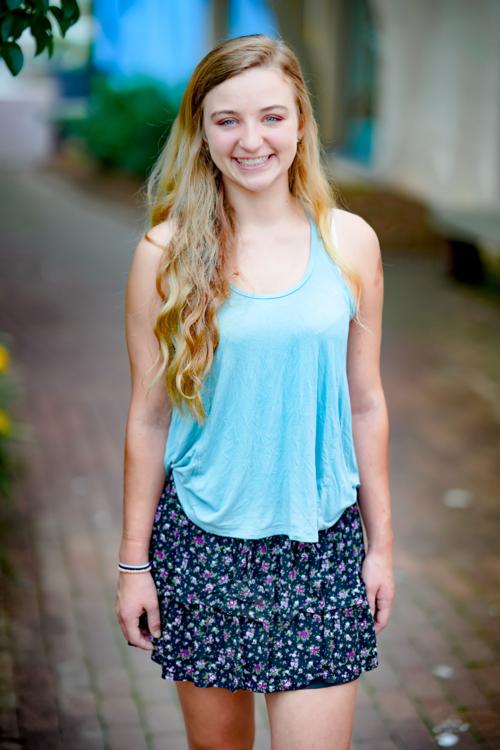 Sophia Clarke knocked out her high school diploma and a college degree — both at the same time!
As a graduating senior with the class of 2020 from Hickory High, Clarke also graduated from Catawba Valley Community College (CVCC) with a full associate degree in the arts.
Dedicated to enrolling in classes at both CVCC and Hickory High, in addition to online classes, Clarke reached her goal through the Promise Scholars Program, a collaboration between the two institutions.
"Originally, I signed up for the Promise Scholars simply to obtain college credit," said Clarke. "However, the experience was going so well that I decided to sign up for as many college courses as possible. I took all the courses during my junior and senior years of high school."
Clarke shared that her favorite classes at CVCC included public speaking, critical thinking, and ceramics. She plans to leave Hickory for the University of North Carolina at Wilmington this fall.
"Personally, I recommend taking as many college classes as you can. Not only has it saved boatloads of money and time, but I have learned some of the college expectations. Taking college courses introduced me to another challenging level — that provides a strong preparation for my future," said Clarke.
"While the greatest challenge I encountered was managing my time efficiently, I discovered the greatest benefit of achieving my high school diploma and associate's degree at the same time — was the opportunity to develop a strong work ethic. This new awareness and skill will help to provide motivation throughout the rest of my life," said Clarke.
Reflecting on her high school journey, Clarke shared that her greatest memories include playing soccer for Hickory High and supporting the school with her friends in the student section during athletics and special events.
"I am appreciative of all the role models and mentors at Hickory High, but especially Ms. Jennie Lovelace and Ms. Alexandria Murphy. They both went above and beyond in helping me to achieve my goals," said Clarke.
A native of Memphis, Tennessee, Sophia is the daughter of Steve and Debbie Clarke and she is one of six children. "I have an older brother- Rohman, an older sister- Monee, a younger sister- Whittney Morgan, and two younger brothers- Thatcher and Allister. I love spending time with my family and friends," said Clarke.
Be the first to know
Get local news delivered to your inbox!