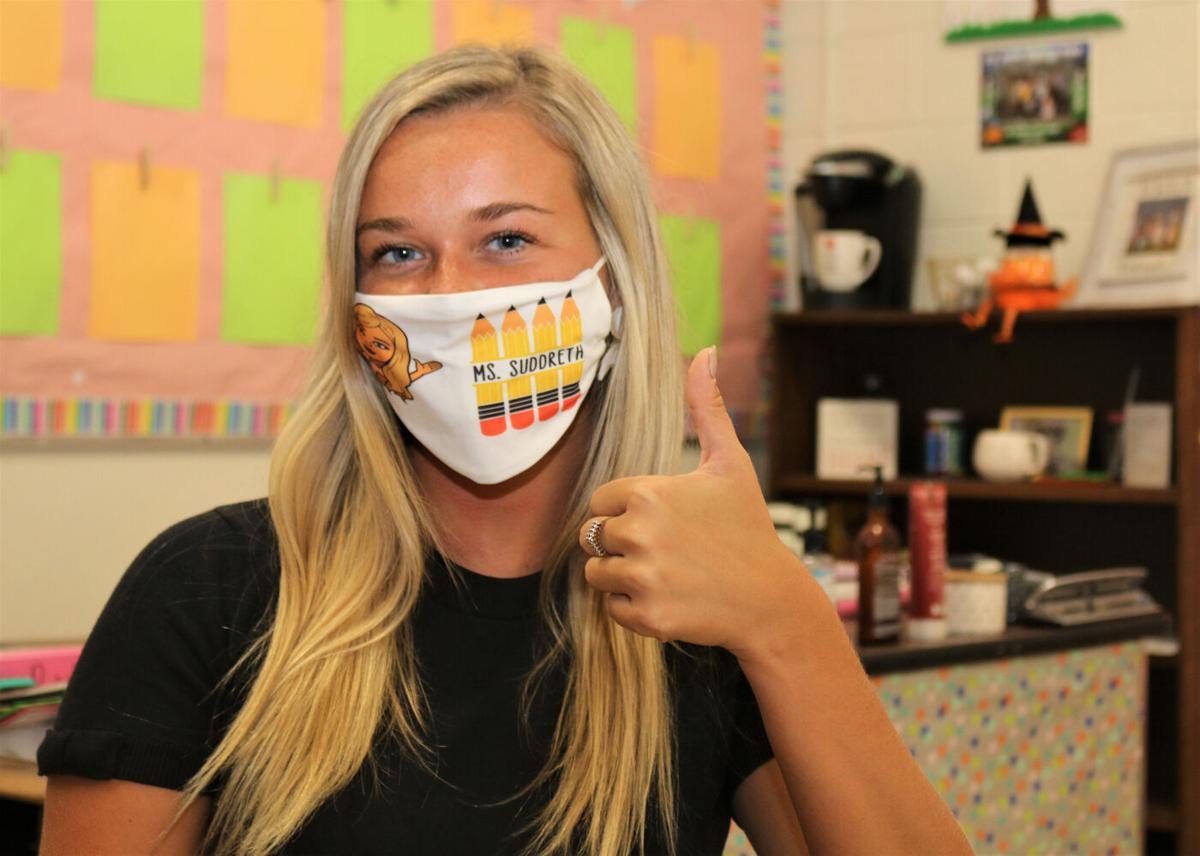 HICKORY — If teachers responded to a survey stating when they first desired to become a teacher, many might say, "When I was a young kid!" Those first impressions of experiencing a great teacher have a lasting impression on nearly everyone, but especially those who choose to enter education as a profession.
And that's no different for Seirah Suddreth, 23, who proclaimed during her early childhood that one day she would become a teacher. Clearly, along her journey, she experienced great teachers who provided a positive learning environment.
Little did Suddreth realize that soon after starting her second year of teaching at Jenkins Elementary School, she would be selected as the Hickory Public Schools "Beginning Teacher of the Year."
A first-grade teacher, Suddreth admits her first year of teaching (2019-2020) was overwhelming at times. "However, I've received incredible support from my colleagues — encouraging me on those challenging days and celebrating with me on the days when everything just fell in place," said Suddreth.
Suddreth believes that all children can learn but they will have an easier time of learning if they have a good relationship with their teachers. "Kids don't learn from people they don't like," she said. "It's important to listen, to communicate, and to build trust. Whether the relationship building is in-person or online through Zoom, it's valuable to the well-being of all students to provide that personal attention."
With COVID-19, Suddreth, like all teachers, had to re-adjust her classroom setup and her lesson plans, accommodating for social distancing with two students per table and lunch break in the classroom. All of the in-person plans must include plans for students who participate at the same time with remote-learning.
"We often share 'air-hugs and air-high-fives,' and behind those masks, we can still tell when our students are smiling," said Suddreth.
Following her graduation from Fred T. Foard High in 2015, Suddreth attended Lenoir-Rhyne University and graduated in 2019. Her student-teaching took place at Jenkins Elementary, so she felt fortunate to be hired by the school where she received her direct training.
"I have really grown to love this profession even more than I realized during my student-teaching. Working with 6-to-7-year-old children can be quite interesting. There are times when these little ones just need to share about something important in their lives. Last week, one student wanted to share about a 'lost tooth!' It's important to work with a caring heart and listening ear, all while providing every opportunity for excellence in education," said Suddreth.
When not teaching, Suddreth enjoys spending time with her family and traveling with friends. She is also an avid runner.
What's next for Suddreth? "I plan to see new places, visit different states, as traveling becomes feasible; and I plan to continue teaching at Jenkins Elementary, my new home away from home," she said.
Be the first to know
Get local news delivered to your inbox!