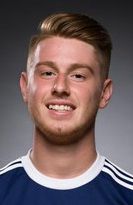 GREENVILLE, S.C. -- David Dume, a resident of Hickory, has been named to the Bob Jones University Bruins men's soccer team roster for the 2019-20 academic year. Dume is a freshman majoring in business administration at BJU.
In February, the Bruins hired BJU alumnus and former Grace College soccer coach Matt Hotchkin to be the new head coach of the program. Hotchkin brings 17 years of coaching experience and high accolades to the Bruins soccer program.
"This is a new year for me personally, and about half of our team will be new, so this will be a learning experience for many of us," Hotchkin said. "With a new team, new competition and learning what we are capable of accomplishing, there are some challenges ahead of us but also some exciting opportunities."
The Bruins will open the 2019 regular season on Saturday with a home match against Piedmont College (NCAA Division III). Kickoff is set for 7:30 p.m. at Alumni Stadium.
The Bruins will play their homecoming match on Oct. 12 against Trinity Baptist College on a night that will also be senior night for the program. The Bruins will be challenged this season, but Hotchkin is confident they will be able to learn and grow over the course of the season.
"Our goal is to give our best," Hotchkin said. "We will focus on the process, and on constant improvement. In the end, we want to look back and see an enjoyable and memorable season, and we want to be a catalyst to help unify our campus."
BJU features 15 varsity programs and is seeking membership into NCAA Division III. The program is currently affiliated with the National Christian College Athletic Association as a Division II institution.
Get local news delivered to your inbox!
Subscribe to our Daily Headlines newsletter.