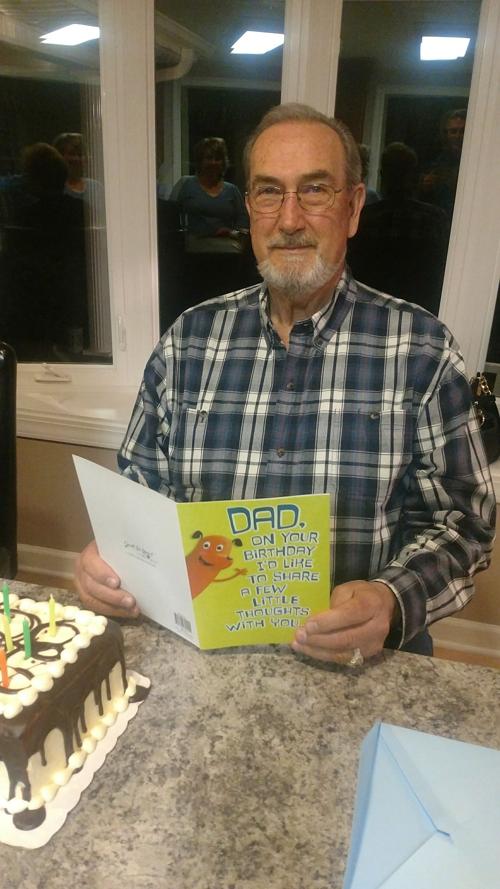 One of the earliest childhood memories I have of my father was when, as a small boy, as he would come each day to pick me up at school in a 1962 black Ford Falcon.
I would return to his jobsite for an hour or so and wait in the car for him while he finished his workday, which for a very long time was helping build Valley Hills Mall. At that time, my dad was a construction worker and he and others were putting steel in the building.
If you've ever been to a large construction project, you know it can really be a giant dust bowl with low visibility with all the work activity.
Each day at a certain time when his shift would be over, I would start looking out into the dust and then he would appear out of a dusty haze walking towards the car. He was always careful to save me something to eat from his metal lunch box.
To this day, I can still see him appearing like a superhero, coming in view through the dust to take me home.
I am very fortunate to have Carroll Garland as my father, and when I say fortunate, I mean it in every sense of the word.
You see, some years later in 1973 he was working at a construction job in Wilmington, NC, and was commuting to the coast when a driver of an 18-wheeler fell asleep, crossed left-of-center, and hit my dad nearly head-on in his 1969 Pontiac Firebird.
Dad has always said that the emergency workers later told him that when they pulled him from the wreck, they thought he was not alive as he looked terrible from his injuries, which were serious and numerous. It took them 40 minutes to remove him from the vehicle.
From construction, Dad went into retail trade as a store manager with long stints with Eckerd Drugs and Sam's Club. Over the years, I have had many individuals I knew, and some I didn't know, approach me to tell me of something nice my dad had done for them or a family member. Many times it was Dad delivering medicine or other items to a loved one's family member who was not able to travel to the store. If you know Carroll Garland, I'm sure this  would not come as a surprise to you. There is a saying that you may be familiar with that your reputation precedes you. Well, in my father's case that is true.
Now, on this Father's Day, I am thankful that my God and Savior gave us grace that day for him to live and continue to be my father.
As I write this now, I realize there are others who were not as fortunate as me. Some did not have a father present, or perhaps their father was taken too soon. For those individuals, I have compassion and realize I was fortunate to have my dad in my life. That day in 1973 could have gone either way.