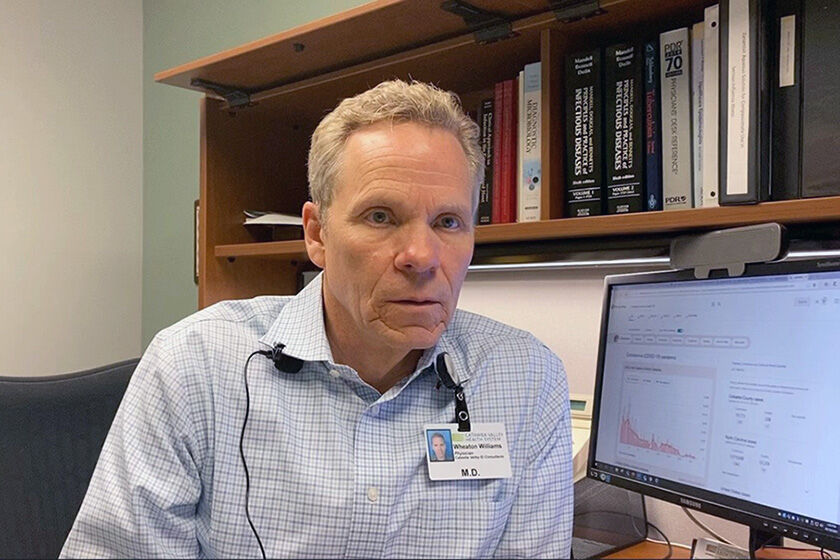 In mid-July, Dr. Wheaton Williams noticed an uptick in COVID-19 cases at Catawba Valley Medical Center.
The infectious disease doctor knew it was coming.
"We've known for a while there were variants emerging," Williams said. "We saw the delta variant in India, and I knew it would come here and be a problem."
He hoped for a sharp peak and a rapid decline, but cases stayed elevated for weeks. From the end of August through September, CVMC had about 70 to 80 COVID-19 inpatients, according to the hospital's COVID-19 dashboard. In early October, the hospital saw a decline. As of Friday, the hospital had 42 coronavirus patients.
Compared to this winter's peak in COVID-19 cases, the biggest difference is the age of the hospital's patients, Williams said. As an infectious disease specialist, he treats the worst cases.
"(In the winter surge) the largest proportion of patients we saw were over 65, and they often had other medical conditions as well," Williams said. "(Now) the majority of patients have been younger, in the 35-to-64 age range, and many of them have no underlying health problems. We're seeing younger, healthier patients."
The other difference: The COVID-19 vaccine now is widely available. That made this surge all the more exasperating.
"It's difficult to see anyone at any age suffering from a serious illness, but knowing that a severe disease can be prevented by immunization — it's frustrating to see people who were young dying."
The hospital is also caring for people who are not suffering from COVID-19, Williams said. Last winter, people were cautious about going to the hospital for illnesses other than COVID-19. Now, people are returning for care for all types of issues.
"With this big surge of COVID cases, it limits what we can do with non-COVID patients," Williams said. "We've recently had to delay some elective cases where the patient would typically stay in the hospital. We're using those beds for COVID-19 patients."
Dealing with a busy hospital can be physically and mentally challenging, Williams said. Communicating with COVID-19 patients on oxygen or in breathing masks is difficult. Watching young people die is too.
"We're seeing young, healthy people with no underlying problems with severe COVID-19. That sticks with you," Williams said.
The best thing the community can do to combat the surge and help relieve the hospital's burden is get vaccinated, he said.
The COVID-19 vaccines work. The hospital's treatments for the coronavirus, not as much.
Treatment options are limited. Some antibody treatments are available, but the supply is low due to high demand. Other medicine is available, but there is no guarantee any of it will work.
"I think it's important for people to realize we're in a much better position to prevent severe COVID-19 through immunization than we are to treat severe COVID-19," Williams said.
Catawba County currently has about 51% of its population vaccinated with at least one dose of the COVID-19 vaccine, according to the N.C. Department of Health and Human Services.
The community should aim for 70%, Williams said.
There's no easy way to get there. Williams said he's found success in talking to vaccine-hesitant patients one-on-one and addressing their concerns, answering their questions and dispelling misinformation they've heard. Otherwise, vaccine mandates, though controversial, could be an important tool to get people vaccinated, he said.
"I think from a public health standpoint you can make an argument (for a mandate)," Williams said. "There's always that struggle in society, tension between (individual) rights and a responsibility to fellow citizens, classmates, churchgoers, co-workers and family."
A mandate could save lives, because otherwise all those who are unvaccinated — including the young and healthy — are at risk, he said.